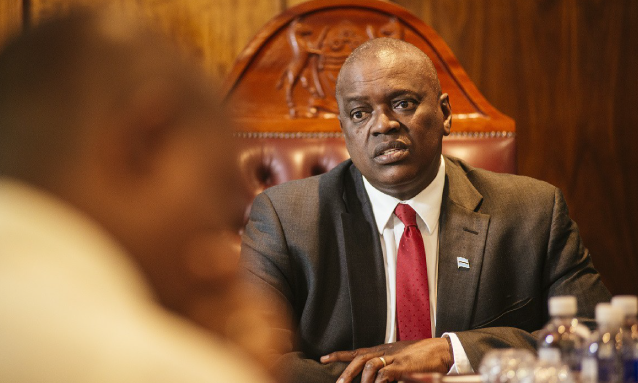 President Mokgweetsi Masisi says his government intends to codify the country's foreign policy aimed at improving and promoting good relations with the international community.
During former President Ian Khama's administration, Botswana's foreign policy came under attack, as it was characterised by rooftop diplomacy, discrepancies and double standards. At the time, Botswana issued statements attacking some African leaders and those of the international community. Khama also did not attend African Union (AU) and United Nations (UN) meetings.
Masisi, however, is adamant that such decisions will be a thing of the past. This week, the President summoned over 33 Botswana ambassadors based in foreign missions to work with him towards a strategic map in an effort to craft a sound policy that would not only mend relations with other countries but also attract Foreign Direct Investment.
"To demonstrate my administration's commitment, shortly after becoming President, I visited our neighbouring countries and several others in the SADC region, to further strengthen the bond of friendship between Botswana and the respective countries," said Masisi.
He added,
"As the saying goes, 'charity begins at home'. It was, therefore, imperative that while reaching out to the rest of the world, my administration should begin by promoting the good relations that we have enjoyed over the years with those closest to us."
Masisi said Botswana's foreign policy would be guided by the principles of democracy, development, self-reliance, unity, humility, the peaceful resolution of conflicts, peaceful co-existence and good neighbourliness, territorial integrity and sovereignty of nations, respect for human rights and rule of law, good governance, rules-based world order and the general principles of international law.
The president further said he has committed himself to vigorously engaging with members of the international community by participating at forums that promote the fundamental principles of democracy, good governance, environmental issues, wildlife conservation, trade and investment and climate change.
He also held a consultative meeting with other diplomats from countries with diplomatic missions in Botswana. He paid tribute to the foreign diplomats and their countries for "collaboration and continued development assistance that your respective countries and organisations continue to render Botswana".
He said as part of SADC, Botswana will continue to support regional integration as the main objective of the regional body with a view to bringing about socio-economic development, while upholding peace, security and political stability in the region. Concerning relations with the continent, Masisi said Botswana will continue to play an active role in advancing the transformational agenda as envisioned in Agenda 2063.
"Furthermore, together with other SADC member states, Botswana continues to advocate for a transparent and inclusive institutional reform process of the AU, which aims at making our continental body more effective and efficient."
At the global level, Masisi said Botswana would continue to actively participate in the work of the United Nations in pursuit of sustainable development, as well as the maintenance of international peace and security.
"The Human Rights Council remains significant in the promotion and protection of human rights and fundamental freedoms. As such, my government will continue to support the work of this Human Rights body in order to uphold the principles of the inviolability and universality of all human rights," said Masisi.
He revealed that Botswana is also instituting some reform measures to make Botswana a destination for international conferences/meetings and corporate seminars.
"Your support in achieving this objective will, therefore, be cherished. Some of the initiatives which have been put in place include the re-engineering of the issuance of visas in order to improve the turnaround time," said Masisi.
Source: southerntimesafrica.com
Image source: thenerveafrica.com