Certification of Documents. All foreign documents now have to be certified at the respective embassies. The Botswana Police did used to do it for everyone who needed documents certified, regardless of origin/nationality free of charge. However, because they couldn't definitively ascertain whether or not the documents were authentic, some people started exploiting this by certifying forged documents.
For British nationals please click here.
University of Botswana (UB). Certificates are meant to be certified at the UB. However, if you're lucky, some police officers may do it for you. But it's worth knowing that you're really meant to do it at the UB.
Zebra Crossings in Botswana don't work in the same way as elsewhere. It's very rare that cars will slow down to allow pedestrians to walk across. So stop and be sure all traffic has ground to a halt before crossing. Prepare to wait a while too, especially if it's a busy road. Be cautious too, because while some may slow down, others will still zoom right past!
Many Setswana names are unisex! It comes as a surprise to many non-Batswana people that there's a selection of common name that also happen to be unisex. All names also carry a meaning. Some Examples:
Mpho – gift
Tebogo – thanks
Thato -will
Kealeboga- Thank you
Karabo – answer
Kagiso -peace
Lesego – luck/blessing
Tshepo-hope/faith
Tapologo-relief
Neo – gift
Tumelo – faith
Kabo – that which is given
Lesedi-light
Nano SIM card. If you ever go for a Nano SIM at Orange (River Walk) and they are unable to issue one because the system is down; check Perfume Mania (Perfume World), the perfume store across from Orange, nestled between Mr. Price Home and Pick 'N Pay. They do them for P25 or thereabouts! Strange, but true.
Dormant SIM cards "Die". If you have a pay-as-you-go phone; if you go months without 'topping-up your credit', even if you do use your phone, the SIM card stops working! I learnt the hard way, because I reckoned as long as I was actively using my Mascom SIM, I didn't have to keep putting credit on it. Once it's taken off you, it's then re-allocated to someone else or even a business. 
Mobile Networks Congestion. There will be times when you can't get through, use your whatsapp or send a text message because the network is congested. Or messages you send and receive are heavily delayed. This often happens when networks give away free credit, which BeMobile is notorious for. You get free credit, but then can't use it because the network is congested.
Also note, during load-shedding (power outages) mobile networks sometimes struggle. I don't know about other networks, but Orange is very good at sending text alerts to warn of sluggish or non-existent service.
BURS (Botswana Unified Revenue Service) Fairgrounds doesn't deal with tax income registration issues. For that, you need to head over to head office.
Registering For Individual Income Tax Return at BURS. If registering for the very first time, ensure you get your required documents from your accounts department. You'll need to take some to your bank for verification purposes i.e the bank stamps the forms.You then have to take them back to BURS head office for processing. They usually say it'll take another 4 days to receive your TIN (Tax Income Number), but in reality it's something like 4 weeks.
On receipt of your TIN, you have to go back to finalise your registration. Nobody tells you, but REMEMBER to take along a certified copy of your Omang (passport for non-Botswana employees) and your ITW8 form from your accounts department at work. You need to go to the second building, find a little side door that's very easy to miss and go to floor 1, office 1B. I must say the signs that lead you to the office are very good, which is unusual here.
Registering online is very easy, but you do have to keep your fingers crossed the system doesn't crash (which it does a lot). If you have reliable internet access at home or at work, you'll be able to complete the last section at your leisure, instead of having to keep checking if the BURS system is back up running.
The Department of Transport is horrible for queues! In my experience, the best one to go to is the BBS branch. It may always be packed, but I've always found the staff courteous and helpful. Plus they get through those queues fast. The security staff are knowledgeable and all too happy to assist too.
Sadly, I can't say the same for the Fairgrounds Mall (Dada's mall) branch. It wounds me to say they were abrupt and very unhelpful, and rather focused on fobbing me off.
Botswana Post has partnered with a few companies to allow you to pay you water bill, renew your driver's license and buy you car tax disc. Skip the transport office and go instead to Botswana Post, as the queues are shorter.
'Exotic foods' are very hard to come by. But supermarkets have started bringing in world foods. Spar has a section that focuses on meeting special dietary needs such as gluten and lactose free food items. Pick n Pay has a bigger selection, while Woolworths offers a very tiny amount of Banting friendly foods. Look out for CarbSmart food items.
While on the topic of Banting, Square Mart at the CBD offers a small amount of Banting friendly products like coconut flour, almond flour and various sauces.
Checkers supermarket at Airport Junction allegedly has an even wider selection. I'll check it out and report back.
Square Mart at the CBD also has a small section of world foods, including a few British brands.
Woolworths sometimes carries Marks and Spencer products!
Fego Café (*they spell it 'caffe') does not offer any pork products, so no bacon with your breakfast. Instead of bacon, they offer 'macon'.
Vegans will struggle to find products, but you do stumble across something once in a while. There are health stores dotted around Gaborone, which may do vegan friendly products. Regular supermarkets offer bits, so they could do a lot more. I guess they don't offer much variety for vegans because there are not that many vegans in Botswana.
Phakalane duty free shop. In November 2014 a duty free shop opened at Phakalane's Mowana Park mall, adjacent to Choppies Supermarket. A notice at the entrance clearly and boldly states it's open ONLY to diplomats and all other members of the diplomatic corps based in Botswana; those who carry diplomatic cards regulated by Botswana Unified Revenue Services (BURS). As with regular duty free shops found at airports, this one sells items including liquor, tobacco, perfumes, cosmetics to confectionery.
The store operates under the license of the BURS as well as various licenses from Gaborone City Council. At the time of the store opening, the CEO of Evolution (the company behind the venture), Mr. Dan Moskovic said his company planned to spread to other areas of Botswana where there are diplomats. Evolution operates three such stores in Pretoria.
Maun, Botswana unofficial donkey capital. For some reason, Maun has a huge number of donkeys than anywhere else in Botswana. They are everywhere and nobody seems to own them! You'll also see a lot of goats and cows wandering through town centres, which is very dangerous for drivers. The Local Government last year issued a byelaw clamping down on owners of such livestock. Basically, any livestock found wandering around in towns and villages will be rounded up and kept until the owner claims it back. A penalty fee is applicable.
A message from the Local Authority,
Any person guilty of an offence under these Bye-laws for which no penalty is provided shall be liable on first conviction to a fine not exceeding P10 or in default of payment to imprisonment for a term not exceeding seven days or in the event of a second or subsequent conviction to a fine not exceeding P25 or in default of payment to imprisonment for a term not exceeding one month.
"Translation" To Regular, Spoken English 
Anybody found guilty of this offense will be charged a maximum of P10. Failure to pay this fee will lead to no more than 7 days' imprisonment. Second offenders/subsequent convictions will attract a maximum of P25 penalty, or alternatively a prison sentence of up to 1 month.
Paid Parking at Sir Seretse Khama International Airport. For a long time, people enjoyed free parking wherever they went. Now it seems the tide is turning! Which isn't surprising, considering the sharp rise in the number of car owners ever since the arrival of imported used cars in Botswana. You'll now be expected to pay for parking at SSK International airport. Please refer to the picture.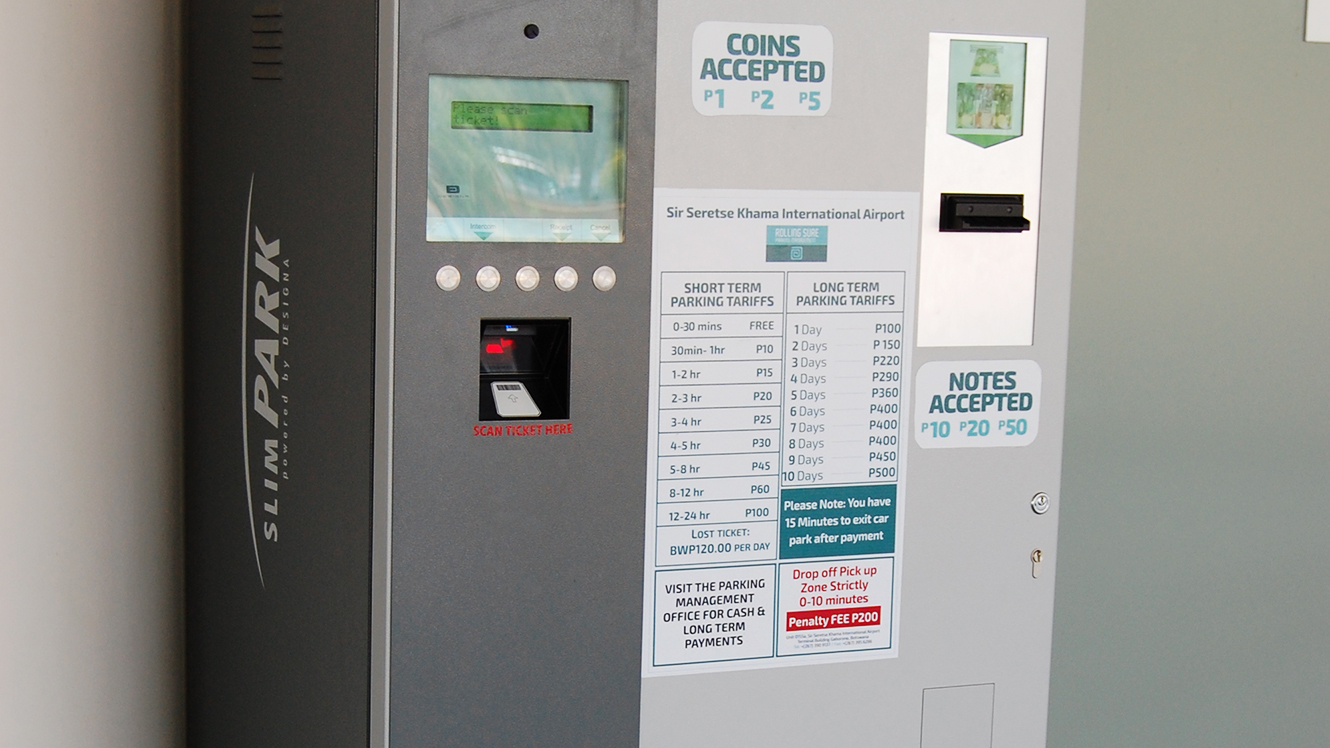 Maun is Postcard Heaven. You can get beautiful postcards almost anywhere in Maun. I guess it's not surprising, given the fact that Maun is a tourist town. But when I recently visited Maun, I was blown away by the amount of stores that sell them, because I really struggle to get them in Gaborone.
There was a time when I actually wandered if postcards were dying out! In Gaborone, I'm only ever able to get them at Poso House and Botswana Craft!
By contrast, in Maun I bought a huge stash from Jazellas, all the curios gift stores at the airport, Suntronics (New Mall) and Riley's Garage. They were all different types, and varied in price. Suntronics was the cheapest. You can find more elsewhere around Maun. So if you can't find any in Gaborone, but will be going via Maun, don't worry; you'll be spoilt for choice!
Before Botswana gained independence from Great Britain, it had the Union Jack for its flag! Botswana ceased used of the Union Jack in 1966, the year it gained independence.
Climate – Botswana's national parks. The climate of Botswana's northern parks is similar to Maun; extremely hot in the summer, but warm in the winter. However, in the Okavango Delta temperatures are slightly more moderate due to the abundance of water. Parks located in the drier Kalahari environment will be more extreme- hotter during the day and colder or freezing at night. The south and west experience slightly less rainfall than the rest of Botswana.
The Stanbic international transfers office at Fairgrounds is easy to miss. It's easy to think you have to queue up within the main building. There's no clear signage, so look out for the small door to the left of the main entrance and ask at reception because there are a couple more doors to go through.
Forms in Botswana are generally not well designed. From giving you too little space to write the information required through to terminology that's not easy to understand. The latter applies mainly to banks using such big and dated words that even native English speakers can be left scratching their heads.
My latest frustration came from going in to Stanbic to change my contact telephone number, where I was given two forms to fill. I left out the bit that says OFFICIAL mistakenly thinking it was for Stanbic staff to complete. To be fair to the assistant, he did say to fill it, which I thought was a mistake on his part. My question to Stanbic, why not just update the form, and remove the word?!
The other thing I've noticed is that in spite of there not being no postcodes in Botswana (yet), some forms that request it, implying that they have simply been imported from South Africa and not been updated.
The Japanese Embassy is located at the main mall in the Barclays House building. It's on the 4th floor, but this is where it can get tricky! There are two sets of lifts, and you need to stick with the ones on your right. Handy if you're in a hurry or need to be somewhere at a specific time. If you've been told to go specifically to the embassy, not the residence, it's easy to confuse the two, which are nowhere near each other!
The PPADB application process is a headache – inducing process at the best of times. But where I think it takes a weird turn is the requirement to have your business documents re-certified by the Registrar of Companies. Yes, the very forms that were originally stamped by the Registrar of Companies when you first registered your company.
Part of the PPADB application requirements dictates that you take those documents to the Registrar of Companies and have them certified there before proceeding to the next stage. That's where I hit a hurdle with mine because the queues at the Registrar of Companies' offices are horrendous, but at least now you know.
Auditioning for a Show? You may get charged to take part! Something I've observed and find very odd, is adverts that invite people to audition for something, and CHARGE them for the 'privilege'! So if you spot an advert along those lines, be sure to read the small print and know exactly what you're getting yourself into.
The River Maun. Maun is a town in the north of Botswana, also known as the gateway to the Okavango Delta. But did you know there is a Maun in the United Kingdom? The River Maun to be more specific, which runs through in the county of Nottinghamshire in the East Midlands. Its source starts in Kirkby-in-Ashfield, and from there it flows North East through Mansfield (which takes its name from the river), Edwinstowe and Ollerton, these being the heart of the Sherwood Forest area. It becomes known as Whitewater near the village of Walesby and connects to the River Meden temporarily where the Robin Hood Way crosses them.
**If you have any other "did you know facts' or any other tidbits about Botswana, which you would like us to share, please contact us.**