Our Botswana is Your Botswana
When most people think about Botswana, especially visitors to Botswana, they most likely think about Botswana as a holiday destination – the Okavango Delta, the Chobe, safaris and all the wildlife. Some might even think about mining – diamonds and coal. However, there's so much more to Botswana than tourism and mining and this is what YourBotswana believes too.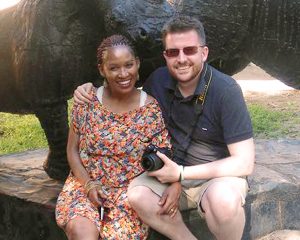 YourBotswana was founded by husband and wife, Mpho and Gary Ashworth. The website is a labour of love, as the couple maintain the website in between their full-time work commitments. Mpho is originally from Maun and Gary is from a small town called Horwich (near Bolton) in the United Kingdom.
Where did it all start? 
YourBotswana actually started when Mpho left Botswana in 2000, although she didn't realise it at the time. Leaving Botswana meant she was out of touch with her beloved country. Back then the "World Wide Web" was relatively new and social media platforms didn't exist. The only option available was to purchase phone cards every month and call home to keep in touch with family and friends as well as to stay abreast of any developments in Botswana.
The idea of setting up a blog site was borne out of Mpho's frustration of never being able to find anything online about Botswana beyond tourism-based information. Any information that could be sourced was never all in one place. Any existent discussion forums lay dormant and lacked interaction, while most websites don't always answer questions beyond tourism in Botswana. 
Returning to Botswana was a reverse culture shock. Having a British husband meant she experienced processes most Batswana wouldn't normally experience and have never gone through before. Mpho got to see Botswana through a foreigner's eyes. The processes were challenging and still are; starting a new life in any country is difficult and any lessons learned were learned the hard way. It was at that time that the realisation struck of the need for YourBotswana.
YourBotswana's overall objective is to bring friends of Botswana the world over, as well as Batswana living both abroad and at home, a bit of everything; from factual information, answers to questions Mpho would have liked addressed while she was living abroad, reviews of local services, some interesting current affairs, new developments, right through to different aspects of life in Botswana.
The principal aim is for the site to be as useful as it is lighthearted and fun. YourBotswana is aimed at not just visitors or those who are interested in knowing more about Botswana, but Batswana the world over, keeping them connected with their home country. YourBotswana holds the views that "together we can interact and share all our views and experiences".
Why YourBotswana?
Unfortunately, many websites about Botswana are tourism-based, promoting the benefits and beautiful destinations Botswana has to offer tourists. We also live in a world where travellers hope to discover aspects beyond the typical tourist experience; which is a market Botswana is missing out on. YourBotswana argues we can't restrict tourism to safari lodges, that our professional lives can also take us literally anywhere in the world. Therefore, anyone who intends to live and work in Botswana needs to know Botswana beyond being a safari destination.
Admittedly, there are such websites, but many of the sites are not up-to-date or feature aspects of Botswana that are not necessarily useful to visitors. Some can be confusing as they feature reviews unrelated to Botswana. This is why  Mpho created YourBotswana – a website that promotes all aspects of Botswana from all perspectives with the focus purely on Botswana. In essence, YourBotswana serves to educate and endorse the best of Botswana, making "Our Botswana Your Botswana". In as much as YourBotswana aims to be fun and informative,  nothing is perfect and so YourBotswana also reviews the bad as well as the good… hopefully more good than bad.
Giving Botswana credibility
The other benefit to travelling is that you see and experience the world first hand through your own eyes. One observation that Mpho made back in 2000 is still very much a bugbear today. There are many countries in the world that are not well known and Botswana is one of them. Naturally, programs about wildlife quite rightly focus on their natural habitat, but other programs unrelated to wildlife appear to follow the same script.
Popular British TV program, Top Gear filmed a series special in which the presenters drove across the country from the Zimbabwean border to the Namibian border. She recalls watching a TV series in which the presenter travelled the world following the Tropics (Cancer and Capricorn), the Tropic of Capricorn runs through Botswana. The popular TV show "The Number One Ladies Detective Agency" was filmed in Botswana. The Norwegian music duo Nico & Vinz filmed their music video for the song "Am I Wrong" in Botswana.
While all of the above is great publicity for Botswana, they all portrayed a less affluent side, focused on the villages and the mud huts. Any viewers with little knowledge of Botswana would assume the country is poverty-stricken; Batswana live in shacks and donkeys are the popular mode of transport. Never in these shows did you see a built-up area or a mall, a stadium or any part of the capital city. Why?
Why is Africa portrayed as a country rather than what it is – a continent? Why do very few nations within Africa have their own identity? Gary is identified as being British, not European, but to the wider world, Mpho is African, not Motswana (or Botswanan) – why?  The couple argues; yes, there are parts of Africa where the level of poverty is high and corruption within certain governments are rife… but isn't that the case all over the world? The principal objective is to give Botswana its own identity and show it in its entirety through YourBotswana.