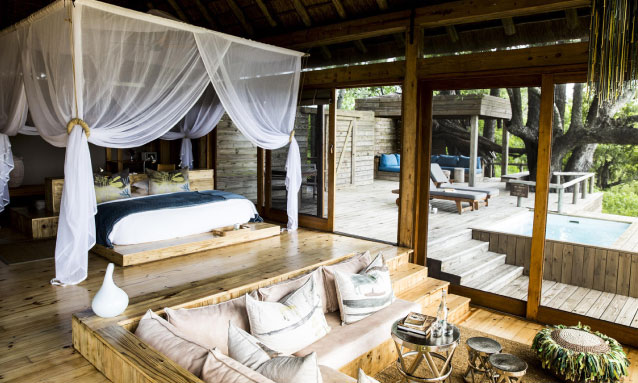 A new trip from Wilderness Safaris takes travellers to some of the most luxurious camps on the continent and gets them up-close with elephant researchers.
If you've been waiting to book a mind-blowing, post-vaccine trip, add this one to your wish list: A new itinerary from the pioneering company Wilderness Safaris that aims to support elephant research in Botswana while putting travellers up close with the remarkable animals and the scientists studying them. The six-night trip will visit three of the top safari camps in Botswana while letting guests interact with elephant researchers in addition to going on more traditional game drives and other bush experiences.
"[Travellers] will be able to spend time with the elephant researcher at DumaTau, as well as take a helicopter ride to visit the Eco-Exist research base, learn more about human-wildlife conflict and the work being done to address it, meet the local Kgosi (chief), and help to install a water hand-pump in the community," the itinerary summary reads.
The whole of the $25,000-per-person trip cost will support the Wilderness Wildlife Trust, a non-profit that works on conservation and anti-poaching projects across Africa.
"Guests will also have the opportunity to assist with research and tracking of the newly collared elephants," Kim Nixon, the head of Wilderness Safaris operations in Botswana, said in a statement.
The trip comes at a time when COVID-19 has severely impacted the African safari business. And while Botswana has suffered pandemic illnesses and deaths, the destination has had relatively few cases of the disease, according to Johns Hopkins University of Medicine Coronavirus Resource Center. The Wilderness itinerary takes all the usual precautions that pandemic-era travellers have come to expect as well as limiting the number of people on a given expedition: This particular trip tops out at just four people.
Not that the trip is all about conservation. Along the way, travellers will stay at luxury safari camps, including Vumbura Plains, in the Okavango Delta. Wilderness will also include stays at DumaTau or Little DumaTau, two camps in the Linyanti Wildlife Reserve. The original DumaTau is presently undergoing a rebuild, while the "little" sister is slated to open this year.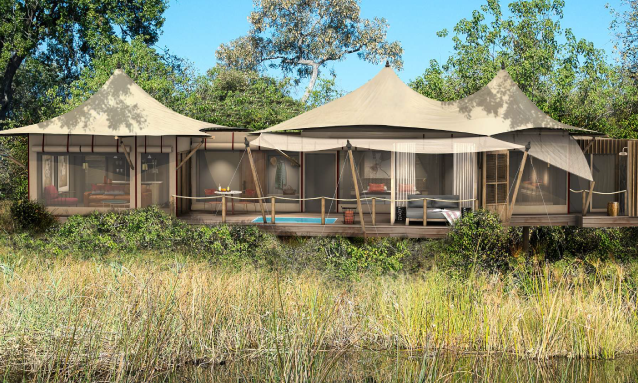 Botswana's new DumaTau camp will immerse guests in elephant conservation
When it reopens in mid-2021 after a complete transformation, Camp DumaTau will offer an immersion in Wilderness Safaris' new elephant conservation program. Along with this opening, Wilderness Safaris is also launching a brand new conservation safari for future guests of the newly opened camp. When travellers can return home, they will have the opportunity to participate in a life-changing experience supporting elephant collars at Linyanti Private Wildlife Reserve in Botswana.
Throughout the coming year, Wilderness Safaris will stick 10 elephants in partnership with Ecoexist, an organisation that seeks to foster coexistence between elephants and the people of northern Botswana. Through this initiative, the partnership aims to better understand elephant movement patterns and in doing so, identify potential elephant corridors between rural communities in order to limit human-wildlife conflict in these areas.
"With data obtained from satellite collars installed on Linyanti elephants, we can make an informed and important contribution to maintaining a balance between the security and livelihoods of local community members, and the necessary movement. and nature of elephants between protected areas, "explains Neil Midlane, Group Impact Manager for Wilderness Safaris.
Wilderness and Ecoexist hope that the collaborative management of these corridors will ultimately allow the free movement of elephants between Botswana, Namibia, Zambia and Angola.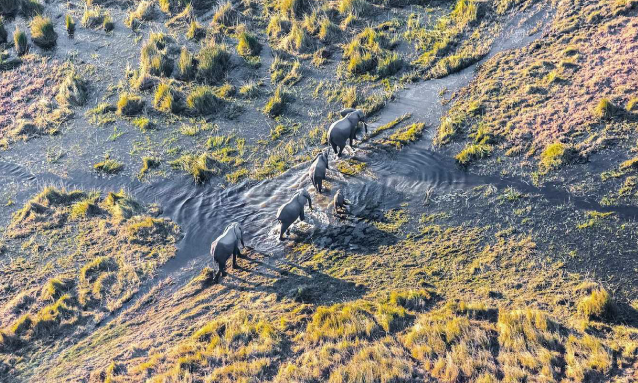 The conservation experience
During a six-night itinerary, guests who sign up for this conservation-focused experience will spend time with the elephant researcher at DumaTau, boarded a helicopter to visit Ecoexist's research base and get an overview of the issue of human-wildlife conflict and the measures taken to address it. The guests will then meet with the local Kgosi (chief) and help install a manual water pump in the community. This trip combines three nights in DumaTau with three more nights at Vumbura Plains in the Okavango Delta.
"For nearly four decades, Wilderness Safaris has used our ecotourism business to generate sustainable economic value, for conservation and rural communities, from Africa's priceless nature and wildlife," says Midlane.

"Despite the current challenges, we feel a tremendous sense of responsibility to ensure that our people and our wildlife continue to benefit. This exciting itinerary will help maintain that and at the same time provide a truly unique experience for conservation and community-minded travellers."
All of the value generated from these conservation safaris will be used to cover the costs of the collar operation, as well as the installation of a borehole pump in a nearby community.
Stay at the new camp
Embarking on this conservation route is also experiencing the new DumaTau Camp look of Wilderness Safaris, which is now joined by Little DumaTau comprising only three tented suites for a more exclusive stay. Part of the Wilderness Safaris collection since 1997, the original DumaTau Camp has undergone a major renovation and upgrade, placing it – along with its exclusive new neighbour – in the safari specialist's Premier portfolio.
Nature safaris
Both camps pair spacious suites with terraces, plunge pools, and indoor and outdoor showers, as well as Star Sleep-out beds. During their stay at DumaTau, guests will also be able to enjoy a new wellness area, located between the two camps, consisting of a shaded terrace, a spa and a lap pool, 'a delicatessen and a safari shop.
As the Wilderness Safaris camps operate in private concessions, guests will not see any other vehicles as they explore the wildlife-rich surroundings.
Source: https://www.travelandleisure.com/trip-ideas/safaris/this-ultra-private-25000-safari-helps-save-elephants-in-botswana
https://www.thebharatexpressnews.com/botswanas-new-dumatau-camp-will-immerse-guests-in-elephant-conservation/