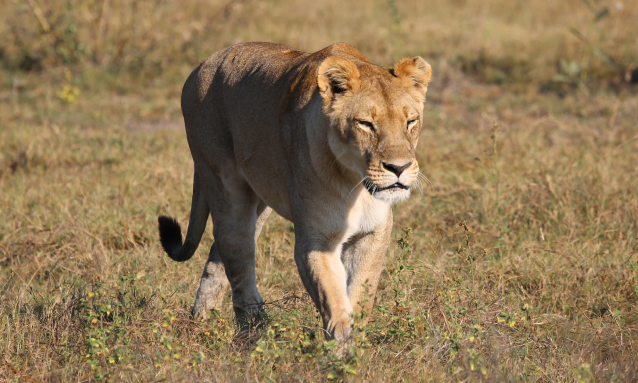 Sir David Attenborough's Dynasties (BBC One) takes an intimate look at the lives of five of the world's most vulnerable species, from penguins in Antarctica to chimpanzees in Senegal. Episode three tackles lions, following the Marsh pride who reside in the vast plains of Kenya's Maasai Mara. Today, estimates suggest that there are as few as 20,000 African lions left in the wild, which makes the responsible tourism that helps to protect them all the more important.
Here are the best lodges and camps to stay in for incredible lion sightings. Whether on a romantic afternoon open-vehicle game drive in Botswana's Moremi Game Reserve or an adrenaline-thumping walking safari in Mana Pools in Zimbabwe, little can compare to the stirring experience of encountering a lion in its natural habitat.
Duba Plains Camp, Okavango Delta
Deep within a 77,000-acre reserve in the Okavango Delta, this tiny gathering of six tented villas caters to those seeking privacy, spectacular landscapes and dramatic predator interactions. Each of the villas at Duba Plains is equipped with its own plunge pool and private dining area, along with smaller luxuries such as Swarovski binoculars for spotting passing wild animals – the area is particularly renowned for its number of lions, but there are also lesser known species such as aardwolves and pangolins to spot.
Mombo Camp, Moremi Game Reserve, Botswana
The Okavango Delta's Moremi Game Reserve is known as the 'land of plenty', as the surrounding plains are teeming with a plethora of wildlife – the large number of lion prides makes for incredible predator interactions. Mombo Camp has a magical location among these endless rich plains and should be on every safari enthusiast's bucket list. A top-to-toe rebuild has elevated the camp to the highest sustainable standards and a style that certainly doesn't scrimp on luxury. There are regular conservation talks at the camp, as well as a hide where you can view and photograph sleeping lions on the savannah.
Others that made the list:
Lion Sands Game Reserve, Sabie Park, South Africa
Angama Mara, Maasai Mara, Kenya
&Beyond Phinda Mountain Lodge, Hluhluwe, South Africa
Singita Lebombo Lodge, Kruger National Park, South Africa
Lion Camp, South Luangwa, Zambia
Ruckomechi Camp, Mana Pools National Park, Zimbabwe
Rhulani Safari Lodge, Madikwe Game Reserve, South Africa
Jabali Ridge, Ruaha National Park, Tanzania
Singita Sasakwa, Serengeti National Park, Tanzania
Serian 'The Original', Mara North Conservancy, Kenya
For the complete article: https://www.telegraph.co.uk/travel/destinations/africa/articles/best-hotels-africa-lion-encounters/?WT.mc_id=tmg_share_tw