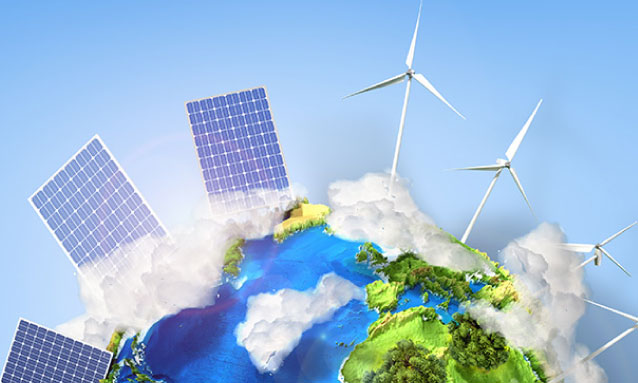 The government has lined up six clean energy projects with the potential to produce 395 megawatts of electricity in the next seven years, as it pushes to diversify the country's energy mix. Delivering the State of the Nation Address on Monday, President Mokgweetsi Masisi said the government had developed an Integrated Resource Plan under which renewable energy would be pushed up to 15% by 2030. The current national renewable energy usage stands at 2%.
Ongoing projects whose successful bidder is due to be unveiled in the first quarter of next year, include the 100 MW solar plant to be split between Selebi-Phikwe and Jwaneng. Commercial operation is scheduled for the third quarter of 2022. President Masisi said 12 grid-tied solar PV plants with a total of 35MW would be up for tender before year-end, while another 10 MW of Coal Bed Methane due to be built by 2025, is currently undergoing procurement processes. The government also intends to procure 200 MW of concentrated solar plant energy by 2026, 50MW of wind by 2027 and another 100 MW of solar PV by 2027.
Meantime, the Ministry of Mineral Resources, Green Technology and Energy Security (MMGE) this week launched a net metering scheme for rooftop PV systems. The Rooftop Solar Programme (RTS) scheme is supported by the United States Agency for International Development (USAID) and is expected to allocate 10 MW of installed PV power in the first 12 months. Through the programme, consumers will be able to generate their own power and sell any excess to Botswana Power Corporation (BPC), Botswana's sole power provider. Interested parties can send their applications  to BPC from November 30. Please see the advert below (taken from the BWGovernment Facebook page).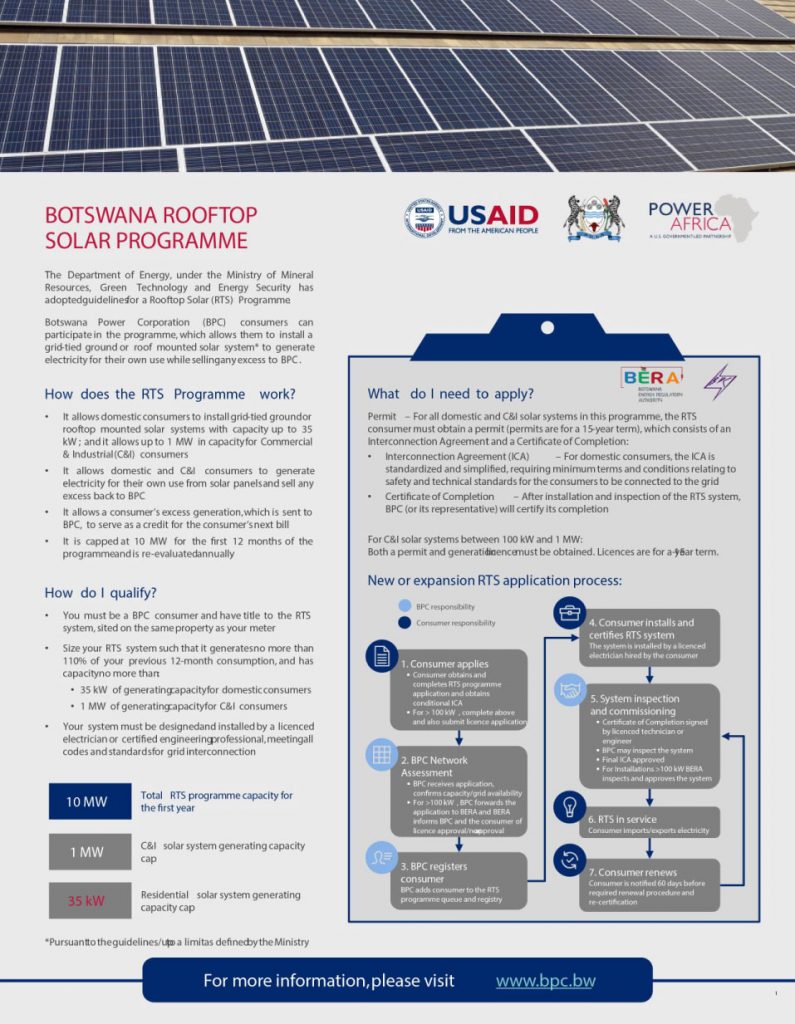 "Two megawatts of the capacity is reserved for domestic consumers and 8 MW for commercial and industrial consumers," the Ministry said in a statement. 

"The program was developed to create an enabling environment for end-users who can generate their electricity and sell to BPC."
Around 29% of Botswana's current power demand is covered by domestic coal power generation, which comes from the 600 MW coal-fired power plant known as Morupule B. The remaining 71% comprises power imports from South Africa. Due to several technical problems with the Morupule B plant, however, the country is suffering from chronic energy shortages.
Sources:
BOPA / https://www.mmegi.bw/index.php?aid=87713&dir=2020/november/11