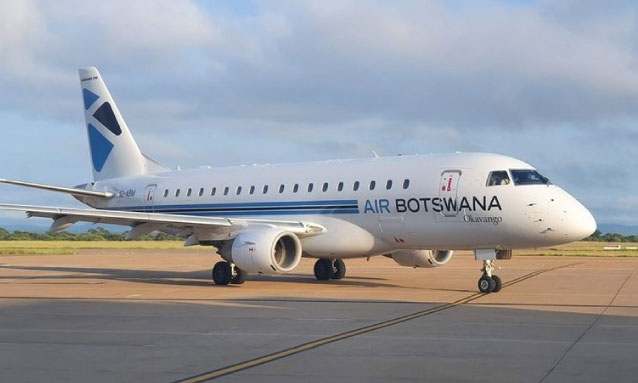 Botswana's national airline, Air Botswana is set to resume regional flights, the company announced Monday. This comes on the heels of the government's announcement that it will start relaxing international travel restrictions put in place to stem the spread of COVID-19.
Air Botswana said in a press release its scheduled regional operations will start from November 10, 2020. The airliner said it will initially offer four weekly flights between Gaborone and Johannesburg, but these will be adjusted based on travel demand. It explained that this is taking into account the prevalent travel conditions and safety protocols that still need to be adhered to. Other regional destinations will be gradually introduced, including Cape Town, Harare and Lusaka, the release said.
"We are indeed very pleased with the announcement and view this as a positive development which will allow us to progress our recovery plan." – Air Botswana Management.
The company said it remains committed to continuing the implementation of comprehensive safety and health measures in line with globally recommended COVID-19 mitigation standards. It explained its focus continues to be deeply rooted in the recovery of the airline, its commercial viability and sustainability. It noted despite the difficult operating environment, it continues to explore new ways of doing things, exploit any possible opportunities while keeping the safety of its staff and customers at the heart of its business.
"These, we believe, are key to ensuring that Air Botswana maintains its going-concern status," said the General Manager, Agnes. T. Khunwana. 
To further comply with health protocols and efficiency of service delivery, Air Botswana encourages the public and customers to take advantage of its online services for assistance with domestic and regional travel bookings and other related enquiries via the business website; www.airbotswana.co.bw or contact the call centre on +267 3680900. 
Air Botswana further advises the public and the travelling community to familiarise themselves with the prevailing travel regulations and guidelines provided by the health authorities and the government.
Source: BWGovernment Facebook page