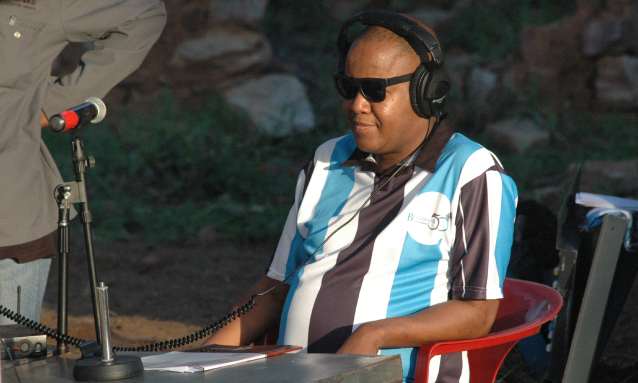 When I joined Radio Botswana I already knew Thuzosky aka Thuso Letlhoma from the airwaves, as Radio Botswana's morning show, Masa a Sele anchor.
Thuzoski frequented the Music Library and Books and Records Library at the Mass media Complex, the site of Botswana's Broadcasting Services. Once he'd wrapped up every show, Thuzosky would head straight to the libraries. An ardent reader and researcher, he would have his nose buried in stacks of material, soaking up as much information as he could in preparation for the following day. At the time, I was doing my Post Graduate studies, so I also frequented the library. Sometimes after he left I would go down to the table where he'd sat, just to appreciate what he'd been reading.
There would be a pile of newspapers, magazines and books – past and present. What that told me was that Thuzosky was not only talented but also edified that talent by feeding it. When you listened to Thuzosky it was like drinking from a full cup, and a full cup he was. 

He was the master and thought leader in "infotainment". His content was solid because his primary intent was to give you the best. I must admit I learned a lot from Thuzosky as a broadcaster. Preparedness is the sure-fire way of respecting your audience. Monna o kgobola se a se jeleng,"so he gave what he had.
In the newsroom, Thuzosky was the storyteller, part of the thing that endeared him to his audience. He would regale us with tales of his travels to Libya, Namibia and around the globe. He knew how to tell stories with impact, and was great at doing impersonations. He was a colossus figure in terms of the influence he had, yet he remained unassuming to the end. If there was a popularity contest in the newsroom for a colleague with the best soul, you would not want to pit anyone against Thuzosky because he would win it hands down, every single time.
Thuzosky called me by three names; Babatona ( The Great), Letlapa (The Rock) and KG (my initials). He deployed these names strategically at different times and scenarios. When he arrived, at the newsroom he would say;
"Wa reng, Babatona?" (How is it going, The Great?)
If for whatever reason he couldn't come to read the news and I read for him or I did something he thought was good, he would say;
"O letlapa monna KG, o letlapa monna KG, O letapa monna KG," – (You are great, KG) – impersonating Hilda Akekelwa, a Zambian colleague. 
When he wanted a favour, he would start with;
"Ao Babatona, o bo o sa itse gore lentswe le tserwe ke eng." (Hey The Great, I don't know why I've lost my voice).
Then he'd come closer, whispering,
"Hee monna KG, go a bo go le maswenyana." (Hey KG mate, I'm in a bit of a bind).
Owai ke tlaabo bo ke itse gore o tsentse lebogo mo kgetsing yame ( Then I'd know he had me) MuThusoskana, as Mmoloki Ndlovu, another colleague affectionately called him. It's never easy to resist a good man and Thuzosky was a good man PERIOD.
When I heard for the first time that Thuzosky counted being master of ceremonies among his extra-curricular activities, I refused to believe it. I felt he was too mild-mannered and timid to hype up audiences. It took one incident to make me eat humble pie! On this particular day, there was a function at the Mass Media Complex, where I witnessed the great Thuzosky in his element. I was stunned by his dynamism and the following day, I told a colleague, Sakaeyo "Squander" Baitshepi that indeed Thuzoski was lethal on stage. If talent was a person…!
Thuzosky mastered the art of making people feel important. In 2016, I successfully campaigned for the role of Vice President of the Junior Chamber International Board of Directors. He was one of the few people who gave me a lot of support -Thuzosky asked me how the campaign was going, how many countries were competing. I remember as clear as day, how Thuzosky showered me with praise during our live interview, assuring me live on air that he could vouch for me being a performer. He made me feel important, that I could do it and that felt good. He knew how to conduct interviews by creating a friendly atmosphere, unlike some combatant anchors who intimidate sources and the interview achieves naught. He was just smooth.
He was human, a man of strong religious belief and loved "imbibing the waters of the elders." On the rare occasion he'd fail to show up on time for his morning show, he would disarm even the most sullen of line managers with his humility and sweet nature. It was never easy for anyone, including the superiors, to be angry at him.
Thuzosky relentlessly promoted local talent. I have always thought if ever the government were to give an award that recognises social responsibility or extra societal contribution, it should go toThuzosky. He tirelessly and generously gave a lot of his time to advance Botswana arts and the artists in Botswana. Unfortunately, to be allowed to do this in work time could be regarded as just an excuse to party up a storm.
Thuso was a staunch Jehovah's witness follower. He was principled until the end and I admired this about him. As his colleagues and friends, we would become frustrated and disappointed that he wasn't willing to compromise his religious values to receive medical assistance he desperately needed. He embraced medicine but only if it did not go against his religious values.
I checked on him at Princess Marina Hospital where he was hospitalised for months. As I was aware he felt strongly about issues around blood transfusion, I avoided the discussion. I felt he was so wise and deep, he would tell me everything before I could ask. He told me that the then Minister of Health, Dr Alfred Madigele had pleaded with him to just allow the doctors to do their job and if it was against his faith, he could always repent afterwards. After some time he would say;
"KG monna le fa o bona ke bua thata jaana go botlhoko ke a bo ke ipaya ekare ke botoka hela  mme rra go botlhoko."

"KG mate, even as I'm chatting up a storm, I'm under immense pain. I'm making out I'm feeling better but I'm in serious pain."
Months later when he was discharged, he was wheelchair-bound but still the great Thuzosky we knew. Thuzosky was full of peace and love. Just know you loved him because he loved you more.
Rest in Peace, Mokwena.
---
Thuso Letlhoma will be remembered as the host of Radio Botswana's morning show programme Masa-a-Sele. But for those of us who knew and loved him, we know Thuzosky, as he was fondly called, by other appellations: Son. Brother. Uncle.
I, who worked with him for nearly 20 years and whose heart bleeds over his death, knew him as a colleague and above all, a friend. Duty, decency, honour, reliability, dignity, respect: these are all qualities that Thuso not only held dear but also practised every day.
It is difficult to imagine him not being around. Let's bid him farewell as we mourn the loss of a lively, humble soul. A soul that brought joy to many, and whose legacy will live on forever. – Thato Lijane-Tlhomelang (Thuzosky's friend and former manager and colleague at Radio Botswana)
---
Tribute by Gababusiwe Kabo Garechaba
A journalist with Botswana's Broadcasting Services, who worked alongside Thuzosky for many years.