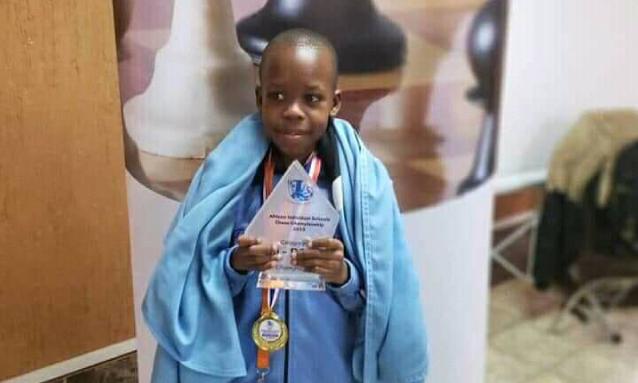 Botswana's Thuto Mpene is the Under 11 Africa schools individual chess champion. The 10-year-old chess genius recently clinched a gold medal in Kampala, Uganda after a nine-round game of chess. Thuto cleaned up, winning eight and drawing in one round against one of the highest rated chess players in the tournament.
Clearly not an easy task by any stretch of the imagination, Thuto admitted the competition was not a walk in the park and was able to win against his opponents through hard work.
His father, Keemenao Keresiane said they were over the moon and proud of Thuto's victory despite the stumbling blocks that almost prevented him from taking part in the competition including the lack of money required for the Kampala trip. He expressed his gratitude to Desai Law Group for stepping in and making Thuto's dream come true.
For his part, Thuto's coach, Opelo Maswabi said they went well prepared for the tournament and were confident they would triumph. He said Thuto's performance was "out of this world," adding that he had always shown signs of maturity.
"I am very proud to be Thuto's coach; young as he is, he follows instructions well but I was shocked during the competition when he introduced some moves that we did not practice," he enthused. 
Thuto bagging the gold medal will see him compete at the World Schools Individual Chess Championship in Lima, Peru next year.
Well done Thuto and all the best for the World Schools Individual Chess Championship in Lima, Peru next year. We can only hope that you'll face no hurdles that may prevent you from participating. There's nothing as disheartening as talent being hindered by the lack of support not just from the government but also from the private sector that many face in Botswana. We hope like Desai Law Group, someone, anyone will be generous enough to dip their hands in their pockets to help make Thuto's dream come true. It would be a crying shame were he to fail to participate in Peru because of lack of local support.
Reference: BOPA