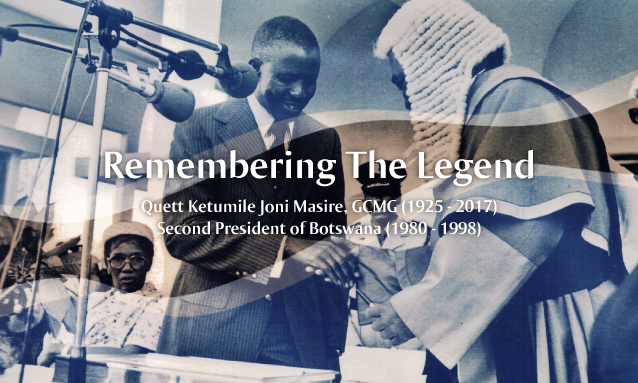 The Botswana nation and indeed the rest of Africa and the world are in mourning. The night of the June 22 marked a dark episode in the hearts of many, as the light dimmed with the passing of one of Africa's most revered sons, Botswana's second President, Sir Quett Ketumile Joni Masire. Much loved Sir Ketumile, passed away peacefully, surrounded by his nearest and dearest at Bokamoso Private Hospital on Thursday night. He was 91.
The people of Botswana and the world woke up to the awful news on Friday and immediately took to various social media platforms to express their sadness and condolences to the Masire family. Famed for his witty and wicked sense of humour, many will forever remember him for his charisma, effortless charm, gift of the gab and his rumbling belly laugh. President Ketumile Masire, an instrumental figure in establishing Botswana's image as a stable African democracy, ruled Botswana from 1980 to 1998 when he stepped down voluntarily.
Under his regime, Botswana, the world's largest diamond producer and a haven for luxury safari tourism, became the envy of many a developing country as he steered the country to become one of the world's fastest growing economies since the 1970s. Furthermore, under his rule, Botswana continued to grow as a politically stable country, on a continent plagued by violence and corruption. Under his regime, Botswana and its people thrived, earning the country the description of the "shining example of democracy in Africa."
Below are just some of the touching tributes posted on Facebook in his honour
He had the knowledge of the country, of the status of Batswana at that time. He knew their values, value systems, idioms, he knew about botho, about the importance of not doing things that were shameful to yourself, your Kgotla, and your community. He also concentrated on the idea of *mmualebe–that people should be allowed to speak. His sense of humour and sense of understanding all people in Botswana, and his ability to communicate with people was what took us forward in terms of concepts and ideas that people did not appreciate at the beginning." – Former Vice President, Dr Ponatshego Kedikilwe
---
*Mmualebe oa be a bua la gagwe- The idea that everyone has the right to air their views, an idea that is heavily entrenched within the traditional Setswana Kgotla system
---
Daniel Kwelagobe – ruling party, BDP veteran
He is a true Democrat-his tolerance of people was amazing. He would tolerate everybody and you could speak to your heart's content. He treated me like his son. I took him to be my father, and also my political mentor. He was a very principled person, very principled.
---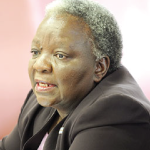 Dr Margaret Nasha – Former Speaker of the National Assembly 
I saw Masire for the first time as a teenager at a political rally in the 1960s. He had the charisma; people would come and follow his rallies. This man had the gift of the gab, when he addressed meetings at Kgotla you just had to listen. What I loved about him was that when you asked questions, even provocative, he would never allow himself to be provoked. He would never dodge questions, no matter how potent. He also had a way of addressing annoying people in a manner that even the person asking the question would laugh at themselves. I loved the way he talked to these people.
---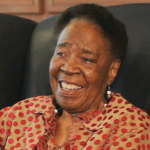 Dr Gaositswe Chiepe – Former long-serving Cabinet Minister and Member of Parliament
I think Rre Masire has a way of handling people—he is straightforward, he laughs. When you go to a meeting or an event, you don't say, "have you seen Masire somewhere?" because you just need to listen. He will be with people, just laughing. You just hear this laugh and know where he is. You couldn't miss his voice and laugh. You hear him through the door. He made everybody feel that they were part of it, there were no strangers at BDP meetings.
---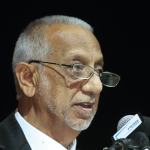 Satar Dada – Leading businessman, BDP party and community activist and former MP 
President Masire was a hard working guy. Really, he was a very hard working guy. When I was a young man owning my own shop and he was Vice President he would wake me up at midnight to buy supplies, having driven from Gaborone. Then he would wake up very early and farm all weekend before heading back to Gaborone on Sunday night to run the country! He and the other first-generation BDP leaders were all honest, straightforward people. Like all Batswana they were very humble, practical people with no arrogance or pretence about them, and very civil. These BDP pioneers were very loyal to the party and the government.
---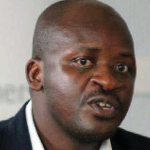 Tobokani Nicholas Rari – Secretary General, BOSETU
Botswana Sectors of Educators Trade Union (BOSETU) would like to add its voice in relaying its heartfelt condolences to the Nation of Botswana, the international community and the Masire family and friends, on the passing on of the former President, Sir Ketumile Joni Masire.
While the whole nation mourns the passing on of the father of the nation, we appeal to all, that they should turn the sorrow and grief into celebrations to commemorate a life well lived. Sir Ketumile, no doubt, is a nationalist of unsurpassed measure, whose footsteps and footprints have not only been heard and felt in Botswana, but also in Africa and the whole world.
BOSETU especially, on behalf of teachers and the teaching profession, salutes this giant who himself was a teacher by profession, for having been a good ambassador for the teaching profession.
On the labour front, we note that the process of moving towards ratifying important core conventions of the International Labour Organisation that grant the right to organise and bargain commenced during his era as President. These were progressive steps that are currently being reversed by the current regime. May the Soul of the father of the nation, The Teacher, Rest In Peace.
---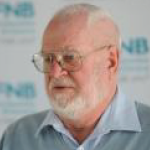 Quill Hermans – Former Bank of Botswana Governor
When journalists ask me what made Botswana an economic and democratic success story, I always explain it in two words; Quett Masire. He is an amazing person who I admire more than anyone in the world
---
Festus G. Mogae – Former President of the Republic of Botswana
I am deeply saddened by the passing on, last night, of our Former President Sir Ketumile Masire.
Sir Ketumile Masire was not only my predecessor in the High Office of our land and prominent figure of political life in Botswana, but also one of the few remaining founding fathers of our Republic. President Masire steadfastly steered Botswana through turbulent times, including the painful liberation struggle in Southern Africa, and the daunting economic and developmental challenges afflicting our then young nation.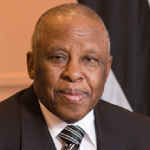 As we grieve and recount the rich legacy of our father and leader, as Batswana, we remain indebted to Sir Ketumile Masire for his commitment and steadfast leadership in building, nurturing and consolidating democracy in our country.
I am confident that the memory of Rra Gaone will live on for future generations. Having, in 2007, founded and led The Sir Ketumile Masire Foundation himself, Rra Gaone was a true humanist, and such is an example of what he shall eternally be remembered for.
We honour his legacy and mourn his loss alongside The Masire Family, the people of Botswana and our friends.
---
Botswana Opposition parties are equally as saddened…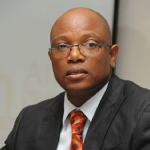 Hon. Wynter Mmolotsi – Botswana Movement for Democracy Vice President
News of the passing on of our father, the former President of the Republic of Botswana, Sir Ketumile Joni Masire has left us devastated as a nation. The Botswana Movement for Democracy leadership and membership wish to express their heartfelt condolences to the family of Sir Ketumile Masire.
We note with great sadness the pain they are going through. Sir Ketumile Masire's contribution to the independence of this republic is not in doubt. Rra Gaone alongside other leaders of his generation built a solid foundation for the current Botswana. His strong leadership skills and acumen won him the hearts of many Batswana, young and old. He was a principled leader who used a lot of humour to spice up his leadership.
Rra Gaone was an independent thinker who was never afraid to speak his mind even during difficult times. Rra Gaone treated Batswana equally regardless of party affiliation and held his independent views till his demise.
His last interview with the media where he pleaded with the government to reconsider its position on the EVM is a case in point. Sir Ketumile will be remembered till eternity. His signature laughter will remain vivid in our minds.
May his soul rest in eternal peace.
---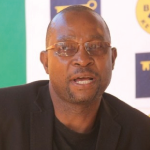 Justin Hunyepa – BNF Secretary for Information and Publicity
The Botswana National Front (BNF) joins the nation and the people of the world in mourning the passing on of the second and longest serving President of the Republic of Botswana, Sir Ketumile Masire. We send our heartfelt condolences to his family.
Sir Masire was a founding parent of Botswana along with Seretse Khama, Philip Matante, Bathoen Gaseitsewe, Gaositwe Chiepe, Kenneth Nkhwa and many others. He was in the African Advisory Council and the Legislative Council of pre-independence era that contributed to the independent Botswana.
He respected and never abused the same constitution used today that his party introduced at independence in 1966. We remember with fondness his illustrious career, which among others included his role as a teacher, journalist, farmer, politician, international diplomat and elder statesman.
His legacy includes turning around Botswana's low, poverty status into a middle- high-income economy. He was dexterous in managing this country when he was President, including the introduction of socio-economic policies and plans that were sound and well prioritised.
These gave birth to the relatively impressive infrastructural development of schools, roads and health facilities. Masire's proud legacy includes the tolerance of divergent views; uniting Botswana nation; founding Seepapitso Secondary School in Kanye; his formation of Front Line States and SADC; his wise leadership of this country at the most explosive time in the region and his inclusion, albeit in a small way, of the opposition through the multi-party forum – the All Party Conference.
He also played an important international role as facilitator of peace in the DRC, Ethiopia and Lesotho.
In few words, here lies a man who established a new government, effectively ran a government to prosperity and ultimately peacefully transferred power to another statesman.
Whilst we have differed with his political orientation and the hegemony of his party the Botswana Democratic Party, we nevertheless recognise that he was a man of integrity who did his best to maintain the semblance of peace that existed under his leadership of this country. He and his immediate successor acceded to several BNF proposals like the reduction of the voting age; introduction of old age pension; introduction of women in the army, to mention a few.
We regret that the gains that this country made under him have been grossly corroded under the current leadership. May his soul rest in peace! A true and genuine nationalist!
---
Funeral and memorial arrangements for the former president, Sir Ketumile Masire
Members of the Public are hereby informed that a State Funeral will be held for the late Former President, Sir Ketumile Masire in Kanye next Thursday, the 29th of June 2017.
Members of the Public are further informed that a Memorial Service will also be held in Gaborone for the Former President on Wednesday, the 28th of June 2017. The time and venue of the service will be communicated later.
There will also be a Lying of State of the Former President at Parliament on Tuesday the 27th of July 2017, to allow the public to pay their respects.
In the meantime, flags shall remain flying at half-mast during the time of mourning, while books of condolence will remain open at Parliament, all District and Sub-District Headquarters and at all Botswana diplomatic missions abroad.
May the soul of the dearly departed rest in peace.
*Look out for a feature piece we will run on Sir Ketumile Masire next week.
Sources: Reuters, Official BW Government Facebook page