I first visited Maun Lodge back in 2006 when I first came to Botswana on holiday. The lodge is literally next door to my in-laws' plot, so it was a good place to go for a coffee, lunch or dinner. Before now, I was only familiar with 'The Boma'  – the lodge's restaurant and bar area. The service and the food are great and the staff are always friendly. But I hadn't actually stayed at Maun Lodge until now and I was very impressed.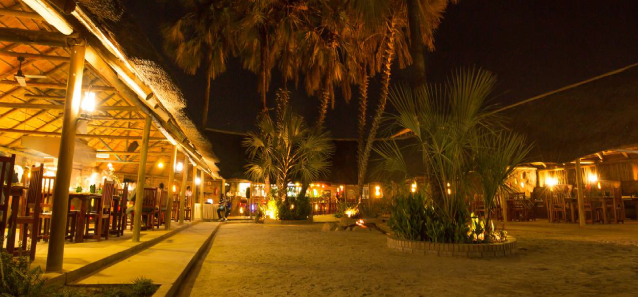 Maun Lodge has 80+ rooms, 12 thatched chalets and separate riverside rooms. The lodge is situated alongside the Thamalakane River and the riverside rooms are somewhat secluded with private verandas overlooking the river. Sadly, my budget didn't enable me to stay in these lovely rooms, but I was intrigued by the chalets.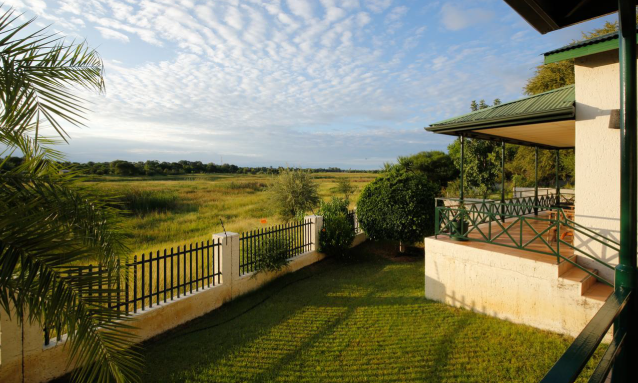 I've stayed in many hotels over the years in various countries beyond Botswana – i.e. America, UK, Belgium, Ireland and South Africa, but I've never stayed in a chalet. Maun Lodge describes their chalets as 'budget chalets' that offer value for money. They cost less than the standard rooms and I'm not sure why, but I'm not complaining. I loved staying in the chalets and the lodge applies Christmas specials, so they were cheaper than the normal price. This in itself is a pleasant surprise, the fact the lodge reduces its prices when the chalets are in high demand during what is probably their businesses period of the year. Lest we forget Maun Lodge is a very popular holiday destination, especially during the festive season.
Admittedly, there are a few minor issues. The chalets don't have double beds and the wifi was more off than it was on. The other downside can be your fellow chalet neighbours, which is beyond the lodge's control. Our first stay was in November, which is a quieter time of the year in Maun and all was relaxed and peaceful. However, our second visit was over Christmas when Maun becomes a lot more lively. To be fair, most of the other guests were quiet, but we all know it only takes one or two to spoil the ambience. Some guests are full of the festive spirit and Batswana are well-known for their love of partying. But if they become too loud and animated you can call reception and a security guard will promptly have a polite word on your behalf.
Taking aside the minor negatives, there are many positives. The chalets are quite spacious and very clean… so clean not even spiders have enough time to make a web. The rooms also have very effective air-conditioning units. In comparison to another hotel I stayed at last year (who were quite stingy with water), Maun Lodge provides two medium sized bottles of water every single day. The mini fridge works beautifully, the TV reception is great and the toiletries are adequate and replenished as and when required.
---
But the Maun Lodge experience doesn't start once you're in your room; for me it started when I enquired about their availability via email. Tshepo in the Reservations Department replied to all my email promptly and in a very helpful and friendly manner. When you arrive at the airport, you will find a gentleman stood by the door holding a Maun Lodge sign. This is the driver of the shuttle bus that takes you from the airport to the lodge (and from the lodge to the airport when you leave). This is a courtesy service, there's no additional fee.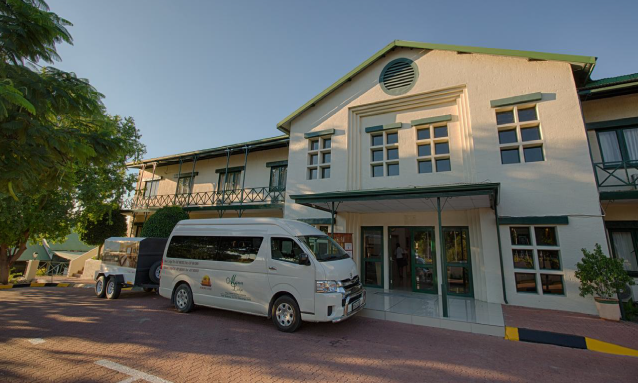 Maun Lodge looks impressive and the fact it's so popular is a clear sign it's a nice place. But while the whole Maun Lodge experience is very satisfying, the jewel in the crown truly are the people who work there. They're not just happy to help, they want to help.
People such as Onalenna, Olga and Lebo on reception, Matthews the supervisor and waitresses, Bianca, Akofang and Pamela. There were others whose names I didn't get, but I would certainly recognise them.
The Boma team never stopped working, they engaged us, took a genuine interest in us and they were always on hand to assist in any way they could. I've visited some lovely places in and around Maun, but sometimes your waiter/waitress is AWOL. At times it's because the individual isn't very good or they're overworked because the establishment hasn't employed enough staff, but this is not an issue at Maun Lodge.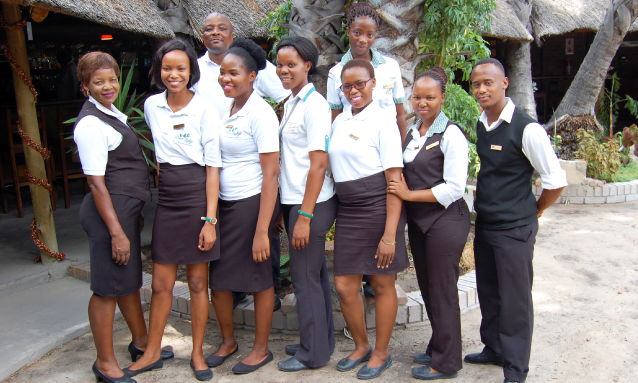 Maun Lodge is a 3-star hotel, but you feel as though the staff gives you 5-star treatment. Even the security guards, the gardeners and the housekeeping ladies were friendly and courteous. You can stay at any decent or exceptional hotel, but if any one of the staff is discourteous or rude, it takes the shine off the whole experience. The guys at Maun Lodge are great and they work so well as a team, it's difficult to single out any one person, so we interviewed a few of them.
Next week we will feature their profiles under the drop-down option 'Botswana's Best', so please stay tuned.
We really enjoyed both our visits to Maun Lodge, so much so we would have loved to have extended our stay a little bit longer. Suffice to say, we highly recommend it and we will definitely stay there again. You don't just get value for money, you feel welcomed as though you're part of the Maun Lodge family.
---
P.S. Onalenna was heavily pregnant at the time, so we wish her all the best with the pregnancy.
Pictures (slideshow and staff) taken by Gary Ashworth.
Other imagery courtesy of maunlodge.com-botswana.com