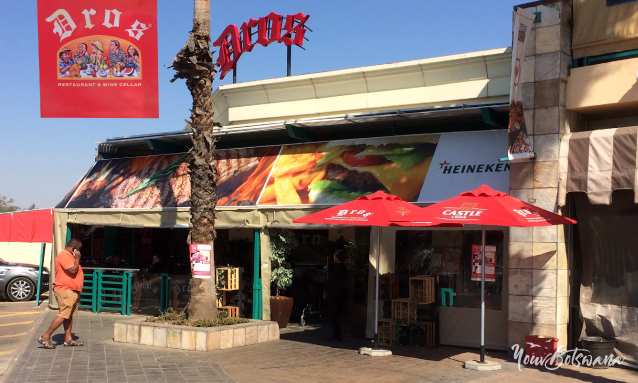 Dros, as described on their website, is a family-friendly restaurant chain with a rustic feel, a South African wine cellar and a grill menu. The restaurant, which has hints of an English pub feel about it, offers a wide variety of "fun distractions" for the whole family. Sports Lovers are treated to live sports fixtures on large TV screens, while kids have at their disposal the Dros "fun-tastic Kidz" Play Area.
The website says wine lovers are invited to experiment with their extensive wine selection, something I know nothing about, perhaps because I'm not that big of a wine drinker. The bar area offers a wide range of beverages from drafts, beers and cocktails, among others. The website also boasts that Dros' strength has always been firmly grounded in preparing and serving "high-quality, tasty food".
---
Dros serves "premium quality prime steaks and grills", "succulent ribs", "juicy burgers", "fresh salads", pizzas, desserts and more
---
YourBotswana view…
The space
Before Dros came to Riverwalk, I'd heard so much about it (all good things) but never got around to visiting it because living in Tlokweng and not driving, the Molapo Crossing one is too far. Luckily, when Linga Longa shut its doors, Dros moved in, giving us the opportunity to see what Dros is all about.
First off, Dros management took the time to overhaul the space before taking up residence. The décor was given a much-needed facelift to breathe new life into the place. The new owners also went to work to expand the space, giving it a more airy feel to it. This for me is a very welcome improvement.
Dros went one further to include a kiddies' play area, making it more family friendly. It can get a little noisy the closer you are to the play area, especially if there's a kiddie party. However, if the noise bothers you, there's enough sitting space (both inside and out) for you to avoid it.
The staff
The staff are always smiley, welcoming and courteous. The service, as with many establishments in Botswana, could be a bit sharper and quicker. But it is by no means the worst I've seen in Gaborone and could very well have been because the restaurant was newly opened. I can only hope that it was in part due to teething problems that have now been ironed out. We'll definitely go back to see if it's improved with the passage of time.
The food 
Dros serves decent enough food. I ordered the spare ribs and calamari combo with assorted veggies but was taken aback by how tiny the portion of calamari was! In fact, it was so small that I initially missed it and was on the verge of calling our waiter to ask where my calamari was. Phew, embarrassment of epic proportions averted!
The veggie selection was very underwhelming because it's exactly what you get in every single restaurant in Gaborone; creamed spinach and butternut! The portions I got were big enough for three, which made me wonder if it was to compensate for the measly portion of calamari. I did feed it back to our waitress, who took it in good faith and hopefully fed it back to management. The spare ribs were nice. Overall, the food was lovely.
In conclusion
Would I go back to Dros? Would I recommend it? Yes and yes. I liked Linga Longa but genuinely feel Dros is an improvement. It's family friendly and not as noisy as Linga Longa could get. The reason for that could be the fact that the new crowd is older and more mature. The ambience, the décor and wider space certainly add to Dros' appeal. Not a bad place at all.
---
Have you hung out at Dros Riverwalk? What do you like and/or dislike about it? Please share your views with YourBotswana.