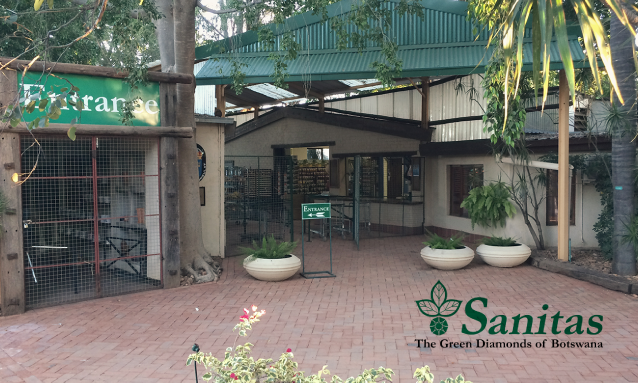 Sanitas is Botswana's oldest and largest Nursery & Garden Centre and is located near Gaborone Dam. As restaurants have come and gone over the years, Sanitas has remained standing tall and proud and continues to thrive in 2017. I can honestly say for various reasons, it is one of my favourite places to eat in Gaborone.
To get to Sanitas, you'll need a car or a taxi because there's no public transport heading that way. It's Off Machel Drive, near Gaborone Dam and as you approach Dada Mall (Fairgrounds as some know it), you need to come off the main tarred road onto the dirt road. As you continue along the dirt road, the Motswana in me loves the change of scenery because suddenly it turns into bush and shrubs that take me right back to Maun, where I come from. It gives me that feeling of being at one with nature, as if I'm on a safari game drive!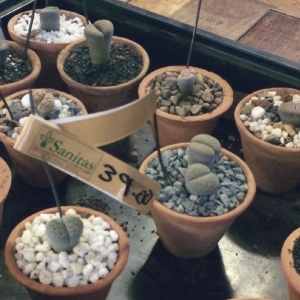 As you go through Sanitas gates, you're immediately greeted by lush, green plants everywhere! The Nursery Garden Centre sells seeds, plants, ornaments and garden tools and equipment. It truly is a gardener's dream. I'm personally not big on gardening, but every single time I go to Sanitas, I just have to take a walk around the nursery and can't help but swoon at the beauty of the plants and flowers on display and the creativity that goes into all the work. This past week I came across some fascinating plants called stone plants. If you didn't know, you would be mistaken they were small rocks, as they closely resemble pebbles. But nicely arranged, they look lovely.
---
Sanitas extends over 10 hectares of land
Well over 90% of all plants sold at Sanitas are produced on site. With more than 40 years' experience of growing plants in Botswana, Sanitas has always promoted the use of indigenous and water wise plants. The owners constantly carry out trials with new plant species and varieties to suit the local conditions.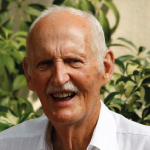 Every year more than a thousand students visit Sanitas to learn about plants and various growing methods. The founder, Dr Gösta "Gus" Nilsson (pictured), completed work as a plant pathologist with the Ministry of Agriculture in Botswana in the 1970s and to this day, his family continue to successfully carry on his legacy.
Sanitas Tea Garden
Sanitas is much more than a nursery garden where you can buy plants and other gardening implements. Sanitas Tea Garden offers some of the best food I've eaten anywhere. Before we even get to the food, I love the restaurant because of the ambience; very friendly, relaxed and serene. Shaded by tall, lush trees, the eating area is set outside so that you get to breathe the fresh air and enjoy the weather without ever getting burnt by the scorching hot Botswana sun. If you have children, you're also able to watch them as they make new friends and play in the beautifully constructed play area.
The wait staff are always courteous and attentive and the food delicious. Did I say the food was delicious J ?! On a serious note, Sanitas has some of the best, thin base pizza you'll ever find in Botswana, which I believe is freshly made in a wood fired oven.
Their homemade bottomless lemonade is gorgeous and refreshing. I once had their cheeseburger, which I would highly recommend. I'd be willing to bet it was made from scratch, (rolls included) on site. I've yet to be disappointed by the anything on the menu, and I've been to Sanitas countless times. It is a firm favourite of mine and as such; I'd recommend it to anyone looking for a great, child – friendly restaurant with lovely ambience.
---
Sanitas offers breakfast, lunch, light meals, dessert, cakes, milkshakes, teas, great cappuccinos and coffees. When in season they use homegrown fruit, vegetables and herbs.
---
Opening times
Garden centre – Opens 7 days a week
7.30am – 17.00pm
Tea Garden – Open 6 days a week
Tuesday to Sunday: 8.00am – 16.30pm
Interesting facts
Sanitas used to export cut flowers such as roses to Europe. As the local market developed and grew, more emphasis was placed on vegetables, fruit and ornamental plants. They stopped exports in the late 70's.
During the 80's and the first half of the 90's Sanitas was involved in large scale landscaping projects in Gaborone and elsewhere around Botswana.
In the 90's the company gradually developed into a Plant Nursery and Garden Centre.
In 1996, they added the Sanitas Tea Garden to enhance the customer experience.
The food served at Sanitas Tea Garden is so good that in March 2011 the Swedish King, Carl XVI Gustav and his delegation consisting of 2 Swedish ministers and management representatives from leading Swedish Export businesses dined at Sanitas' Linnaeus training venue.
2011 proved to be a star-studded year for Sanitas, as Michelle Obama chose it as the venue for a multi – generational women leader's luncheon for 75 women she hosted in June 2011.
---
Have you ever been to Sanitas? What do you think of Sanitas? Please share your experience with YourBotswana and the rest of our readers.