Botswana's newly appointed 30-year-old Minister Bogolo Joy Kenewendo is being celebrated on social media by many Africans, who say her appointment despite her age is a rare feat that needs to be replicated across the continent.
Kenewendo is one of the ministers appointed by Botswana's new president, HE Mokgweetsi Masisi; who in his inaugural address pledged to invest in the youth and create job opportunities for them. Kenewendo, appointed the Investment, Trade and Industry Minister, becomes Botswana's youngest ever minister, two years after she was initially appointed by the former President Ian Khama as a Member of Parliament.
While some social media users have cautioned against celebrating her appointment simply because of her age, Kenewendo is no stranger to the portfolio she's been tasked to manage. She has previously worked as a Trade Economist in the Ministry of Trade and Industry in the Government of Ghana.
Who is Bogolo Kenewendo?
The youthful minister is passionate about development, poverty eradication, reducing inequality and empowering women and youth. Kenewendo founded Molaya Kgosi, a women's leadership and mentorship programme which was inspired by the young African women leaders' forum hosted by Michelle Obama in 2011.
Not just a pretty face, Kenewendo completed her BA in Economics at the University of Botswana, during which time she also took part in the Pitzer College exchange programme and completed the Tor Vergata, Jean Monnet Summer programme. Additionally, she is a certified Project Management PRINCE 2 practitioner.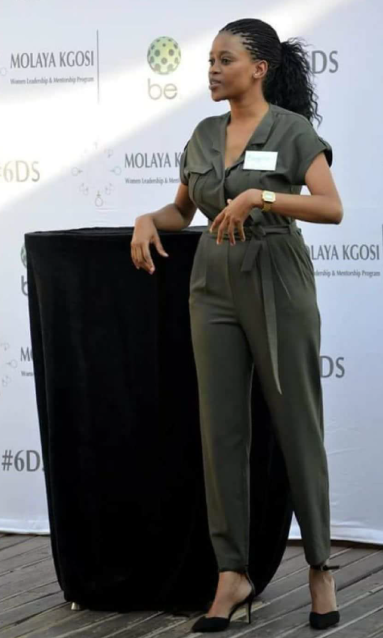 Her areas of expertise include Macroeconomic policy, public debt management, trade policy, export development, trade in services, regulatory frameworks, trade-related issues, trade and investment policy, industrial development policy, institutional frameworks for policy formulation, poverty alleviation, financial sector development, etc. Kenewendo has also provided analyses for local and international press.
Kenewendo lived and worked in Ghana as a Trade economist in the Ministry of Trade and Industry in the Ghanaian Government and was previously employed as an Economic consultant at Econsult Botswana.
---
A truly accomplished lady with the world at her feet! Having achieved so much at such a tender age, we can't help but wonder what else she has the potential of doing. We have always said that Botswana could do with fresh new talent to help drag Botswana out of the dark ages, to breathe new life into a cabinet that's often seen as ageing and perhaps out of touch with global trends, one that struggles to connect with the youth. Granted, recent years have seen this slowly change. But Kenewendo's appointment is by a clear mile the biggest step in the right direction so far and for that, we applaud President Masisi.
We would also like to take this moment to wish Ms Kenewendo well in her new role.
---
Source: http://www.africanews.com/2018/04/06/botswana-s-30-year-old-minister-becomes-internet-sensation-across-africa//
Image sources BW Government Facebook page & @youthhubafrica