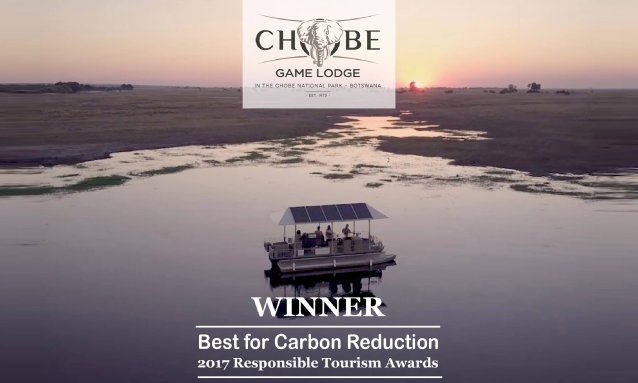 Chobe Game Lodge has won the World Travel Market Responsible Tourism award for Best Carbon Reduction at the 2017 WTM Responsible Tourism Awards. The award is in recognition of the lodge's efforts towards reducing carbon emissions through its fleet of electric safari vehicles and boats. This award, along with others the lodge has received since the inception of the electric fleet in 2014, is a testament to the hard work and efforts that the lodge has put into this project.
The proud winners of the prestigious award state on their Facebook page that the entire team at Chobe Game Lodge is committed to responsible tourism and 'believe in its efforts to stand as a catalyst for change and an example for other operators to follow'.
For over a decade the World Responsible Tourism Awards have been presented at World Travel Market in London each November. However, this year marks the first time that they have also been organised by WTM, who take over from responsibletravel.com.
For the first time, each winner was recognised as a 'Leader in Demonstrating Responsible Tourism Impact', to mark the fact that 2017 is the UN International Year of Sustainable Tourism for Development. For the first time, therefore, the awards have focused not just on which companies, organisations and destinations are running the most inspiring projects, but on which could show the measurable impact of their work.
Botswana's Chobe Game Lodge won the Best for Carbon Reduction category. The lodge has a youth development programme that has trained nearly 200 young people; a profit share scheme for staff; and a women's empowerment programme that means now 65% of all staff are female – they even have an all-female team of professionally qualified guides.
Well done, Chobe Game Lodge and way to go!
For the complete list of winners: http://ow.ly/FwQd30gsJXl
Source: https://www.travindy.com/2017/11/winners-wtm-responsible-tourism-awards-2017-announced/