If there's a trump card up Botswana's sleeve, it's Botswana beef. Prepare to add an inch or two to your waistline because food in Botswana is sublime. Vegetarians will survive, but meat eaters will thrive.
---
Mokolodi Nature Reserve (Gaborone)
Positive: Mokolodi is one of the best restaurants I've experienced in Botswana. Both the food and the service are exceptional and consistent and I applaud both staff and owners. I've tried a number of items on the menu and I am yet to be disappointed. The restaurant is located on the outskirts of the game reserve, which is great as you will often dine or have a sundowner joined by the reserve's wildlife. Although I haven't as yet seen the rhinos 😉 I would strongly advise visitors to Gaborone, take time to dine at Mokolodi, you will not be disappointed.
Negative: The truth is I haven't experienced anything negative at Mokolodi. However, if I were to be extremely unfair, I would say their location is a bitter/sweet for non-drivers (like me). I don't visit Mokolodi as often as I would like… but it's probably best not to get too much of a good thing.
---
Café Portugalia (Game City, Gaborone)
Positive: Their food quality in my experience is consistent, as is the service. My wife and I have become quite friendly with the waitressing staff and as such they always welcome us with hugs and genuine pleasantries. I normally order their T-bone and fries, so the waitresses usually predict my order. It is also one of the few restaurants in Gaborone that serve decent fries, albeit they are frozen, they are cooked and seasoned properly.
Negative: It's not situated at Riverwalk Mall, which is a place I frequent more often than Game City.
---
Thamalakane Lodge (Maun)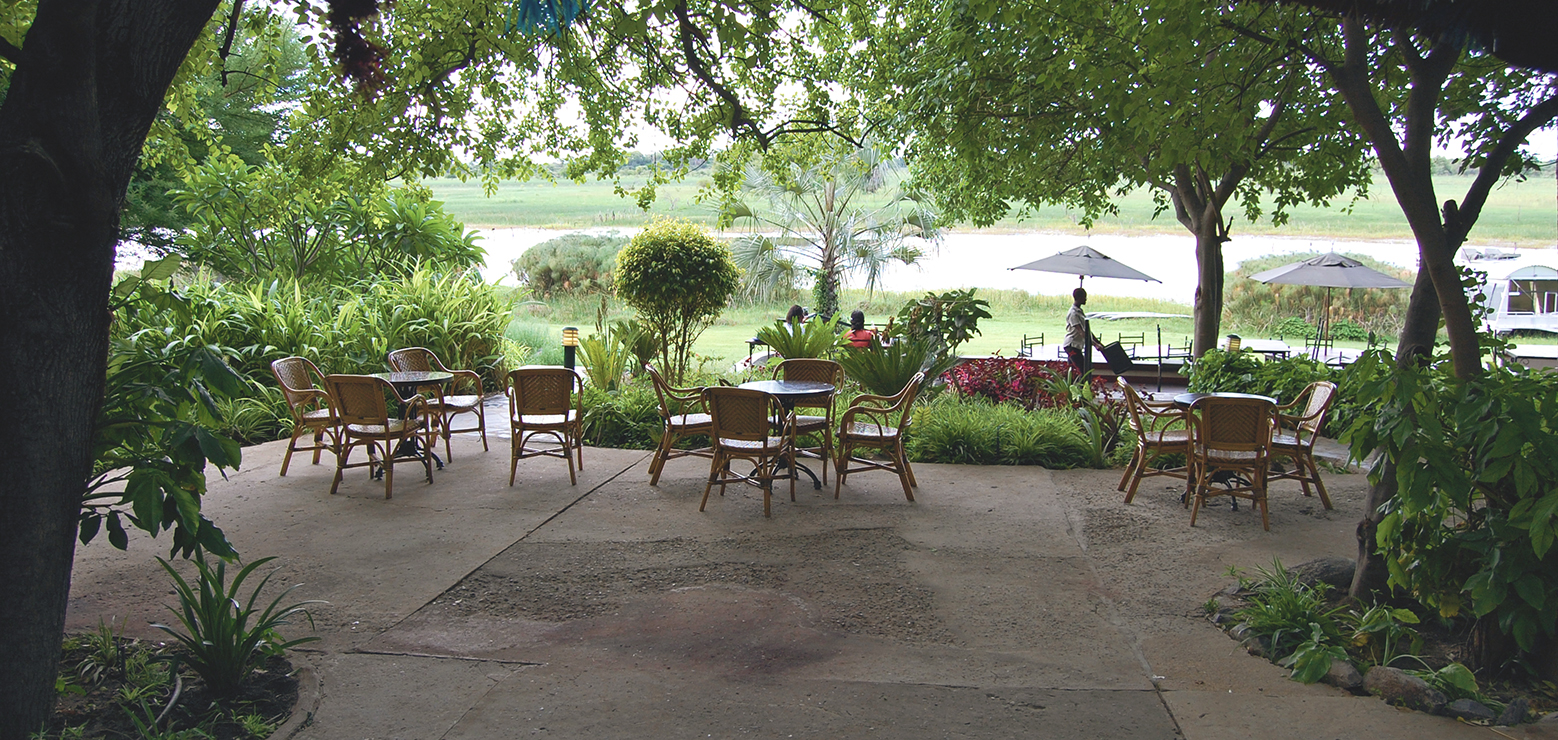 Positive: It is an amazing setting for a lunch or dinner. I have only been there once, but the food was amazing. Their chips looked and tasted fresh, as though they had been a potato earlier in the day and the accompanying salad was crisp and fresh. A brilliant restaurant and definitely worth visiting if you're in Maun.
Negative: I have to be honest; they did mess up my fillet steak. I ordered it medium and it came rare. However, this is because the fillet was huge, so huge I had to take half of it away in a doggy bag. It was only when I reheated it in the microwave (sacrilege towards good steak, I know) did it lose the excessive red in the middle.
---
Tandurei (The Village, Maun)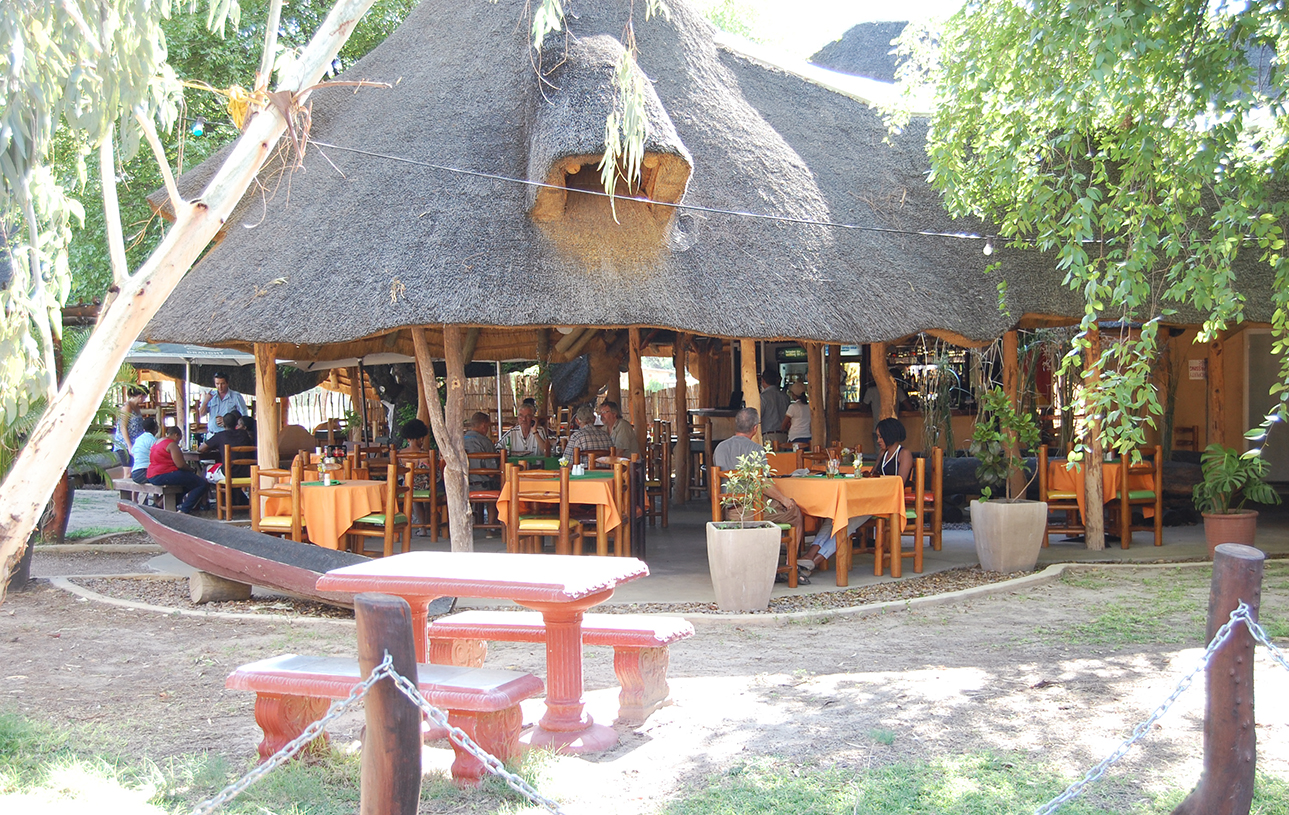 Positive: Tandurei is an excellent Indian and Chinese restaurant. The staff are friendly and know the menu inside out. I have sampled both cuisines and was very satisfied and I offer my sincere compliments to the chef. The restaurant is very sympathetic to its surroundings and location. If I'm in Maun for a decent amount of time and I don't take the time to dine at Tandurei, you have my permission to shoot me because it would be criminal not to go there.
Negative: I don't visit Maun often enough so I can't dine at Tandurei regularly.
---
Cappello (Maun)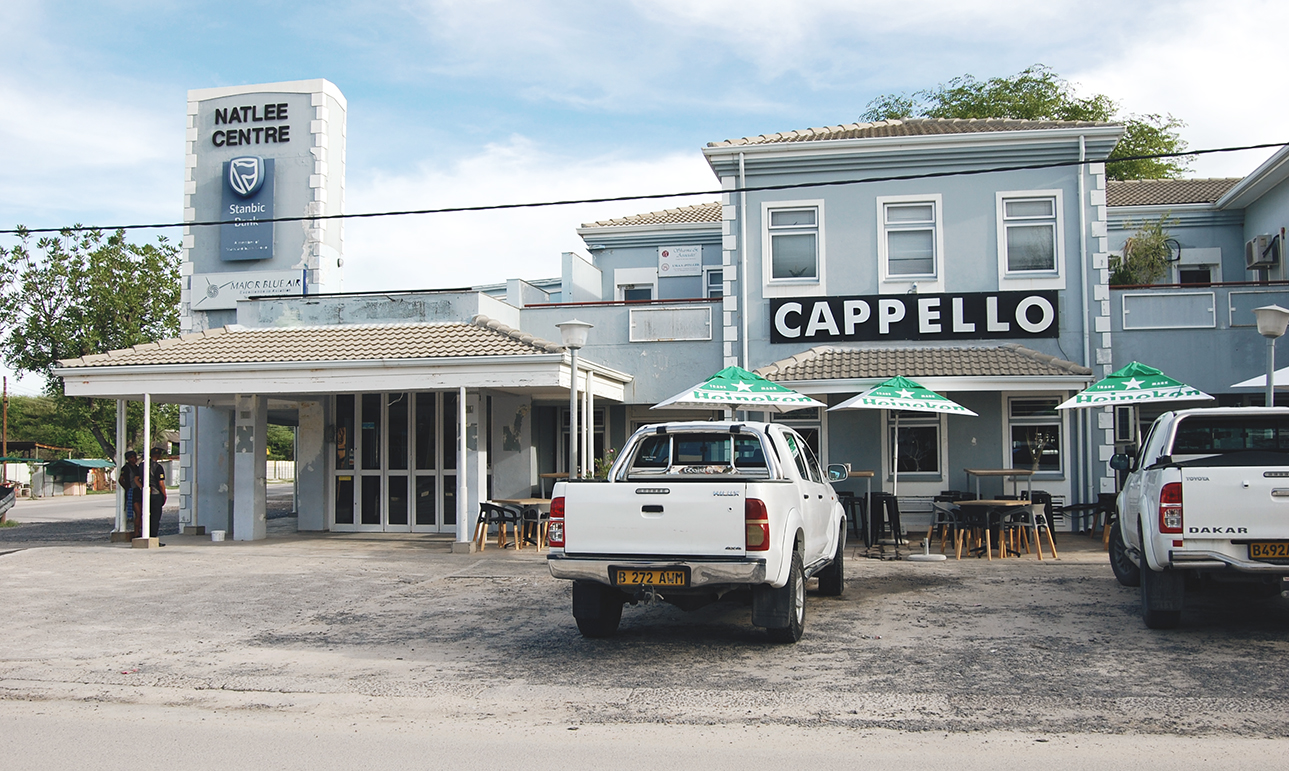 Positive: Cappello was newly opened when I visited. The food on a whole was great, although their chips are dreadful. I just hope the quality and service continues the longer it's open and doesn't go downhill. I also hope it doesn't become a watering hole for drunks.
Negative: I have mixed emotions about the service; a couple of the female waitresses were brilliant, but a couple of the male waiters were pretty poor. Their coffee is amazing, but way too small. You have a taste and feel as though you're in coffee heaven, but a couple of mouthfuls later and the cup is finished.
---
Lorraine's Ntlo Maison (Gaborone)
Positive: This is a lovely French bistro. I've been there once and ordered duck, which was one of the best I've ever had. I was highly concerned with the amount of garlic sprinkled over the meal, but I think the chef performs some mystical cooking technique, as the garlic was in no way overpowering. This was also the place where I tried snails for the first time and I was pleasantly surprised, they were gorgeous and looked nothing like the creature you commonly see in your garden.
Negative: I have to admit the location of the bistro is not the best. It's situated next to a bar and although the restaurant employs a security guard, it's not ideal. There's loud music from the bar and an abundance of drunks hanging around outside. We didn't experience any trouble when we left the restaurant, but drunks are unpredictable and I fear it's only a matter of time before someone suffers an unpleasant experience.
---
Simply Asia (Riverwalk Mall, Gaborone)
Positive: Simply Asia is a fast-food outlet and unlike other fast-food outlets, their food is fresh. The service is brilliant too. If you love Asian cuisine, Simply Asia is worth a visit.
Negative: I feel their menu is too extensive and it takes a good 10-20 minutes to read through. It would be great if they had pictures for all their dishes, that way I could let my eyes do the ordering 😉 They don't deliver, which would be fantastic.
---
Rodizio (Riverwalk Mall, Gaborone)
Positive: Rodizio is a Brazilian Barbeque restaurant. Their meat is cooked like a traditional braai, flame grilled and succulent. Their desserts are sinfully gorgeous and perfect for people with a sweet tooth.
Negative: It's not really a traditional Brazilian Barbeque restaurant. I've been to Brazilian restaurants in New York and Manchester and Rodizio is more of an imitation rather than the real thing. They need to upgrade their menu too. I ate at Rodizio in 2008 and they offer the same menu today in 2017, nothing has changed. Their vegetable offering of creamed spinach and mashed sweet potato is tasty, but tired and it would be nice to have more variety.
---
Cappuccinos (Airport Junction, Gaborone)
Positive: This is an Italian café/restaurant and one of the few places you find a proper pizza. Airport Junction is a lovely mall and it's nice to eat at Cappuccinos, sitting in the shade and watching the world go by.
Negative: They have that awkward thing of not serving breakfast items after 11am or 12pm (I can't remember which), the staff is friendly, but can be slow sometimes.
---
Ocean Basket (Airport Junction, Gaborone)
Positive: Ocean Basket is the place to go if you're craving a fish dish. Botswana is a landlocked country and yet the fish at Ocean Basket is fresh, the batter is crisp and the chips aren't too bad.
Negative: The outside dining area is a little too congested and the tall chairs are not comfortable.
---
Bull & Bush (Gaborone)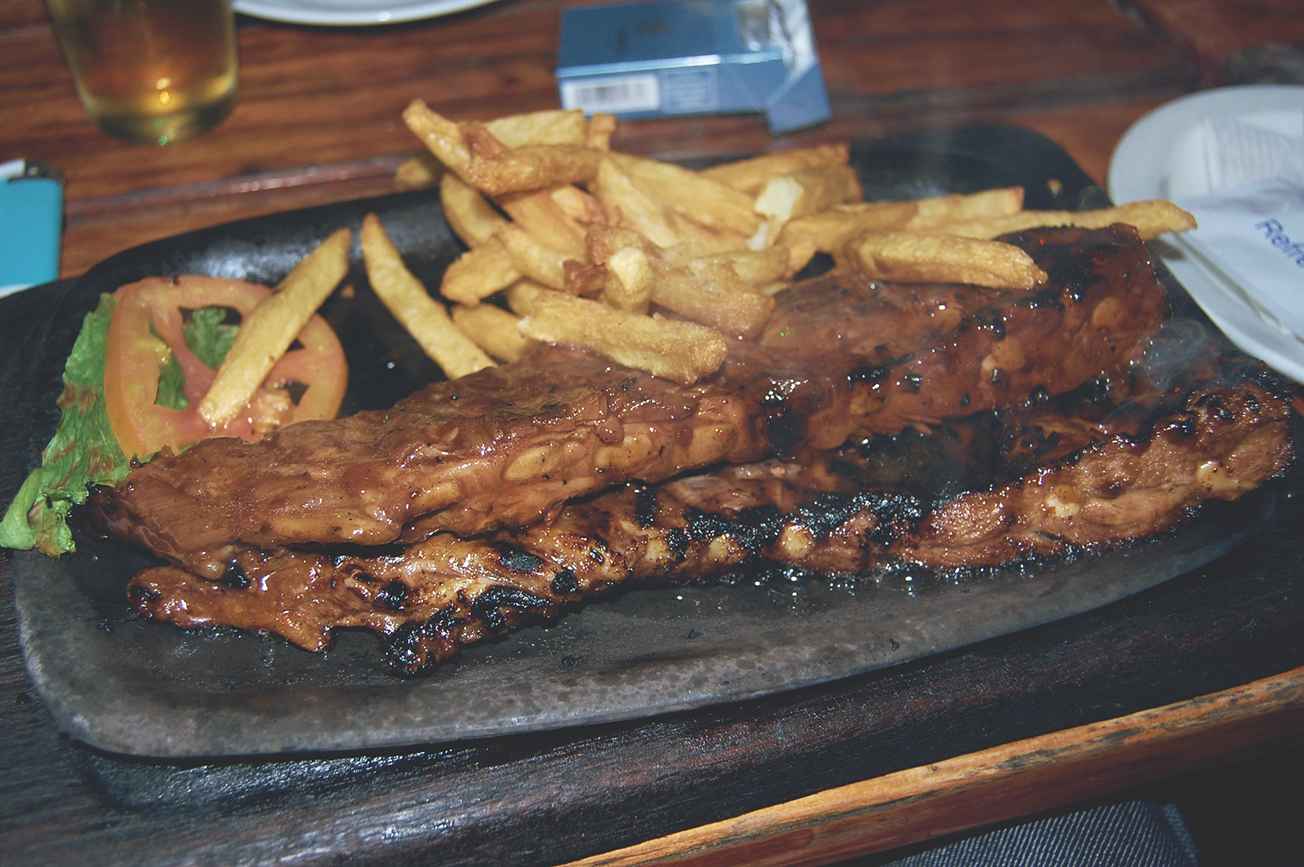 Positive: Bull & Bush is famous for its ribs and rightfully so. It is THE place to go for exquisite, juicy and nicely sized ribs. They are brilliant. It's a bar come restaurant, so you get a combination of both atmospheres, which makes it a lively place with character. My advice is to order two racks so you have a rack for lunch the following day… otherwise you'll kick yourself.
Negative: You have to be careful when you go there, as Fridays and Saturdays evenings are a bit rowdy and live performances can be too loud. The staff can be 50/50, sometimes it's great and other times it's really bad, those times when you have ask several times for the ashtray.
---
Embassy (Riverwalk Mall, Gaborone)
Positive: Embassy is an Indian restaurant and serves fantastic Indian food. Their portions are deceptive looking, as they are very filling. Their naan bread is unbelievable and the service is predominantly good. They also deliver, which is the best of both worlds.
Negative: Their outside dining area is bit naff and uninviting because it's dark and hidden.
---
Spar (Riverwalk Mall, Gaborone)
Positive: I don't usually associate great food with a supermarket, but Spar at Riverwalk is the exception. It has an amazing food counter that sells some really nice local dishes. On the occasion they also include bonus dishes like fish, and it's really nice. The ladies behind the counter are great (as are most of the staff at this particular supermarket) and the food is really tasty.
Negative: The chef is a bit too keen with the salt and spices, I have visited another Spar, but I wasn't impressed with the food counter. It was open and I hate food counters that are self-serve and therefore accessible by the general public. Call me a germaphobe, but this type of service does not appeal to me.
*It's also worth mentioning that Spar at Riverwalk also has a brilliant butchery counter with a great selection of meats.
---
Health conscious diners…
If you want to investigate a healthy option, there is a juice bar at Airport Junction called Health Generation, which I understand is a Botswana business and not a franchise from South Africa. Although I find their "message" somewhat confusing, as they promote health, yet serve coffee and ice-cream??
They do create lovely juices with an array of unusual ingredients, but their smoothies are disappointing. I'm accustomed to smoothies being a blend of fresh fruits, fresh juice and thickening agents such as frozen yoghurt and peanut butter. However, Health Generation blends a frugal amount of fruit with ice-cubes, which to me is just cold juice. In any case, if you want to detox from your meat endeavours, Health Generation is an option.