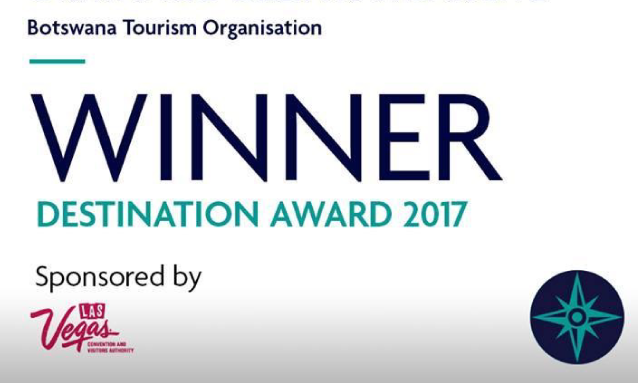 Congratulations to Botswana through the Botswana Tourism Organisation – BTO on winning the much deserved World Travel & Tourism Council (WTTC) destination management award, following years of hard slog and persistence to make Botswana one of the best experiences in the world.
The Botswana Tourism Organisation was among the winners of the World Travel & Tourism Council's Tourism for Tomorrow Awards 2017. The award winners were announced at the WTTC summit in Bangkok on Thursday.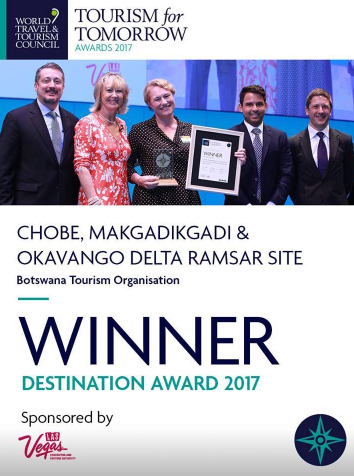 The BTO won the Tourism for Tomorrow Destination Award with the lead judge, Professor Graham Miller of the University of Surrey commending its "outstanding leadership and integrity in sustainable tourism over many years". Miller noted;
"The country recently banned trophy hunting, becoming one of the first countries in the world to do so."
Fellow finalists in the People Award category were Desert & Delta Safaris of Botswana, for its management program for young Batswana, and Streets International of Vietnam, which provides opportunities for children from disadvantaged and trafficked backgrounds.
Fiona Jeffery, chair of the Tourism for Tomorrow Awards, stressed the rigorous judging process and applauded the finalists as "outstanding examples of sustainable development".
WTTC president and Chief Executive, David Scowsill said;
"Travel and tourism is growing fast and we have to ensure this growth does not see short-term gains prioritised over the longer-term health of local environments and communities.

This year's Award Winners demonstrate not only that tourism can be sustainable, but that it can bring tangible improvements to the environmental and cultural surroundings in which it operates."
As Botswana continues to shine, YourBotswana would like to congratulate BTO and commend them for a job well done. It seems like only yesterday when the World Travel & Tourism Council bestowed upon Botswana the prestigious Environment award last year. Long may that continue!
Source: travelweekly.co.uk