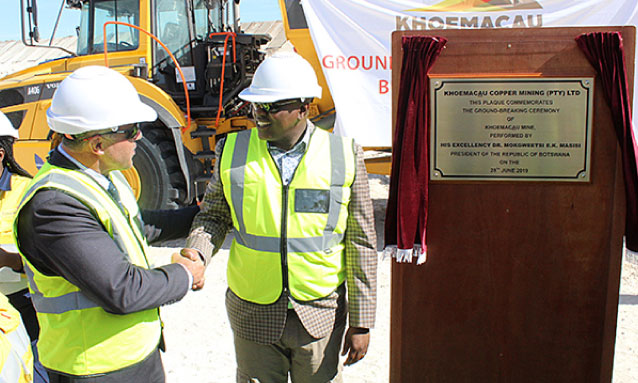 His Excellency, the President Dr. Mokgweetsi Eric Keabetswe Masisi today officially opened the Khoemacau Copper Mine.
Khoemacau Copper Mine is expected to contribute approximately P119 billion to the GDP, with an estimated average annual tax revenue of over P1 Billion during its 22-year lifespan. The project currently has a staff complement of 2, 800; 96% of whom are locals. On the 28th of June 2019, President Masisi officiated at the Khoemacau Copper Mining groundbreaking ceremony, marking the official launch of the Mining Project at the Zone 5 processing plant, 72 km from Maun. Khoemacau Copper Mine was developed and completed within the planned time frame, a remarkable achievement considering the raging COVID-19 pandemic. The Mine has the capacity to produce 165,000 tonnes of high-grade copper and silver concentrate a year, containing about 65,000 tonnes of payable copper and 2 million ounces of payable silver.
Speaking at the event, President Masisi said;

"The success by Khoemacau Copper Mine is testimony to the spirit of resilience. I am grateful to the management of the Mine for demonstrating to us that despite the  challenges of COVID-19, we can still implement national projects that will help reinvigorate the economy.

Our vision for Botswana is to transform from a middle-income country to a high-income country by 2036, as espoused in our National Vision. To achieve this, we aim to create a Botswana that will be a destination of choice for investment. To this extent, the Government will create a conducive environment to make private companies such as Khoemacau Copper Mine feel welcome to operate smoothly and contribute to the growth of our economy.

The Government will support the Mining Industry through infrastructure development which includes; cross-border railways, roads across the country; electricity infrastructure; and major water transfer schemes."
The President further said Khoemacau Copper Mine would advance the Government's vision to create employment and contribute to the development of the nearby villages and Botswana at large. Khoemacau uses the latest automated technology to improve productivity and safety and processes up to 40% copper concentrate before it's exported to international markets. President Masisi noted that completion of the Khoemacau Copper Mine demonstrates that Botswana remains a very strong Mining Jurisdiction and is also expected to stimulate and encourage other Greenfield and Brownfield Mining Projects in Botswana during its twenty-two-year lifespan.
Reference: BWGovernment Facebook page