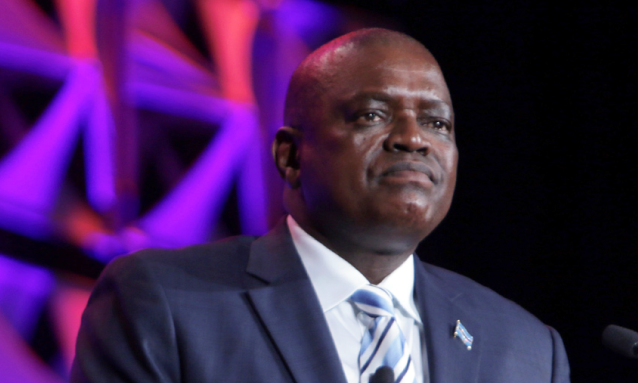 Botswana President Mokgweetsi Masisi said he's never seen the world as polarised as it is over the issue of access to COVID-19 vaccines.
The actions of rich countries, who have bought more inoculations than they need while much of Africa struggles to secure the doses, should be "condemned in the strongest of terms." Pharmaceutical companies should also be compelled to share the technology needed to make the vaccines, he said.
"I've never seen a crisis that divides us so sharply," Masisi said in an interview Friday in Dar es Salaam, Tanzania's commercial capital. This "causes us to reflect deeply and ask ourselves existential questions on the meanings of multilateralism, on the meanings of humanity."
Masisi's concerns echo those of leaders including South Africa's Cyril Ramaphosa, who has described the hoarding of the shots as "vaccine apartheid," and Tedros Adhanom Ghebreyesus, the director-general of the World Health Organization, who described it as a "catastrophic moral failure."
U.S. Donation
While the U.S., a nation of 326 million people, has administered 306 million doses of vaccine, Africa's 1.1 billion people have received just 35.9 million inoculations and only 54 million vaccines have been delivered to the continent.
"I totally am opposed to the conduct and behaviour of these countries that hoard vaccines against COVID-19," Masisi said.
The U.S., criticised for holding onto its stores of vaccines, will donate 500 million doses of Pfizer Inc.'s shots to poor countries this year and next, President Joseph Biden said on Thursday. The U.K. has since pledged 100 million doses of inoculations and Australia 20 million. Masisi said he backs a proposal brought by South Africa and India to the World Trade Organization to have patents on Covid-19 vaccines and treatments waived.
"This is not an issue of trade," he said. "It's an existential need of the human race."
Source: https://www.bloomberg.com/news/articles/2021-06-11/botswana-leader-says-world-never-as-divided-as-over-vaccines?srnd=politics-vp