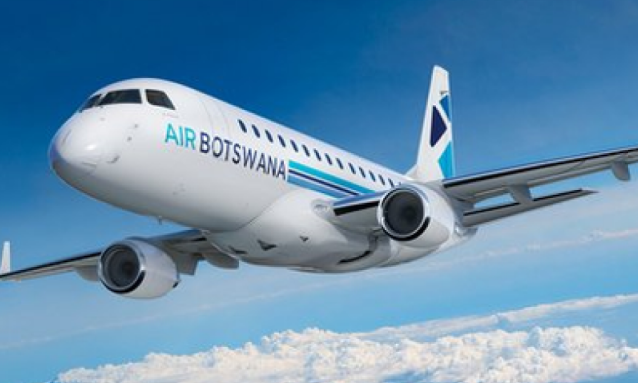 Mack Air (MKB, Maun) is planning to enter Botswana's scheduled passenger services market and would have done so earlier this year had it not been for the COVID-19 crisis.
A spokesman for the Civil Aviation Authority of Botswana (CAAB), Modipe Chris Nkwe, told the Sunday Standard newspaper last week that Mack Air, a privately-owned charter specialist, was licensed in late 2019 to carry out scheduled flights between Maun, near the Okavango Delta, and Windhoek Int'l in Namibia and between Kasane, in Botswana's extreme northeast, and Victoria Falls in Zimbabwe. Notwithstanding the COVID-19 pandemic, MackAir would have launched the 3x weekly flights using Cessna (single turboprop) 208B EX Grand Caravans in April but all have since been postponed indefinitely.
According to the airline, its Desert Express-branded flights came amid significant demand from several key clients looking to offer seamless link safaris between Botswana, Namibia, and Zimbabwe. Air Namibia (SW, Windhoek Int'l) used to operate the Namibia-Maun route but terminated it in 2016 citing low passenger loads. Mack Air has also applied to enter the scheduled domestic market, which the Botswana government has sought to encourage given state-owned carrier Air Botswana (BP, Gaborone) lacks the gauge of aircraft needed to service many of the country's smaller towns. At present, Air Botswana operates two ATR72-600s and one E170. Domestically, it serves Francistown, Kasane, and Maun from its Gaborone hub. To help encourage more of the country's passenger charter airlines to start regular flights, the government in a recent draft of its 2020-2023 Economic Recovery and Transformation Plan (ERTP) even suggested CAAB expedite approvals and ensure that they do not depend on Air Botswana's consent.
"There is still an opportunity in this market for other operators. CAAB calls for increased participation in this market," Nkwe said. 

"Mack Air is currently the only applicant for the scheduled domestic route and its Air Transport License (ATL) has been approved. However, the only pending process is that which requires the operator to undergo the certification process to vary their operator certificates from Charter to scheduled operations. This requirement has been communicated to Mack Air."
The recent draft of the 2020-2023 Economic Recovery and Transformation Plan (ERTP) suggested by the Ministry of Finance and Development Planning emphasised the need for improved domestic scheduled air services and an opening up to operators other than Air Botswana. It read;
"There are a number of "thin" routes that require aircraft smaller than those operated by Air Botswana, as well as potential operators. The consideration of applications to provide scheduled air services on domestic routes should be expedited by the CAAB, and approval should not be dependent upon Air Botswana's agreement." 
To alleviate Air Botswana's concerns that it is not looking to go head-on with the ailing national airline, Chris Dekker, Mack Air's Manager (Quality and Performance), told the CAAB in an interview earlier this year that it plans to complement rather than compete.
"I must make a note, as it's been frequently asked, that no, we will not compete with Air Botswana, rather, we are actually in a position to benefit and feed our nation's airline," he said. 

"This is integral to us, and it should be for every Motswana. Step by step, we may greatly assist in connecting Southern Africa's unique but isolated tourism hotspots. It's our hope that by directly and affordably connecting each nation's tourism gems, that we'll see all Southern African tourism sectors flourish and Botswana will be the central hub to this growth."
Established in 1994, Mack Air currently operates a fleet of over 24 aircraft which, aside from the Caravans, includes a Cessna Citation M2 for medevacs and charters. It specialises in passenger charters throughout the tourism-dependent north of Botswana. Botswana caps foreign ownership of its airlines at 49%. Mack Air was not immediately available for comment.
Who qualifies to become an operator?
The current regulations state that to be eligible for a scheduled air transport license, a company should be: a Statutory Corporation in Botswana or a Government Department; a corporation incorporated under the Companies Act and has a place of business in Botswana and; have at least 51% of voting rights (shareholding) held, and effective control exercised by citizens of Botswana or by Government department, an agency or a parastatal or entity which is under any Government department.
Air Botswana to resume scheduled domestic ops in early 3Q20
Meantime, Air Botswana (BP, Gaborone) plans to resume scheduled domestic operations on July 17, it outlined in a statement on July 9. The state-owned flag carrier intends to increase frequencies in response to growing demand and will reinstate regional operations as soon as travel restrictions are lifted, it said.
Its regional shuttle between Gaborone and Johannesburg O.R. Tambo was its busiest route before the Covid-19 outbreak, with several daily flights in both directions. The domestic resumption will be subject to health and safety protocols and "new ways of working," the carrier's General Manager, Agnes Khunwana commented in the statement.
"As we gradually reintroduce operations, we will continually explore other possible recovery strategies that address the commercial viability and business sustainability of the national airline, without compromising the health and safety of both staff and customers," she said.

"Following the suspension of operations towards the end of March, Air Botswana has been waiting for an opportunity to reunite its valued customers with their loved ones, their businesses and nature," she added.
On March 25, Air Botswana announced that it would suspend scheduled services on its domestic and regional route network from March 27 to May 31, though subject to regular review. Sales had already fallen by 32% in the first two weeks of March year-on-year. By late May, it was preparing to resume domestic flights from June 12, the Botswana Daily News reported, but this did not happen.
Resumed flights will mainly be from Gaborone to Francistown, Kasane, and Maun, the last routes that were shut down. Air Botswana operates a fleet of two ATR72-600s and one ERJ 170-100LR, according to the ch-aviation fleets advanced module.
Source: https://www.ch-aviation.com/portal/news/93028-air-botswana-to-resume-scheduled-domestic-ops-in-early-3q20 / https://www.sundaystandard.info/caab-needs-more-birds-in-the-sky/