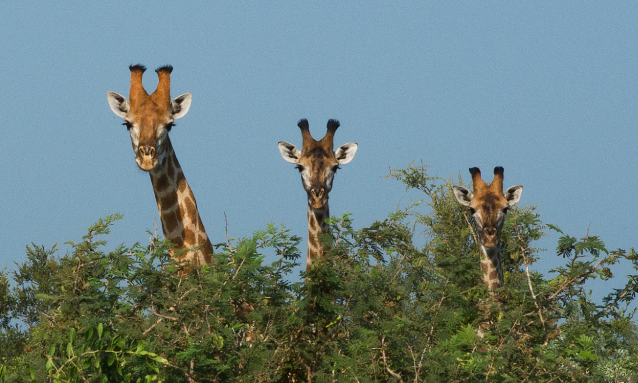 Botswana is a popular safari destination for travellers and many experts have different opinions about when the best time to travel to Botswana is.
You have probably heard of the 5 key questions, or the '5W's' to ask during any problem-solving situation. In case you can't remember them from your younger years – the key questions to ask are: who, why, what, where and when.
---
In the case of planning a safari, it can be a simple task if you ask yourself these five questions:
Who? That's you, of course!
Why? Do you really need a reason to go on safari?
What and Where? Safari in Botswana (Yay!)
When? Well, this is a tricky one and is also a personal decision as travellers tastes and interests vary.
---
Some factors to consider when deciding when to go on safari in Botswana…
The weather in Botswana
One of the main things travellers worry about is the weather. This is one of the only factors out of our control! While it's impossible to predict exact weather patterns, there are a few guidelines as to what travellers can expect depending on the season they visit in.
The rains in Botswana arrive mostly during summer between December and March. Despite this, most days during the rainy season are bright and sunny, with the rain coming down in spurts during afternoon thunderstorms. Daytime temperatures average around 32°C/90°F, so a good hat and some sunblock are highly recommended.
During the colder months (May to October), there is little to no rain and daytime temperatures average in the low 20s°C/66°F. Be sure to pack a warm jacket for your safari in Botswana during these months as nights and early mornings can get nippy.
Wildlife action in Botswana
A safari in Botswana is a fantastic choice if you want to see Africa's Big 5, especially if you head to the Okavango Delta area.  The confusing thing about the Okavango Delta is that it can get flooded in the dry summer season, as the water from the earlier rains takes about six months to spread across the land. Wildlife of all shapes and sizes will follow the water to survive and, with the flooded plains, you are sure to get some great wildlife action. The wildlife has also learned to adapt to the wet conditions so you may be lucky enough to spot some elephants swimming, or even some lions playing in the water!
Water-based vs land-based camps
At most water camps you will be able to view all the wonderful wildlife action in the floodplains from the comfort of your room. Or you could be adventurous and explore the banks of the Chobe River from a unique vantage point aboard a boat. The Chobe area is renowned for its memorable boat cruises from which you can view wildlife from a unique vantage point. The excursion also offers the experience of Botswana's stunning sunsets the likes of which many will never have had the pleasure of experiencing!
Water-based lodge activities include mokoro rides, boat excursions, game walks and possible fishing activities are available all year round. 
Typically your focus will be on birding, aquatic life and the ecosystems on a mokoro excursion and you will avoid big game.
---
By contrast, land-based camps offer plenty of herbivores such as zebras, wildebeest, buffalos, impalas and more, around during the dry season. It's easier to spot them in the sparse dull vegetation. Guests have the coveted opportunity of exploring marked walking trails, or even on a horseback safari at some camps – both fantastic ways to see the wildlife up close.
Land-based lodge activities include day and night game drives and game walks. Generally, game viewing is better on land-based camps than the purely water-based camps, as you are able to get up amongst the large animal herds on a game drive, where you are more restricted when on foot.
Peak and Low season
Another aspect to consider when booking your Botswana safari is your budget. Travellers can expect to pay a little bit more during Botswana's peak tourism season (July – October). If you are not into crowds and would like to save a bit of money then the best time for you will be during the rainy season (Jan- March). 
However, keep in mind that some lodges close during the low season. If a quieter, more affordable safari sounds more appealing to you then lodges such as Tuli Safari Lodge and Zarafa Dhow Suites would be great choices as they are open all year.
---
When to go…
High Season (Jun or Jul–Oct)
Peak rates and low availability for lodges across the north.
Warm days and mild nights but October can be oppressively hot.
Extremely cold nights in the Kalahari, where it's low season.
Campsites booked out months in advance.
Shoulder (Apr, May & Nov)
May nights can be cold but otherwise a lovely, cheaper time to visit.
Rains sometimes last into April and some trails still waterlogged.
Water levels in the delta unpredictable at this time.
Low Season (Dec–Mar)
Cheaper rates and high availability, except over Christmas/New Year.
Rains can disrupt travel, making off-road driving difficult.
Zebra migration in the Makgadikgadi Pans and migratory birds elsewhere.
High season in the Kalahari.
---
Activities in Botswana
A safari in Botswana would simply not be complete until you have experienced a mokoro ride (a dugout canoe) through the shallow waters. If you would like to get up close to the wildlife, without scaring them off by the sounds of an engine or motor, then a mokoro is the way to go. Nothing will get your heart racing more than seeing a huge crocodile swim right pass you! Obviously, you need water for this, so the best time for a mokoro ride is when there is lots of water around.
During the dry season, you can explore the vast lands on a game drive in a safari vehicle. Game drives are popular on safari and for good reason. Guides are able to track the wildlife and take you to see them in their natural habitat.
---
As every season has its pros and cons, there really isn't a "best" time for a safari in Botswana – it all just depends on you. After all, any time is a good time for a safari.
Reference: lonelyplanet.com; goodsafariguide.com