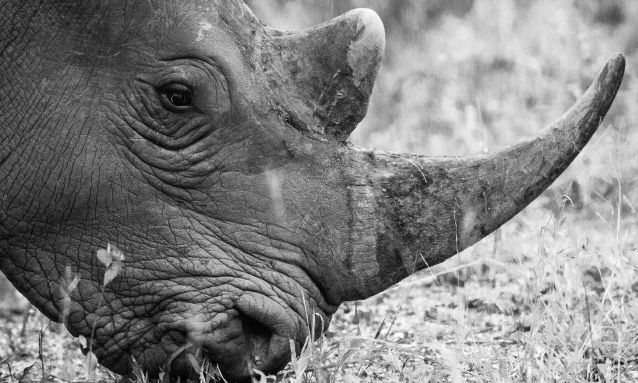 The recent rise in the brutal killing of rhinos at Chief's Island in the Okavango Delta has led to the death of one of Botswana's iconic and cherished white rhino affectionately named Serondela. Over the years, Serondela has become a symbol of Botswana's success in rhino conservation and brought joy to those who knew his story. According to sources, Serondela's story has inspired many people.
Serondela, the white iconic rhino bull was one of the four surviving white rhinos in Botswana at a time when white rhinos were poached to near extinction.
He was relocated from Chobe National Park to Khama Rhino Sanctuary for protection when rhino poaching spiked in the country. Low levels of poaching in Botswana meant Serondela was in a safe place, a fact that saw several rhinos being translocated from reserves in South Africa into the Okavango Delta.
When incidents of rhino poaching stabilised, he was relocated back to the delta until he met his demise recently, marking an end to a great conservation story. In an interview with a local publication, former Commander of the Botswana Defence Force (BDF) Major General Gaolatlhe Galebotswe was quoted saying anti-poaching operations are intelligence-led.
"With a committed intelligence outfit we will be able to find the culprits in a short time," he said.
Galebotswe said the problem stems not from a lack of weapons for the Department of Wildlife and National Parks, but from an intelligence service that serves individual interests. The latest incidents show an escalation of the poaching rate, with approximately two rhinos killed every week. Reliable sources suggest the recent spike might be exacerbated by poaching syndicates being smarter and will likely shift to different areas as security and intelligence operations ramp up in the regions that have already seen intense poaching.
Gangs will reportedly use new tactics to avoid capture, always looking for the next target and 'softer targets'. Last week the Botswana Defence Force (BDF) refuted reports that the recent escalation in poaching is an inside job by military personnel, particularly the Special Forces Unit popularly known as Commandos. Reports suggest the BDF Special Forces Unit is currently working under 'protest,' a move that is linked to the fact that they were not beneficiaries of the 2019 BDF salary adjustments dubbed 'Ntlole'.
Colonel Tebo Dikole, Director, Protocol and Public Affairs declined to discuss BDF operational matters such as, "the members of the Special Forces and Infantry Units are currently deployed in the anti-poaching operations at Chief's Island".

"BDF in the execution of its mission of defending Botswana's Territorial Integrity, Sovereignty and National Interests is not driven by profit or remuneration.

All BDF members, including Special Forces' performance, hinges on one of our core value of 'Duty,' which succinctly states that, 'Duty is accomplishing all assigned tasks to the fullest of our ability," Col Dikole said. 
A Save the Rhino Africa report indicated that Botswana has historically held a tough stance on poaching, often reported as an 'unwritten shoot to kill policy'. However, strong words have not always been backed up by effective law enforcement. In May 2018, the Government of Botswana disarmed its anti-poaching units, a story fuelled by internal politics. And there are wider issues around prosecutions further up the chain. According to the Save the Rhino report, in July 2018, Dumisani Moyo, a high-level wildlife trafficker, was released on bail despite repeated arrests for rhino poaching and being on Interpol's Red List of most-wanted wildlife criminals.This was not the first time Moyo had escaped prosecution: since 2008, he has bribed his way out of several court cases, according to the report.
Botswana is home to 500 rhinos, according to international conservation charity, Save the Rhino. They are a protected species in Botswana and fall outside the government's recent decision to end a five- year ban on trophy- hunting licences, which is largely targeted at the exploding elephant population.
Reference: http://www.weekendpost.co.bw/wp-news-details.php?nid=7368