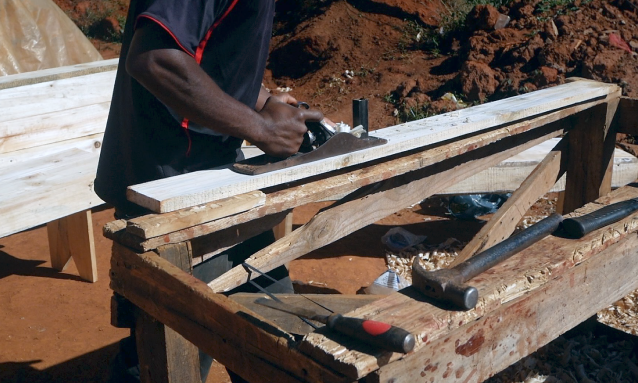 The government will construct a workspace to house the Old Naledi craftsmen, it has emerged. This was revealed by the Assistant Minister for Presidential Affairs, Governance and Public Administration, Dumezweni Mthimkhulu when addressing a recent Kgotla meeting in Old Naledi.
Mthimkhulu said the government has already allocated land for the construction of the envisaged structures. He noted that the first of these will be set up to provide a conducive working environment for the businessmen and businesswomen in the area.
He announced via his Facebook page;
"I was happy to announce that seven industrial plots have been demarcated and allocated for the pallet furniture manufacturers in Old Naledi. Other developments will include a library to be built in Naledi South.

With the magnanimous assistance of the St Patrick's Society and Open Heavens Church, we have secured a container terminal complete 15 computers, TV screens, photocopiers and internet connection to set up a community business centre at the Kgotla.

Our future plan is to construct an old age home for the elderly in Naledi and more communal recreational facilities in Gaborone South."
---
YourBotswana view…
It's fantastic to hear that the government will be setting up structures within which the craftsmen of Old Naledi can work comfortably. Last year, we discussed this and highlighted the benefits of constructing a workspace for these hardworking people. Not only will it boost their confidence, but it will also give them a sense of dignity and self-worth. No doubt, it will also make the way they work a lot easier as well as save them a huge amount of time.
What's more, they'll sleep better knowing that their wares are secure in their workshops, safe from the risk of vandalism and/or theft. It's really gratifying to know that all their products will now be safe from the elements as well. So, we commend the government for uplifting these hardworking citizens. We'd like to think someone in a position of power and influence within the government caught sight of our article and took onboard the suggestions we made.
Source: Hon. Dumezweni Mthimkhulu (Facebook page)