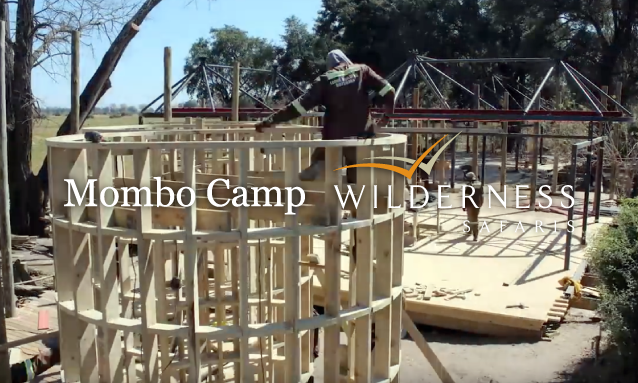 'Welcome to paradise!' Doc, our designated guide, declared as my wife and I arrived at the Mombo safari camp in northern Botswana. We saw little reason to challenge his description.
Our helicopter had scattered baboons and warthogs as we landed. Minutes later, we walked into the camp itself and gasped at its spectacular view of a lush green floodplain teeming with elephants, zebra and buffalo. As we sat on the broad wooden deck, lunching on cold avocado soup, bulgar-wheat salad and pan-fried bream with cherry tomatoes and grilled corn, we watched the elephants languidly approach, trailing egrets, munching grass and spraying themselves with dirt for protection from the sun.
One great bull failed to stop. He lumbered right into the heart of the camp, stepping across the raised boardwalk that links the main building to the tented suites. The staff seemed unperturbed. The previous day, one told us, a couple of guests had been unable to reach their suite because a spotted hyena was lying across the doorway. Thus we were introduced to one of Africa's oldest and finest safari camps.
Staying at Mombo can cost more than $3,000 (£2,100) per person per night. But for that you get the luxury of a camp that has just been rebuilt, modernised and upgraded for the fourth time in its 27-year-history (a temporary camp was opened nearby during the eight-month project). You get private game viewing that is described by Bradt's Botswana guide as 'just about the best you'll find in southern Africa'. The camp sits, moreover, in the heart of the Okavango Delta, a truly astonishing UNESCO World Heritage Site….
Mombo sits at the northern end of Chief's Island, the largest expanse of dry land in the delta, and we reached it by helicopter because its airstrip was being renovated – the last stage of the camp's reconstruction.
The bar, restaurant and lounge are now as chic as any London hotel, their elegant modernity a far cry from the more traditional African safari lodge. A high-tensile membrane fabric has replaced the old thatched roof, but they are still open-fronted, with a sublime view.
As for the nine tented suites, each built on stilts and shaded by jackalberry, mangosteen and sausage trees, they lack for nothing. We were given a five-minute introductory talk simply to explain the lighting, the bar and coffee machines, the three showers, great bronze bath and private plunge pool on the expanded deck.
Our suite was the length of a cricket pitch. The bed was big enough to get lost in – and there was a second swing bed on the deck for afternoon siestas. The floors were oak, the shutters iroko wood, the beams blue gum. The soft furnishings included the finest linen sheets, hand-stitched leather sofas and hand-embroidered cushions. The colour scheme was all browns and greys, copper, brass and gold, with not a primary colour in sight.
Mombo also offers a brand-new gym, spa and infinity pool, yoga instruction, and helicopter and hot-air balloon trips, as well as gourmet dining – accompanied by choice South African wines – that might compete for a Michelin star were the camp not deep in the bush. Even afternoon tea is a culinary event. Fresh produce is flown in twice a week and prepared by a dozen chefs led by Johan Van Schalkwyk, a South African. The staff are uniformly charming.
So seductive is the luxury that we left for a game drive late that first afternoon with a slight feeling of regret that we could not stay and wallow in it. But this feeling swiftly evaporated as Doc drove us through plains and woodland punctuated with towering termite mounds and teeming with impala, lechwe and kudu. These antelope are attracted by the lush grass, and they in turn attract the predators. Soon we were sitting beneath a fever berry tree, our binoculars trained on a majestic female leopard that was dozing on a bough, paws and tail dangling, occasionally shifting position or lifting her head to gaze at us with mild disdain.
---
Mombo – "The place of plenty" renewed – according to owner, Wilderness Safaris
Newly rebuilt, the concept of Mombo Camp is to maintain the Mombo traditions and history stretching back nearly 30 years, as well as to celebrate our Conservation Purpose – indeed, one of our greatest conservation successes: the reintroduction of black and white rhino into the wilds of Botswana, so states the Wilderness Safaris website of the newly revamped paradise that is Mombo.
The camp's location – in the Mombo Concession on the northern tip of Chief's Island within Moremi Game Reserve – is known as "the Place of Plenty" as it is considered one of the best areas for wildlife in Africa. The area boasts enormous concentrations of plains game and predators, which begin virtually on Mombo's decks, the surrounding floodplains teeming with game year round.
The nine large tented suites (including a family room) are elevated, so that those views out towards the floodplain can be enjoyed from the veranda and pergola, to say nothing of the pool deck with its private plunge pool. Inside, a sitting room, separate bedroom and bathroom, indoor and outdoor showers and a bathtub with copper and brass finishings all contribute to the Wilderness ideal of responsible luxury.
Highlights
Arguably the best big game viewing in all of Africa
Bountiful hunting ground for prides of lion and star-struck leopard
A sumptuous and responsibly-luxurious camp in the midst of the Delta
Source: The Telegraph (UK), wilderness-safaris.com