Basilico Italian Restaurant in Gaborone describes itself as a "unique, relaxing and innovative Italian dining experience, in the heart of Botswana" and it's true. I'm not a fan of businesses using the word 'unique' but Basilico is somewhat unique in that they've brought Italy to Botswana.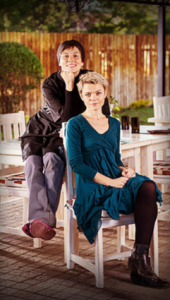 While the food is high quality, there's nothing pretentious or formal about the restaurant or the experience. Don't get me wrong, Basilico is a sophisticated, fine-dining restaurant, but the overall look and feel is sympathetic to its surroundings, while staying true to its Italian roots. Basilico's own description of "an elegant Italian farm-house atmosphere" pretty much sums it up perfectly.
The history of Basilico is quite sad. The restaurant was originally supposed to be a venture between Arianna & Bernie Madeleyn, Chef Fabio Riondino and his wife, Pastry-Chef Sara Ballarin. However, a tragic event took the lives of Bernie Madeleyn and Fabio Riondino, leaving the two wives to continue the legacy as a tribute to their husbands. Sad origins, but it explains just how much Basilico means to Arianna and Sara and why their hearts and souls have gone into every aspect of the experience. A business motivated by love before profit is truly something different.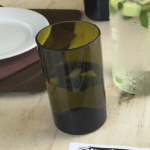 A lot of reviews focus on just one experience, which is totally understandable and I've only been there once. But first impressions are crucial and Basilico made a great first impression on me. The staff know the menu very well, they're friendly and very competent… Basilico is a family with high standards. Our wait on staff, Bofelo and Kyle were amazing (pictured below). As I've mentioned, the décor is impressive and their attention to detail is sublime. Basilico promote local and as such, have sourced most of their furniture, some ornaments, glasses and cutlery from local craftsmen. I loved the glasses, which were wine bottles with the top half cut off.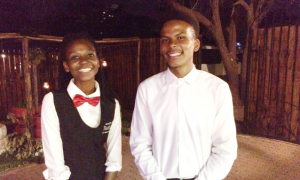 If you're a foodie you'll love Basilico. If you love Italian cuisine you'll love Basilico. If you appreciate great service and a peaceful environment, you'll love Basilico. I wouldn't wait for a special occasion, find any excuse to go to Basilico.
---
P.S. Ariana was gracious enough to stop by our table and say hello. At the time she was heavily pregnant and YourBotswana wishes her and her family all the best with the birth.
Imagery courtesy of Ariana F