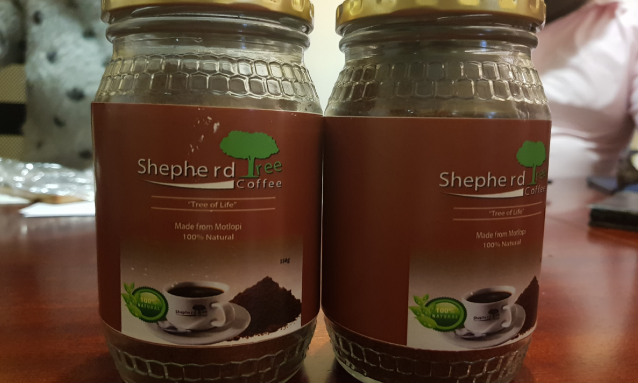 Last week we brought you news of Tee Tota, a brand of tea being imported from Malawi to be repackaged for the Botswana market. This week we bring you Botswana's own brand of coffee, the Motlopi Coffee made from the Motlopi tree.
Often referred to as the tree of life, the Motlopi tree serves many purposes including food, medicine, soil conservation and fodder for livestock during periods of famine.
For Dinah Bota of Kolonkwaneng village, some 96 km from Tsabong, the tree, common to the Kgalagadi area, has become a vital source of income. Dinah says that her late grandmother taught her how to make it and explains why she believes it's so special,
"Motlopi coffee is natural and caffeine free. It's suitable for all ages and even though I do not have a large market because of where I'm based, it does sell very well wherever I travel around the country.

Women are my main customers and I hear that it is very good for PMS, sugar diabetes and high blood pressure."
Dinah says her luck changed in 2007 when a good Samaritan in the shape of an unnamed social worker helped her take her product to the National Food Technology Research Centre (NFTRC)with a view to having it inspected, and possibly packaged and sold. The product was later approved, with the NFTRC giving it the thumbs up for nutritional value. Dinah's main challenge, however, is marketing her product and getting it into stores.
The LEA Tsabong office has been mentoring and monitoring her progress since the beginning and she also works closely with the Forestry Department to stay abreast of conservation issues.
The Shepherd coffee is available to buy from the Chronicles of Health store at Rail Park Mall and sells for P25 per jar.
---
YourBotswana View… last week it was tea and this week it's coffee. It's fantastic we have a Botswana made instant coffee and well done to Shepherd Tree. However, as with the tea we featured last week, I wish Shepherd Tree had engaged a professional to design their brand. The artwork on the label is really poor. A professional would conduct research and find a suitable design, one that is current and would stand up against established coffee brands. The commercial environment is a beast and highly competitive, particularly products on supermarket shelves. If there's one lesson to be learned is to invest in your brand, as it's your brand that sells your product and in most cases it's half the battle won if done right.
---
Reference: sundaystandard