The Permanent Secretary in the Ministry of Investment, Trade and Industry, Ms Peggy Serame (pictured below) has urged the business community to use local currency in their pricing. Briefing the business community on Tuesday, Ms Serame said it is unlawful for locally based companies to display South African prices on goods sold in Botswana, adding that businesses that continue to do so risk losing their trading licenses. She said while she understood that magazines and newspapers are printed in South Africa, other commodities should be priced in Pula and Thebe.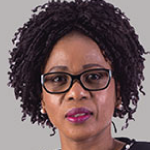 She also briefed them on the latest Ease of Doing Business rankings. Ms Serame said while Botswana has improved slightly in the overall score, competitors improved at a much faster pace. She highlighted that Botswana is not doing well in areas of starting businesses and electricity supply.
The Ease of Doing Business index, undertaken by the World Bank, ranked Botswana number 81 out of 190 countries; fourth in Sub -Saharan Africa, behind Kenya, Rwanda and Mauritius.
She said the government strives to continue improving the business environment and as such, nine pieces of legislation are to be reviewed. 
---
YourBotswana View
I'm glad the government has finally made a stand on the pricing of goods by foreign retailers in this country. I hope that this will also address the prevailing culture where some of South Africa's biggest retailers operating in Botswana simply change the Rand to the Pula without observing the currency conversion because that's just daylight robbery. For the longest time, retailers boldly did this, much to the annoyance of local shoppers. While there's always been public outcry over it, the government has seemingly turned a blind eye.
---
What are your thoughts on the pricing of goods in foreign currency? Please share your views with YourBotswana.
Reference: BOPA