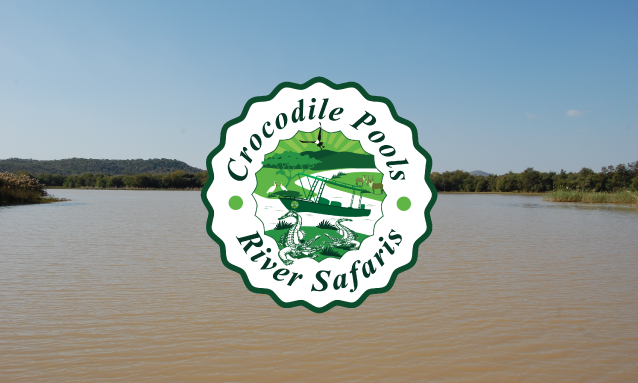 Gaborone has never really been a touristy city, with most people having to dash to the north or even over the border to South Africa for the holidays. In fact, Gaborone residents often find themselves at a loss as to what to do for entertainment beyond hanging at clubs and bars. Until now.
Earlier this year, I stumbled across Crocodile Pools River Safaris via Facebook and my interest was immediately piqued when I saw the name. I thought, crocodiles in Gaborone!? Both my husband and I were very eager to find out more and wanted to get out there as soon as possible, even if the sole reason was to see crocodiles.
That day recently arrived when my sister and brother-in-law came to visit from Maun, where they have both worked in the safari industry for many years. Because of their in depth knowledge of the safari industry and rich experiences, they're not easily impressed. So when they suggested that we go on a family outing, we wracked our brains about where in Gaborone could possibly meet their lofty standards.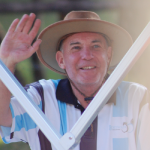 Finally, we all agreed to visit Crocodile Pools River Safaris. Taking into account the fact that we called on the day, the booking went very smoothly. Crocodile Pools River Safaris has a Facebook presence through which you can contact them or call them to book. The staff were very courteous and responsive, even calling me back to re-confirm we were still interested in coming when some of the party were taking too long to decide on what we wanted to do on the excursion.
Who's behind Crocodile Pools River Safaris:Crocodile Pools River Safaris was founded late last year and only started operating its river excursions this February. Amazingly, it functions like a very oiled machine for a fledgeling company. The company is a 100% Botswana Citizen owned by husband and wife, Michael and Agnes Brook.
Where is it?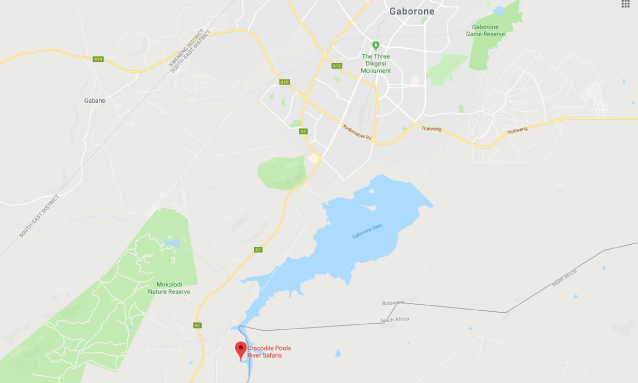 Crocodile Pools River Safaris, just 15 minutes' drive south of Gaborone along the 4km stretch of the Notwane River, offers a fantastic alternative to the Chobe or Okavango Delta right on your door step. This is most convenient to those in the south of Botswana, people with very little time to travel all the way to the north or those on a budget.
For us, coming from Tlokweng, it was very easy to find. We went past Game City and because it's so well sign-posted, we just followed the signs all the way there. It's really easy to find and the road is tarred almost all the way. What little section of the dirt road takes you to the place is surprisingly smooth. Our little Toyota Vitz made it there and back without any issues.
Drive 10 minutes south of Gaborone on the A1 to Lobatse. Turn left at the Notwane turn – off and follow the signs – it is very well sign-posted too, which is another plus!Located at Kwena Pools, Plot 46, Notwane in the SE District of Botswana.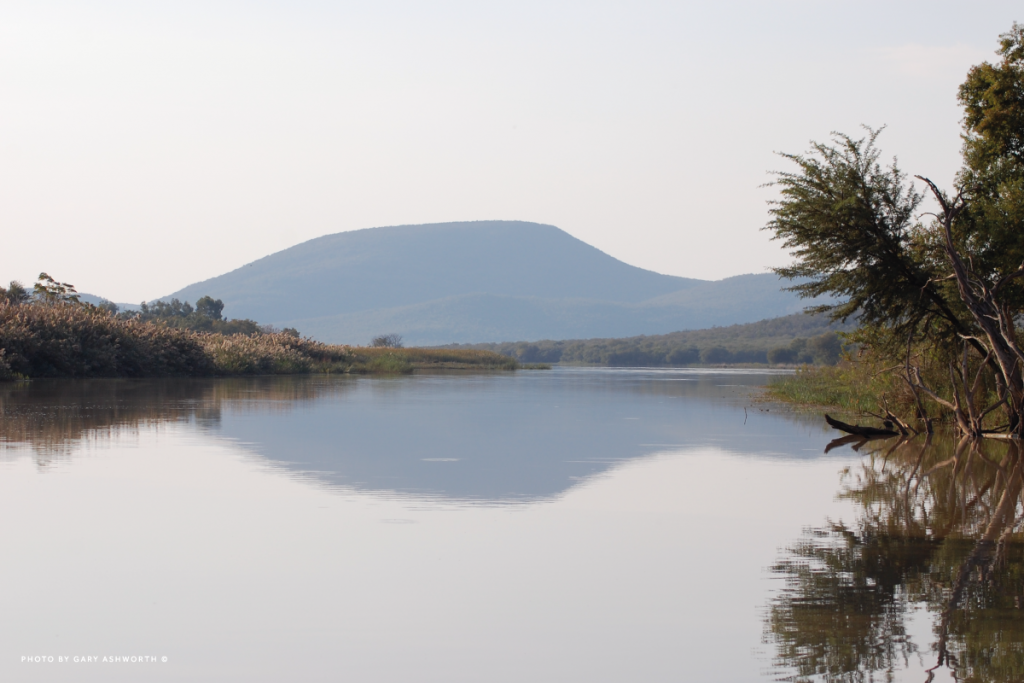 On getting to Crocodile Pools, we were greeted by a gorgeous landscape, complete with a well-maintained garden overlooking Notwane River. The owners, Mike and Dudu were the consummate hosts; very warm, friendly and welcoming. They really gave us the warm feeling of being welcomed into a friend's home and made us feel very welcome from the moment they met us.
A very family friendly venue
While Mike and Dudu put the finishing touches to our excursion, they invited us to relax in the garden area, a serene area overlooking the large body of water. As we came down to the sitting area, we noticed to the left was a kiddies play area with a slide and trampoline, which of course, the kids took to as soon as they spotted them. Crocodile Pools River Safaris allows children as young as 6+ years old on the river cruise, making it ideal for the whole family.
Food and drinks
Once you've made your booking, you'll need to specify if you'll need food and drinks on your boat cruise, both of which are paid for separately. The food on offer is delicious finger food that caters for different dietary needs including vegetarian. The price of the food platters ranges from 60-Pula to 80-Pula per person.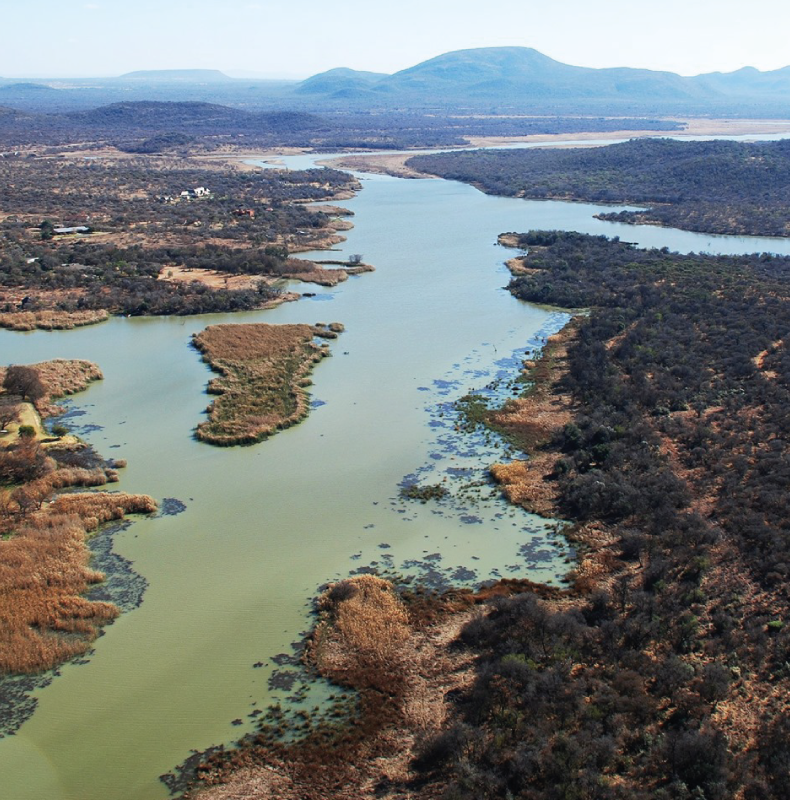 Excursions – what can you expect to see?
Crocodile Pools is currently a water-based safari operator. As the name suggests, the area is home to an increasing population of Nile Crocodiles which now stands at about ten including a juvenile, proof that they continue to breed in the area. This means you're almost always guaranteed sightings of these magnificent creatures. When we visited, we spotted about eight, all basking on the river banks.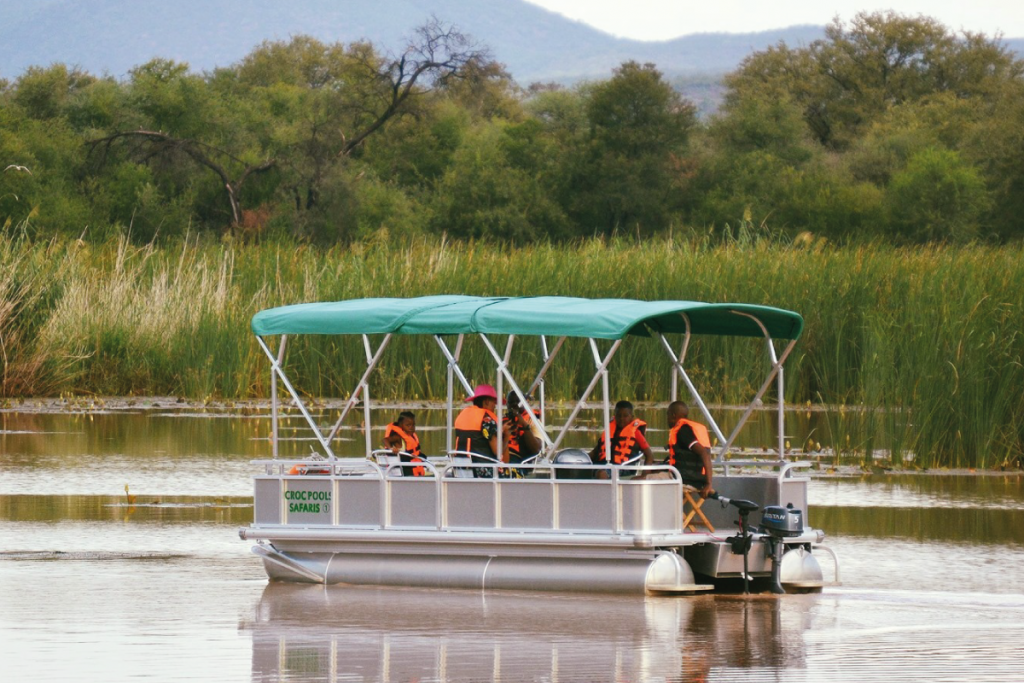 As we stepped onto the solar-powered boat, our friendly guide for the day, Shakes gave us life jackets to strap on before we set off for our 2-hour cruise. You can either do the 1-hour or 2-hour cruise. I initially thought that 2 hours stuck on a boat could become boring but I'm glad I was ultimately out-voted because the time flies! There's just so much to take in and the relaxed atmosphere makes it feel a lot shorter.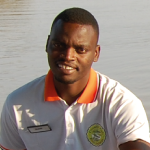 The guide, Shakes was very courteous and welcoming. With many years' experience working in the safari industry in Maun, he was also very knowledgeable, patiently and expertly answering all the answers we asked.
As we started cruising along Notwane River, we were amazed at how similar to the bush areas of Maun it looked! The rugged and unspoilt bush gave it the feeling of serenity and peace that can only ever be found deep in the wilderness of places like the Chobe and the Okavango. Being a stone's throw away from the capital Gaborone truly made the experience surreal.
We all marvelled at the stunning natural landscape, the lush surroundings and the hills on the horizon along the South African border. The deeper into the channel we went, the more apparent the earthy, magical smell of the river became. The tranquillity of Notwane River, beautifully decorated with the splendour of water lilies, water reeds and papyrus beds truly lend the place the authentic safari feel that until now Gaborone residents could only experience in the Chobe and Okavango Delta and for some it remained a distant dream. We just couldn't believe our luck, especially as one by one, we started ticking off the birds we recognised and all the crocodiles we kept coming across! Altogether we spotted eight out of a possible eleven crocodiles, not bad at all for a first visit!
A 2-hour boat safari will take you on a 4 km river cruise – 10 am, 12 noon and 3 pm, Tuesday to Sunday. It's closed on Mondays. You're urged to arrive 15 minutes early for your excursion.
A bird's paradise
Photos by Gary Ashworth – Click the images to enlarge
Keen bird watchers will be delighted to know that there's much more to the excursion than crocodiles! Crocodile Pools River Safaris is home to about 40% of Botswana's bird species. The different combined habitat types make the area one of the best bird-watching sites in Botswana. 229 out of a possible 593 total bird species in Botswana occur in the general area either as residents or migrants. My sister, a very keen birdwatcher with many years experience in the wilderness, was amazed at the various birds we encountered on the cruise.
On a lucky day, you can also spot game!
As we happily cruised through the channel we also learned that the Notwane Dam is home to Kudu, Reed Buck, Impala, Waterbuck, Brown Hyena, Black-backed Jackals, Grey Duiker, Vervet monkeys, Chacma Baboons, Lesser Bushbaby, Leopards, Warthogs, Aardwolf, Scrub Hare, Porcupine, Slender and Dwarf Mongoose and Ground Squirrels. But on the day we only spotted a couple of impala, although it certainly didn't take away from the experience.
The area is also home to numerous reptiles, mostly snakes and lizards. It also provides a suitable habitat for the four largest reptiles in Botswana, namely, the Nile Crocodile, Water monitor lizard, Rock monitor lizard and the Southern African python. We were very lucky to spot two water monitor lizards!
Photos by Gary Ashworth – Click the images to enlarge
With the stunning views, the majestic Nile Crocodiles, the various bird species and the possibility of spotting game including Kudu, Reed Buck, Impala, Waterbuck, Brown Hyena, Black-backed Jackals, Grey Duiker, Vervet monkeys, Chacma Baboons, Lesser Bushbaby, Leopards, Warthogs, Aardwolf, Scrub Hare, Porcupine, Slender and Dwarf Mongoose and Ground Squirrels, the boat tour of Notwane River promises a unique wildlife photographic experience.
Would we recommend Crocodile Pools River Safaris? Oh absolutely! For a safari experience right on your doorstep (if you reside in Gaborone and Greater Gaborone or are passing through); it's family friendly, very welcoming, easily accessible and affordable for what you get. Walk on the wild side and treat yourself to the perfect break away from the city and I'm willing to bet you'll enjoy it. We will definitely be returning!
Review by YourBotswana writer