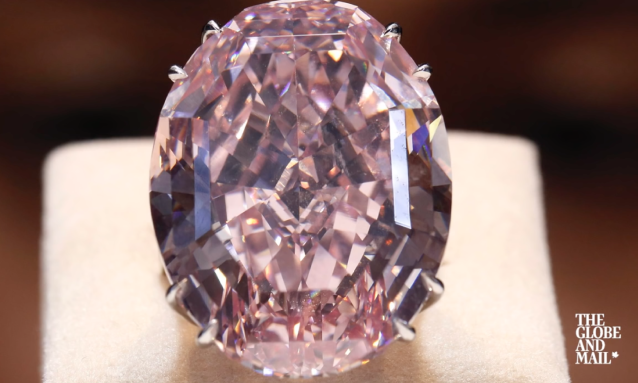 The most expensive jewel ever sold was auctioned off Tuesday, fetching $71.2 million at a Sotheby's auction in Hong Kong. The plum-sized Pink Star; a whopping 59.6 – carat pink diamond, was snagged by Hong Kong-based jewellery retailer, Chow Tai Fook following a five-minute bidding war.
According to Sotheby's, the Pink Star diamond was the largest internally flawless, fancy vivid pink diamond ever graded by the Gemological Institute of America. It received the highest colour and clarity grades possible for a pink diamond.
The gem was previously auctioned off in 2014 when Isaac Wolf, a diamond cutter, purchased the stone for $93-million at a Sotheby's auction in Geneva.
---
The Pink Star diamond was mined in Botswana by De Beers in 1999 as a 132.5-carat rough diamond. Two years of work cutting and polishing the gem transformed it into the one seen at the Tuesday auction. The diamond was determined to be part of an extremely rare group known as IIa, diamonds that are chemically the purest with the best transparency, comprising less than two percent of all gems.
---
The auction house reclaimed the diamond after Wolf failed to pay for it. Tuesday's winning bidder, Chow Tai Fook renamed it the CTF Pink Star after purchasing the diamond in honour of the late father of the jewellery retailer's current chairman.
Sotheby's Asia Chairman, Patty Wong was quoted by Reuters saying;
"I know there was a lot of talk about the economy in China not being as positive as it was a few years ago. I think today's results, whether throughout the sale in white diamonds and gemstones and in colour diamonds in particular, were very strong."
The previous world record for a pink diamond was set in 2010 when the 24.79 – carat Graff Pink was sold for $46.2 million. The Pink Star diamond also broke the record for all diamonds, previously held by the Oppenheimer Blue diamond, sold at a Christie's auction in May for $58 million.
Source: ibtimes.com
Image source: The Globe and Mail (YouTube)