Top Gear: Botswana Special is a full-length, special edition episode for BBC motoring programme Top Gear, and was first broadcast on BBC Two on 4 November 2007, as part of the fourth episode of Series 10. The special sees hosts, Jeremy Clarkson, Richard Hammond and James May, travelling across to Botswana to prove that they can be better than SUVs for driving up "leafy country lanes" in the UK.
The Challenge: Travel to Botswana and buy a car for less than £1500, and use it to travel from the Zimbabwean border to the Namibian border, a trip of 1,000 miles.
First Leg: Zimbabwean Border to Makgadikgadi
Second Leg: Makgadikgadi to Kalahari
Third Leg: Kalahari to Muan
Fourth Leg: Okavango Delta
Final Leg: Okavango Delta to Namibian Border
Did you know?
In the first scene of the Botswana special, James May accidentally turned right into Zimbabwe, which was where the BBC were not allowed.
The back up car for the challenge was a Beetle and was donated to one of the bush mechanics in the support team, and the Mercedes to an advisor who had helped during filming.
Nearly a decade after the challenge, Jeremy Clarkson was asked what his favourite country he visited whilst on Top Gear and his answer was Botswana.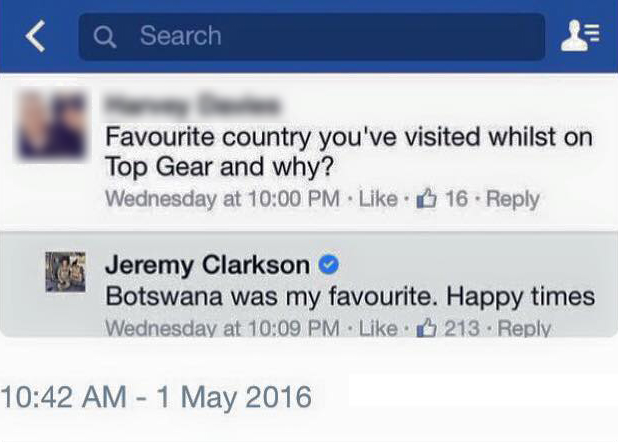 Source: https://en.wikipedia.org/wiki/Top_Gear:_Botswana_Special
For more Top Gear Botswana Special videos: https://www.youtube.com/results?search_query=top+gear+botswana