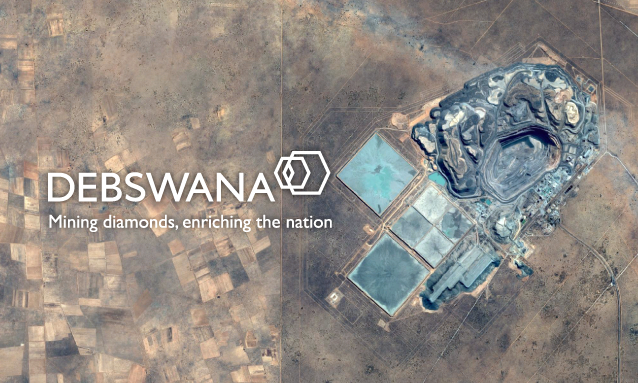 Debswana Diamond is reportedly set to construct what will be the world's largest underground mine in the world at Jwaneng in Botswana.
The new mine has a $6 billion investment plan and is expected to embark on a development of over 360 km of tunnel. Debswana Diamond's head of innovation and transformation, Thabo Balopi, stated that full production of the mine is expected by 2034 and the underground mine is expected to extend the lifespan of Jwaneng Mine by 20 years due to an annual production capacity of nearly 9 million carats (Mct). He further said the mine will have an access decline by 2023.
An announcement made by De Beers in its production report for the first quarter of 2021 confirmed that Jwaneng mine produced 3.2Mct in the first 3 months. However, Debswana Diamond's head of technical services, Len Dimbungu, said that the board has not yet made a final decision regarding the financing of the project. Jwaneng is said to contribute nearly half the carats De Beers produces annually as it did last year when it produced 7.5Mct of the firm's output of 25.1Mct.
Botswana's diamond mining sector reportedly makes up a huge chunk of the country's budget revenue as well as foreign exchange receipts, hence the Government's plan to expand the country's revenue base of other minerals including gold, silver, copper, nickel and coal to avoid potential problems that come with over-dependence on one commodity. Speaking at the Mining Indaba 2021 back in February, President Mokgweetis Masisi said his government is assessing several complexes to map and spot mineral occurrences to promote mineral prospecting in Botswana and the subsequent mining of those rare metals.
Botswana has an estimated 212 billion tons of coal reserves which have so far remained largely unexploited. President Masisi highlighted that to address this, the Government has developed a coal roadmap with eight potential options to increase the resource's contribution to the economy. He noted that the roadmap would also promote sustainable coal mining through the use of clean technologies, as the country seeks to mitigate the effects of climate change.
Further plans for the development of a multi-commodity exchange, which would offer a platform for trading various commodities beyond minerals, are said to be at an advanced stage. These initiatives would provide unlimited opportunities for investment in the minerals sector in Botswana.
Source: https://news.sashares.co.za/botswana-plans-to-invest-6-billion-in-mining/