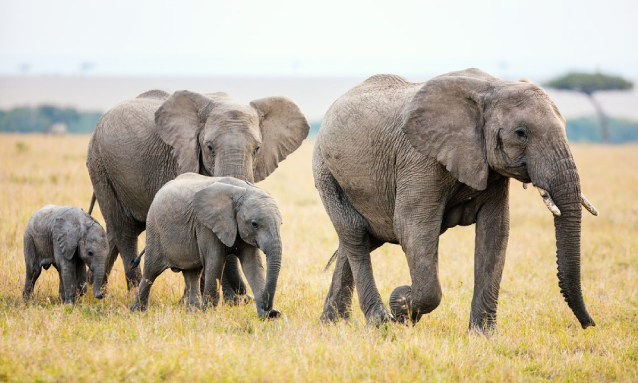 Botswana, home to nearly half of Africa's wild elephants, is preparing to repatriate thousands of the giant mammals to neighbouring Angola to reduce overpopulation and conflict with farmers. Botswana is home to more than 130,000 elephants, the world's largest population in the wild. But tens of thousands are refugees from Angola's decades-long civil war, which ended in 2002.
Conservationists like Elephants Without Borders' Mike Chase, said Botswana's elephant population has grown too big, leading to conflicts with farmers and shortages of food and water.
"So, a way to release this bottleneck, this compression, is creating safe corridors for elephants to move through, to repopulate and recolonise southeast Angola, where there are not so many elephants," Chase said.
To enable that, Angola has agreed to remove leftover landmines from the war and, along with Botswana, fences that are blocking elephant migration. Wildlife management expert, Erik Verreynne said the movement of the animals is still low.
"We still get reports of poaching incidents in Angola, we know the landmines are still an issue although they are working to try and get them out," Verreynne said. 

"I don't know, what I do know is that it is important that we open up these corridors."
Botswana is part of the Kavango-Zambezi Trans-frontier Conservation Area (KAZA), a five-country partnership to conserve shared natural resources. The group's Executive Director, Nyambe Nyambe, said the partnership's goal is the free movement of wildlife within the region.
"The long-term survival of elephants hinges on ensuring that we secure and reconnect wildlife corridors on a trans-boundary scale," Nyambe said. 

"When it comes to what the partner states are doing in terms of supporting particularly Angola, the wildlife dispersal areas are all contributing towards that process."
Botswana's President, Dr Mokgweetsi Masisi, has said his government is more than willing to work with neighbours to open the borders for elephant migration and better manage their numbers.
Source: https://www.voanews.com/africa/botswana-repatriate-elephants-angola-reduce-overpopulation