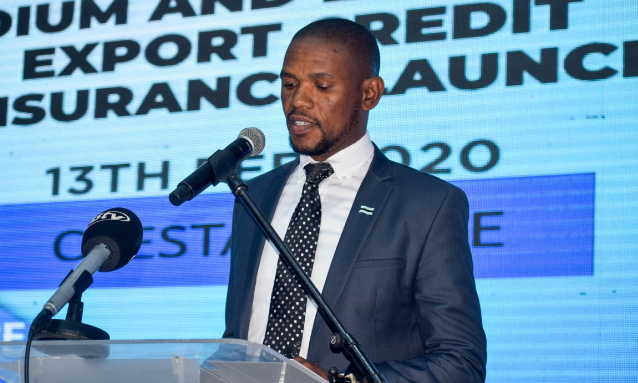 The Assistant Minister of Investment, Trade and Industry, Honourable Karabo Gare on Friday launched the Medium and Long Term Export Credit Insurance. The Medium and Long Term Export Credit Insurance is a Credit Insurance that will allow Botswana enterprises to expand their businesses and upscale their production and services beyond Botswana borders. The move is in line with Government efforts to have an export-led and vibrant economy.
Speaking at the launch, Hon. Gare said the Botswana Export Credit Insurance (BECI) is set to create opportunities for companies to source financing from local commercial banks guaranteed by the Botswana government. Minister Gare said that BECI would enable enterprises within the country to tender for projects within the country and across borders, enabling them to unlock economies of scale through the Outward Investment Insurance (OII). He emphasised that for the Medium and Long-Term Export Credit Insurance to succeed and thrive, there needs to be a solid partnership between the government, BECI, enterprises, investors and financial institutions.
"I urge the business community to utilise this project and create employment for our youth. This should be possible because our government has Trade Agreements that should be fully exploited and those include the Southern African Development Community Free Trade Agreement (SADC), Tripartite Free Trade Area (TFTA), Agreement and the African Continental Free Trade Agreement (AfCFTA)," said Gare.
Reference: BWGovernment Facebook page