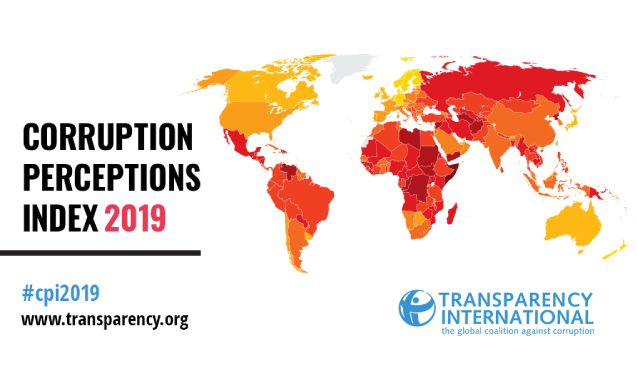 Botswana has a rating of 61%, with the lowest percentage being highly corrupt countries and the higher percentage being favourable as it indicates countries that are least corrupt. Botswana's overall ranking is 34/180 in the world. This is a commendable ranking in Africa and worldwide.
The Corruption Perceptions Index ranks 180 countries and territories by their perceived levels of public sector corruption, according to experts and business people. This year's analysis shows corruption is more pervasive in countries where big money can flow freely into electoral campaigns and where governments listen only to the voices of wealthy or well-connected individuals.
The index ranks 180 countries and territories by their perceived levels of public sector corruption, according to experts and business people. It uses a scale of zero to 100, where zero is highly corrupt and 100 is very clean. More than two-thirds of countries score below 50 on this year's CPI, with an average score of just 43. Similar to previous years, the data shows that despite some progress, a majority of countries are still failing to tackle public sector corruption effectively.
Governments must urgently address the corrupting role of big money in political party financing and the undue influence it exerts on our political systems.
The top countries are New Zealand and Denmark, with scores of 87 each, followed by Finland (86), Singapore (85), Sweden (85) and Switzerland (85). The bottom countries are Somalia, South Sudan and Syria with scores of 9, 12 and 13, respectively. These countries are closely followed by Yemen (15), Venezuela (16), Sudan (16), Equatorial Guinea (16) and Afghanistan (16).
Sub-Saharan Africa – lowest scoring region
As the lowest-scoring region on the Corruption Perceptions Index (CPI), with an average of 32, Sub-Saharan Africa's performance paints a bleak picture of inaction against corruption.
With a score of 66, Seychelles earns the highest mark in the region, followed by Botswana (61), Cabo Verde (58), Rwanda (53) and Mauritius (52). At the bottom of the index are Somalia (9), South Sudan (12), Sudan (16) and Equatorial Guinea (16).
While Seychelles struggles with issues of money laundering, which is not measured by the CPI, several anti-corruption laws, including a recent access to information law, and a newly established anti-corruption commission have helped strengthen the country's anti-corruption framework. In addition, despite some restrictions, dialogue between civil society and government occurs through a national civil society platform.
Significant improvers since 2012, Cote d'Ivoire (35) and Senegal (45) still have much work to do. The political will demonstrated by the leaders of both countries, which saw a number of key legal, policy and institutional reforms implemented in their early days in office, has been on a backslide since 2016.
Source: transparency.org