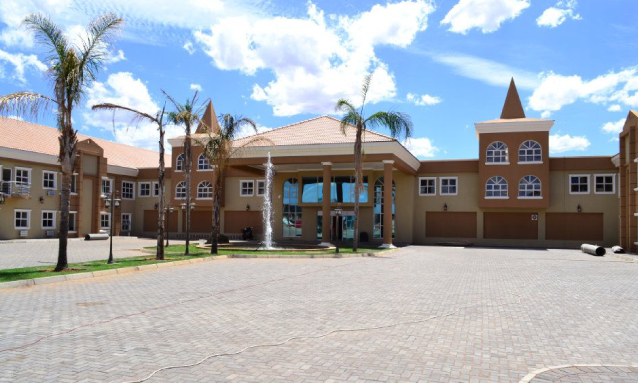 My wife and I recently needed accommodation in Mahalapye but due to most hotels and lodges in Mahalapye being fully booked, we had to search further afield and made a reservation at the Majestic Five Hotel in Palapye. Naturally, we checked reviews online and Trip Advisor has 114 reviews in total – 20 people have rated the hotel as 'average', 4 people have rated it as 'poor' and 8 people have rated it as 'terrible'. Admittedly some of these reviews go as far back as 2012 and yes, 82 positive reviews are highly encouraging but you can't ignore the negative reviews, as they often include specifics.
This wasn't the first time I had heard of the Majestic Five Hotel. I first became aware of the hotel a few years ago having seen one of their adverts on a map of Gaborone. I immediately disregarded it as a serious hotel because its brand identity is poor, very poor in fact. Branding for any business is crucial because it's often the first impression and to me the hotel's logo makes me think of a zoo or a B&B, not a luxury hotel. I later discovered their website and saw amazing pictures of the hotel and found myself scratching my head wondering, why do they have mediocre branding for such a grand hotel?
Now that I have visited the place, I wonder why they called it the Majestic Five and feature the 'Big Five' in their logo. A surprising feature at the hotel is the several peacocks that roam around the pool area. They looked very similar to Indian Peacocks, which aren't indigenous to Botswana and therefore aren't something you expect to find at a hotel in Palapye. It would appear the birds are permanent, so why not use them within the hotel's brand? After all a peacock's tail feathers (or train) is used to 'attract' and 'act as honest signals', which is appropriate for a hotel.
Knowing my own feelings towards their brand, conflict and perplexity is a consistent theme throughout the 'Majestic experience' and it makes me wonder whether a committee runs the hotel. The pictures online are impressive, but on closer inspection there are gaudy aspects that don't match up to the grandeur – it's like someone wearing a suit with trainers.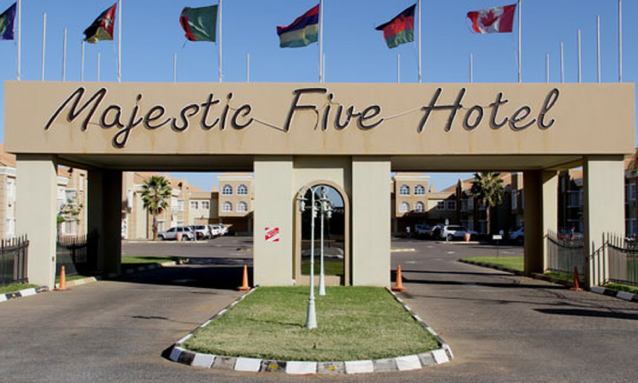 The first aspect you can't miss is the awful sign over the entrance, which flashes at night and looks like it reads 'Majestic Fire Hotel' when lit up. Then there are small comical zebra sculptures in the fountain in front of the hotel's main entrance. The fountain itself is odd; instead of the relaxing sound of constant trickling water, the fountain intermittently shoots water up in the air that crashes back down, which isn't quite serene.
The guys that greeted us at reception were brilliant, very friendly and welcoming. We had booked a double room, but I didn't understand why a double room came with enough toiletries for just one person. I had brought my own toiletries but unfortunately left my shower gel behind. I asked reception for shower gel and was given bath foam?? Given the hotel's location, I think it would benefit from having a small outlet selling toiletries and other useful things people might need when they stay at a hotel. It's also a good place to sell hotel merchandise, although I wouldn't personally buy anything that had their current logo on it.
Travelling from Gaborone I had been in a car for over 3 hours in 40-degree heat, I was eager for a cold drink, but nothing was ever cold. Every time I ordered a drink they felt as though they had been in a fridge with the door open. They seemed a bit stingy with their ice and it was already melting by the time I received it. Even the little fridge in our room was no better than the cooler box in the boot of our car.

The garden area near the hotel's pool is beautiful and there's a large play area for children at the end of the garden. It's quiet and tranquil and surprisingly free of peacock poop.
I couldn't help but notice a huge bar under a thatched roof that was completely stripped bare. It seemed odd to have a purpose built bar that wasn't in use, although the explanation for that was revealed the following evening. We had arrived on a Wednesday evening and the hotel was calm and peaceful but Thursday evening (and probably Friday and Saturday too) the hotel had a very different vibe.
We came back that evening and found the pool area full of people and the outside bar was completely operational and fully stocked. We sat outside to relax with our not-very-cold-drinks and then karaoke started! Let's just say no one did UB40 any justice. The music was loud and accompanied by its music video that was projected onto an exterior wall. It felt like we were at a concert and we felt sorry for those guests whose rooms overlooked the pool area but that sympathy was short-lived. Those of us whose rooms overlooked the front of the hotel had to endure all those partygoers when they poured out into the car park at the end of the night. We tried to call reception a few times to complain but no one answered.
I'll be honest, I expect more from a hotel that charged me P1600 per room per night. I expect the clientele at the hotel to respect other guests trying to sleep and I expect staff on reception to be mindful of that fact and encourage hotel visitors full of alcohol to tone it down. On the subject of price, we were initially charged P3200 upon arrival and that included the room for two nights, breakfast and access to the hotel's gym… which we had no intention of using. The outstanding amount when leaving was P620 and this included our evening meals and all the drinks we had ordered over the two days. We left feeling the P3200 didn't reflect value for money and P620 was actually very reasonable. We had two breakfasts and on both occasions, we found basic items missing and odd items available such as mince meat! Popular breakfast items were blocked because they were awkwardly tucked away in a corner and it took a while before they were replenished.
Yet the evening meals were great. During breakfast, the waiters and waitresses were busy clearing tables and seemed disinterested in the guests but in the evening they were ever so friendly, polite and courteous. The overall service was seamless, the food was lovely and the portions were generous. The senior members of staff are very good and do genuinely care as they engage you in conversation. Ultimately, I cannot fault the hotel's employees because the majority are exceptional. In my opinion, the people are the backbone of the hotel and credit to the hotel's recruitment. Our only gripe is that the housekeeping staff were too eager to clean our room to the point it was obvious we were inconveniencing them by still being in our room after 10.00am (which is when breakfast finished).
Other grumbles worth mentioning… the Wi-Fi would randomly and regularly disappear; although on the plus side, when it was there, you could access the Wi-Fi anywhere in the hotel (indoors and outdoors). Overall, the hotel and the rooms were very clean but my wife did spot a few dirty marks on the throw and on the cushions on the bed. Some of the TV channels had poor reception and it would have been nice to have an iron and ironing board available in the room. There was tea/coffee available in the room but the kettle looked like it hadn't been replaced for some time and I wasn't keen on using it. The small things can make a difference.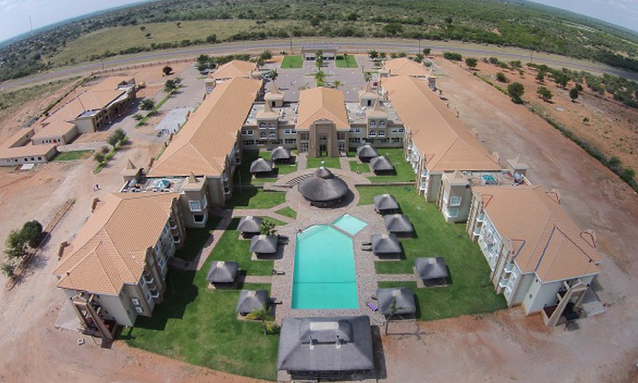 Overall, I rate the Majestic Five Hotel somewhere between 'average' and 'good'. Their branding/marketing is abysmal and not befitting the establishment and their rates don't reflect the overall experience. The fact they have 3 stars tells you that the powers-that-be who award these stars agree with me. Majestic Five ticks a lot of boxes in isolation, but when you bring everything together you leave feeling somewhat short-changed and this is what many of the negative comments on Trip Advisor indicate too.
At the moment, the hotel's nearest competition is a hotel called 'Sahara Stones', which looked closed as all the lights were off when we drove past in the evening. The hotel's main competition is the Cresta Hotels in Mahalapye and Palapye. Cresta would normally be our hotel of choice because of their reputation; had Cresta in Mahalapye not been fully booked, we wouldn't have stayed at the Majestic Five Hotel. If Majestic aspires to be like Cresta and expand, they need to rethink their rates and brand strategy. The best adjective to describe the Majestic Five Hotel is 'okay', but if they insist on charging more than Cresta, they have to offer something better and the Majestic Five doesn't. Ultimately I would stay there again, but only if the Cresta Hotels were fully booked.
---
Pointer! If you spot 'tourism levy' on your bill, don't panic, it's not the hotel trying to sneak in Tshekedi Khama's tourism levy that was put on ice pending parliamentary discussions. It's actually the regular 'bed levy' or 'government levy' that everyone gets charged for staying in Botswana hotels. We paid P20 based on 2 nights for 2 people.
---
Have you stayed at the Majestic Five Hotel? Do you agree or disagree with the contents of the post? What was your experience like?
Images sources: Afristay, majesticfive.co.bw