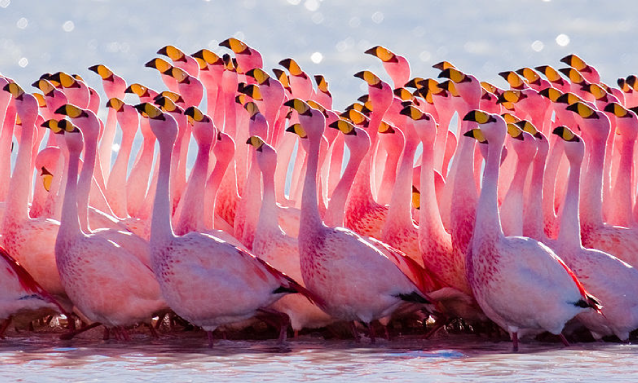 BotswanaPost on March 15 launched four new stamps from a series of the endangered birds of Botswana, the flamingos.
The stamps are available in four denominations – the P5 stamp depicts both the Greater and Lesser Flamingo – the P7 stamp illustrates Flamingos feeding, a common sighting at the Makgadikgadi pan – the P9 stamp illustrates both the Greater and Lesser Flamingos, giving a full view of the birds going about their daily routine – the P10 stamp shows 'crop milk feeding', which is the Flamingos' unique way of feeding their chicks.
Officially launching the stamps, the BotswanaPost Stamp Advisory Committee Chairperson (also Bird Life Botswana Chief Executive Officer), Dr Kabelo Senyatso highlighted that there are two flamingo species found in Botswana – the Lesser flamingo and the Greater flamingo – both of which are facing serious threats of extinction. Dr Senyatso said the artwork is important in sensitising the nation and the world at large of the threat flamingos face. He explained that the first threat, and perhaps the most important, is that they are very sensitive during the breeding season and any distraction during this time could cause a lot of damage.
Dr Senyatso said Flamingos nest in a few select sites across southern Africa, and at only one site within the Makgadikgadi Pans in Botswana. According to him, the birds very carefully pick where and when to lay their eggs by cleverly working out the water movement so as to avoid flooding into their breeding sites.
"If flooding occurs during this period, the birds are forced to flee the sites, leaving all the eggs to be wiped away by water," he added.
Additionally, he said the other key threat flamingos face during the breeding season is the disturbance caused by people who want to watch the birds breeding.
"Again, because of their sensitivity during this period, they tend to flee the breeding sites, leaving their eggs behind, which will never be hatched, therefore resulting in a great loss," he said.
Lastly, he said because Flamingos often fly at night, they are at risk of being killed when they blindly fly into power lines.
For his part, BotswanaPost Chief Executive Officer, Cornelius Ramatlhakwane explained that stamps play a major role as ambassadors of any given country because they tell their story or history. He further said stamps demonstrate global trends; in this case, the increased threat of extinction faced by flamingos not only in Botswana but globally.
"In our case, the flamingo stamps will send a firm message to the United Nations (UN) about the threat of extinction these beautiful birds face," he added.
Mr Ramatlhakwane further said that stamps have played a pivotal role as a solid income generator for the BotswanaPost, as shown by its previous financial statements.
Reference: BOPA