One of Botswana's hottest musicians of the moment, A.T.I. has just launched a new album titled Envelope.
Released back in July, the 20-track album consists of highly popular songs such as Khiring Khiring Khorong Khorong and Poelo Morago. ATI, born Atlasaone Molemogi has proven that not only is he talented, but also strives to reach greater heights as proven by the quality of his music and exceptional performances. Much to the delight of scores of fans, hot local artists who have collaborated with ATI on the album such as Sasa Klass, Noello, Yung Amazing and Legacy graced the event and gave sterling performances alongside him.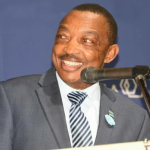 The Minister of Youth Empowerment, Sport and Culture Development, Thapelo Olopeng (pictured) commended ATI for working tirelessly to produce music that meets international standards. Mr Olopeng said by so doing, ATI is now equipped to perform beyond Botswana borders. While the government is often criticised for not nurturing local talent; from sports through to music, the minister stressed that the ministry would continue to engage and assist artistes to allow them to make a decent living out of their craft.
He further urged promoters and managers to take advantage of the approaching festive season and schedule artistes' performances accordingly and well on time.
Reference: BOPA
Video courtesy of Mono Culture – ATI (Part 2) Speaks on his top5 collaborations, Khiring Khiring Khorong Khorong + more.
Featured image – A.T.I. (Batho Bame) Facebook page