Gaborone is often described by some as the 'sleepy town". The setting of the popular TV series the No. 1 Ladies' Detective Agency, by world standards, Gaborone is admittedly a very low-key city. From the standpoint of a visitor, Gaborone is no match for popular holiday destinations such as the Okavango Delta, Makgadikgadi saltpans and Moremi Game Reserve.
However, it's not all doom and gloom, as there are a few places visitors and residents can enjoy.
---
1. Gaborone Game Reserve
At about 5 square kilometres in size, this game reserve is relatively small. Gaborone Game Reserve is situated inside the city of Gaborone, which is very unusual because game reserves are normally located deep in the wilderness. It's home to a number of Botswana's indigenous species, including zebra, eland, gemsbok, red hartebeest, blue wildebeest, impala, kudu, steenbok, vervet monkeys, warthog and rock dassies. It also boasts many resident and migrant bird species, which are best viewed from the small dam in the park.
Terrain includes tree savanna, riparian woodland, marsh and rocky outcrops. The park has two picnic sites, which is popularly used for weekend outings and picnics. It may not be as enticing as a safari trip into the delta, but it's not too shabby either!
---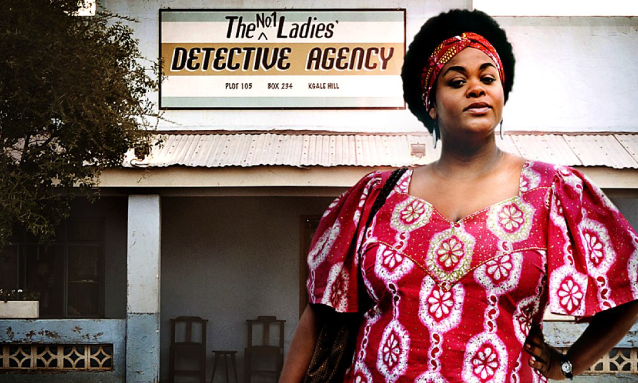 2. The No.1 Ladies Detective Agency Film Set
The late award winning British director Anthony Minghella chose a cul de sac at the base of Kgale Hill as the setting for Alexander McCall Smith's international bestseller, The No. 1 Ladies' Detective Agency. Minghella and his production crew rebuilt a segment of Gaborone city of yester-year; complete with a butchery, general supplies shop, beauty salon, bike repair shop and outdoor eatery. While younger people have complained that the Gaborone portrayed in the TV series is nothing like the Gaborone they know today, the older generation have marveled at how well the TV series captured the exact look and feel of the old Gaborone.
The No 1 Ladies' Detective Agency tour has previously been ranked among the top 12 excursions in Africa by UK publication Independent on Sunday travel supplement for 2 years running (2006/7)
Picture courtesy of: http://www.bbc.co.uk/programmes/b00j7zmj
---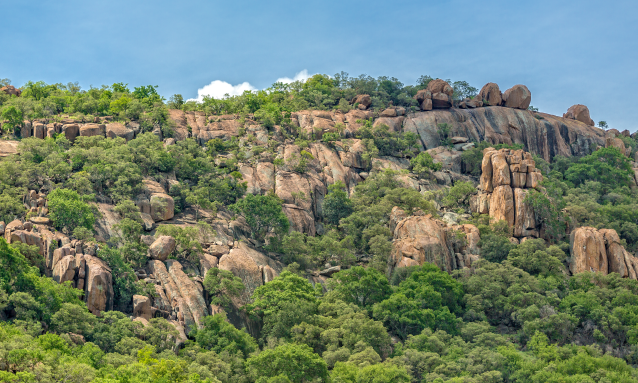 3. Kgale Hill
Generally speaking, Botswana is a flat country. But there are some hills dotted around the country. One of the most notable ones is Kgale Hill, one of the city's major landmarks. Kgale Hill provides a gorgeous backdrop to the Kgale area, which includes business parks Commerce Park and Finance Park, as well as Game City shopping mall.
Besides being the scene of stunning Botswana sunsets, Kgale Hill is also popular with rock climbers, joggers and picnic lovers. It has clearly defined routes up and down the hill. The climb takes approximately one hour each way.
Some wildlife, including troupes of baboons and monkeys can be seen in and around the hill. From time to time, both can be spotted taking leisurely walks, without a care in the world, around Commerce Park and Finance Park. As cute as they may look, it's always prudent to give them a wide berth to avoid being bitten or attacked.
Picture credit: derejeb – http://www.bigstockphoto.com/search/?contributor=derejeb
---
4. Music, Dance, Drama
For those interested in the culture and traditions of Botswana, there are a few venues around Gaborone where there's always a show to see. Places like Maitisong Cultural Centre (Maru-a-Pula School), Alliance Française and Botswana Craft regularly stage traditional dance and music, rock, pop, jazz, classical music as well as drama shows. We'll update the website accordingly as and when something interesting takes places at any of the venues.
---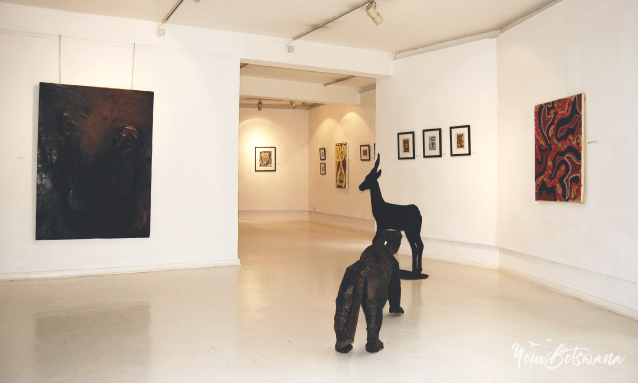 5. The National Museum and Art Gallery
Centrally located, the museum exhibits various aspects of Botswana's cultural heritage. It has an exhibit hall showing Botswana's history and its cultural diversity. The Museum is open to the public Tuesday through to Sunday and is free.  It has two galleries, which often have varying exhibits depending on the time of year. For instance, the Art Gallery hosts the national basket show every August, with baskets of all shapes and designs on display for viewing. There are usually tapestries and pottery to see too.
You can also see a collection of wildlife exhibits, as well as crafts and paintings by local artists, going as far back as the 1960s.
---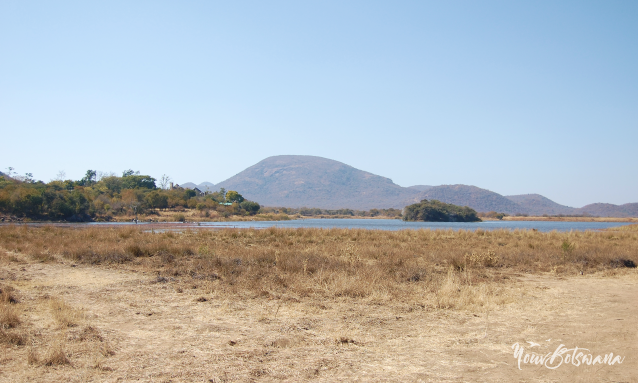 6. Mokolodi Nature Reserve
Mokolodi Nature Reserve is a registered non-profit charity organisation that was founded in 1994. It stands on 3,700 hectares of donated bushveld land that was previously used for cattle farming. The Reserve is now home to a wide variety of animals and plants that are endemic to South Eastern Botswana, some of which are extremely rare or endangered.
The Mokolodi environmental education program takes on over 9,000 school children per year. The Reserve welcomes over 60,000 visitors per year. Mokolodi offers game drives, rhino tracking and accommodation in the form of chalets and a campsite.
You can either go for a game drive or the bush braai (Bbq). I would personally recommend the latter for the full experience. You may not see much wild life, but it's a fun way of spending the day with family and friends. On the bush braai offer, you get to go on an hour-long game drive before you reach an area designated for food and drinks. The two animals you're guaranteed to see are giraffe and impalas, but there may be others on a good day.
The food on offer at the end of the game drive is a delicious bush braai consisting of a variety of meats, salads, dessert, as well as coffee. The experience is rounded off by a slow drive back to the front gate.
There's the option of adding the Ditshwene Traditional Dancers for the ultimate Setswana culture experience, which can be booked on request at an additional cost (weekends only and subject to availability).
There's usually the option of the day or evening bush braai. Children are allowed. Prices are variable because Mokolodi runs promotions from time to time. You're requested to have at least 6 people on the booking, but if you don't, the price is reasonable enough to spread the cost across however many people are going so as to make up for the shortfall.
All guests are required to sign the Mokolodi Nature Reserve indemnity form prior to any activities.
Although you won't see as much wildlife as you would on a safari game drive, the Mokolodi bush braai is more than worth the time and money. The food is delicious, the sunsets stunning and the ambience fantastic. In fact, I've never not enjoyed anything I've eaten at Mokolodi. They have to have the best pizza in Botswana. The service is always impeccable.
The Mokolodi Nature Reserve is open to the public every day.
Summer 07h00 until 18h30 (September – April)
Winter 07h30 until 18h00 (May – August)
---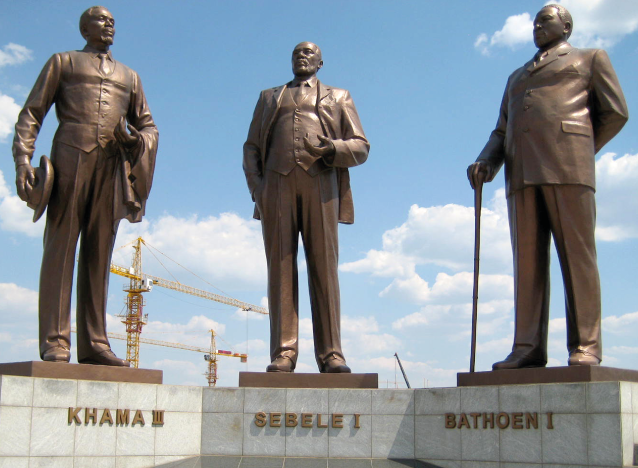 7. The Three Chiefs Monument
The bronze statue of the three 'Dikgosi' or chiefs, located at the CBD would be a real treat to all fans of history. The bronze statues, which were designed and caste in North Korea, were unveiled in 2005, the 39th year of Botswana's independence.
Held in high esteem and for good reason; the senior chiefs namely Chief Khama III of the Bangwato, Chief Sebele I of the Bakwena, and Chief Bathoen I of the Bangwaketse played a pivotal role in shaping the history of Botswana. In the 1800's when Botswana was under threat from being taken over by the British industrialist, Cecil Rhodes, the trio set off to Britain in 1885 to seek protection from the Queen.
They travelled to London, where they petitioned Joseph Chamberlain, then Secretary of State for the Colonies. It was while they were there that they were granted an audience with Queen Victoria. The chiefs lobbied support from the British public, which led to Britain granting Botswana the protection she sought. Bechuanaland (as Botswana was then known) was established that same year, saving the country from being forcefully incorporated into Cecil Rhodes' British South Africa Company.
Picture credit: By US Army Africa [CC BY 2.0 (http://creativecommons.org/licenses/by/2.0)], via Wikimedia Commons
---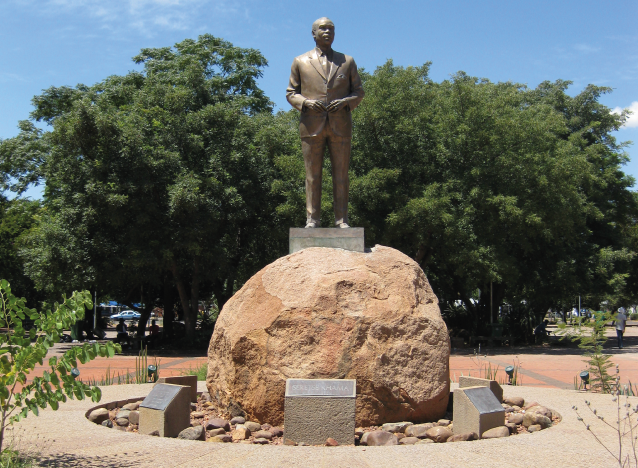 8. Sir Seretse Khama Statue
The Sir Seretse Khama statue marks another piece of Botswana history worth seeing. Sir Seretse Khama was the founding father and first president of Botswana. He together with his Botswana Democratic Party established a unified, democratic, multi-party and multi racial Botswana that Batswana now enjoy. Sir Seretse Khama's political acumen, sense of humour, tolerance and wit are just a few of the traits that gained him the love and respect of Batswana to this day, as well as the respect of both Western and African leaders. He was knighted by Queen Elizabeth II in 1991.
His bronze statue was sculpted by British artist, Norman Pearce and caste in Britain. It was unveiled in 1986, to mark Botswana's 20th year of independence. The statue faces the National Assembly and is located in the Main Mall, within the government enclave.
Picture credit: By Iulus Ascanius (Transferred from en.wikipedia to Commons.) [Public domain], via Wikimedia Commons
---
9. The Lion Park Resort
The Lion Park resort is Gaborone's first and only permanent amusement park in Botswana. It's about 20km from Gaborone, along the road to Lobatse. However, it's not really an amusement park or resort in the true sense of the word.
If you make the journey expecting to be confronted with mouth-watering aromas of popcorn, hot dogs, candy floss and toffee apples, you won't find any of that there. The ambience is also totally different from what you'd expect at an amusement park. Daredevil thrill seekers looking for hair-raising, heart thumping amusement rides might be left sorely wanting. It's also much smaller than a regular amusement park.
Nonetheless, The Lion Park is good for a fun day out with the family, and will almost certainly be enjoyed by young kids. It has a bit of everything and although not the most thrilling of entertainment sites, it's worth the occasional visit if you find yourself at a loose end with a bunch of restless kiddies. What I find "interesting" is that there's an entrance fee at the gate, but you still have to pay for individual activities/rides. This is something I personally feel could do with looking into and revising, as it may put some people off from returning.
What You Can Do At The Lion Park?
The Wet 'n Wild Water Park is what the owners describe as a 'wave Pool'; which is basically a pool created to give the experience of being in the ocean, complete with waves. Young children and teens alike seem to have a 'wild' time splashing about in the pool. There's also a water slide that has young children squealing with glee. If anything, the little ones come away shattered and fully entertained.
Amusement Rides include the big wheel, kiddie carousel, and the lazy boat ride. There's also the 'amazing' Gwazi roller coaster, said to be the tallest in Africa.
Paintballing is available; something fun for both adults and children.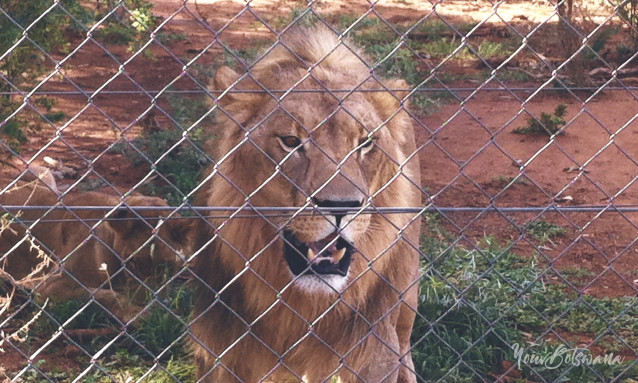 You Can Also See Lions
Not everyone, especially keen animal lovers, will want to see lions being fed their meal of the day from behind a fence. But for those interested in seeing the lions, enquiries can be made at the gate and a guide provided to accompany you.
The guide will address any comments and questions you may have. The lions are kept in an enclosure, away from the amusement Rides and Wet 'N Wild sections. It's a bit of a treacherous trek as the path is uneven and rocky, so comfortable shoes are required.
There's also a bar, restaurant, and BBQ facilities. The food did fill a hole when I went, but could do with improving.
---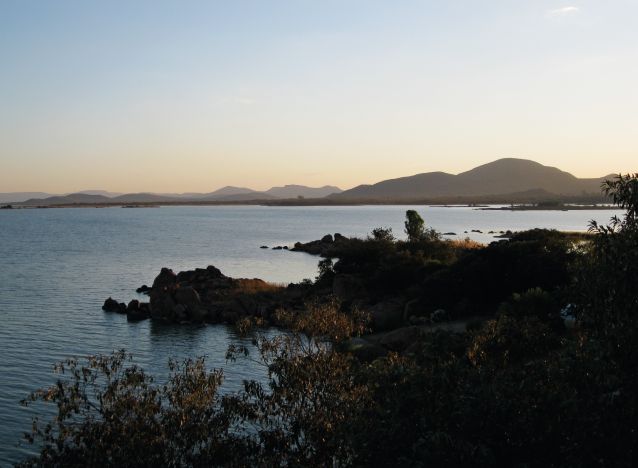 9. Gaborone Yacht Club
Yes, there is such a place in semi-arid, landlocked Botswana! The Gaborone Yacht is indeed a bit of a misnomer, but I've had no joy whatsoever in my efforts to find out how the name came about. The Club is situated at the Southern end of the Gaborone dam. It offers canoeing, rowing, yachting, picnics, and bushwalks and is open to the public.
Fans of the popular TV series The No 1 Ladies' Detective Agency will be interested to know that some of the scenes were filmed at the club.
Because of its location atop a little island, the Yacht Club provides excellent views not too dissimilar to those of the Okavango Delta. So this would definitely be the place to visit if you are on a tight budget and/or short of time. Guests can enjoy the open-air bar, swimming pool and restaurant.
Although not very easy to get to, The Yacht Cub offers stunning Botswana sunsets and as such, makes for a lovely setting for sundowners. Guests can view the sun set behind Kgale Hill. It's also ideal for bird viewing; herons and flamingos are some of the regular visitors to the nearby dam.
Gaborone Yacht Club hosts sailing races throughout the year including the Spring Regatta, which takes place in August [the windiest time of the year]– as well as the Botswana National Sailing Championships in October. Additionally, the club hosts an annual charity raft race, which dates as far back as 1986.
It has become popular with South African sailors and attracts more than 30 boats each year.
As it's awkward to get to the club, it may be more suited to those who actually reside in Gaborone.
Keep checking the website for more, as we'll tirelessly continue to find more interesting places and share with you anything else worth sharing. Are you a Gaborone resident? Where do you usually go to have fun that we've left out? Please feel free to share with YourBotswana.
Picture credit: Athena Lao
Reference: www.botswanatourism.co.bw
Featured picture credit: By Njengabenngugi (Own work) [CC BY-SA 4.0 (http://creativecommons.org/licenses/by-sa/4.0)], via Wikimedia Commons