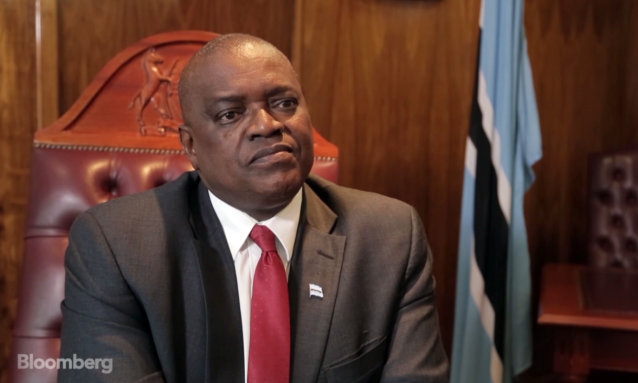 Botswana has become smarter and will no longer be exploited by buyers who procure its rough diamonds for a pittance only to maximise profits when selling them onto polishers, President Dr Mokgweetsi Masisi said last Wednesday in an interview with American tv network, Bloomberg.
President Masisi said the Lucara-Botswana, HB Antwerp, Loius Vuitton and Tiffany's relationship will spell the end of the long-running exploitation of Botswana by rough diamond buyers.
"They want to get the rough at the cheapest price, and they want to sell for the highest [price] to those who'd polish and add value. So, after having experienced selling rough for rather low prices relative to what you can get when value's been added…we have established a wonderful relationship with Lucara and the retailer Louis Vuitton and Tiffany's," the president said. 
He told Bloomberg's Pulitzer winning journalist and senior editor, Ethan Bronner, that through the partnership, which he described as profitable and rewarding, Botswana was able to sell high-quality gems to a high-end market and also position itself as central to the diamond trade. He noted in promoting gems to the world, the partners would be able to tell how the diamonds continued to transform livelihoods in the country. Livelihoods are transformed through the provision of free education and healthcare, clean and safe water, roads and other crucial physical and social infrastructure, he highlighted.
Dr Masisi said the promotion of Botswana gems would help consumers understand more about the country and its integrity in relation to mining and general dealings in the diamond trade, which in turn would boost tourism. He explained that from the diamond sales, the partners would derive profit while the government would gain mining royalties and tax revenue. Botswana, which boasts the world's largest and richest diamond deposits by value and is among the world's biggest producers by quantity, seeks to position its gems through careful mining and the extraction of plus-size high-quality diamonds such as its recent recoveries.
President Masisi said Botswana diamonds had not always been marketed as an exclusive product. Instead, buyers chose to have them aggregated with others regardless of quality or country of origin, said the President. Under the new partnership, Botswana's high-quality diamonds would now be marketed as an exclusive product. The President, who has taken it upon himself to be the lead voice in telling the Botswana diamond story, summarised it in just three words: integrity, development and good business.
The story, which has been told over the years since the discovery of diamonds in 1967, captures how the gems turned the economic direction of one of the world's poorest countries at independence to that of a high-middle-income country. It is the story of how shrewdness, good planning and good stewardship changed a people's destiny and catapulted a hitherto unknown small Southern African nation to the level of big players such as Brazil and Russia.

But it is a dynamic story; one that needs to be told afresh, especially as once again, Botswana reaffirms its position through the discovery of plus-size diamonds.
President Masisi also touched on Botswana's other diamond partnership – the abiding and "wonderful" mutually beneficial relationship with De Beers, which started in 1969. He said the government would continue to enhance such collaborations with the private sector in the diamond trade.
Source: BOPA