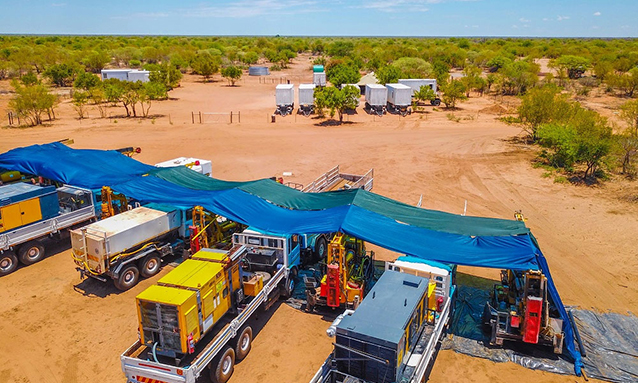 The A4 deposit is continuing to develop as a key potential source of satellite feed for the Motheo Copper Mine, where full-scale construction and development is now underway following the award of the Mining Licence on July 7.
Sandfire Resources Ltd has hit a whopping 45 metres at 2.2% copper and 42.6 g/t silver from 439 metres in step-out drilling at the A4 Dome, west of the Motheo Copper Mine in Botswana. This intersection, which also included 2.1 metres at 8.25% copper was returned 1.2 kilometres southwest of the recently upgraded A4 mineral resource. Other results from MO-A4-207D – the first drill hole to effectively test the axis of the A4 periclinal anticline interpreted from airborne electromagnetic (AEM) data include:
6.78 metres at 3.59% copper and 68.5 metres g/t silver from 441.2 metres;
2.1 metres at 8.25% copper and 158 g/t silver from 456.78 metres; and
7.12 metres at 3.13% copper and 66 g/t silver from 462.6 metres.
This new intersection is on an interpreted structure with minimal previous drilling and potentially opens up an exciting new area for exploration.
"Exceptional opportunity" for high-grade discoveries
Managing director and CEO Karl Simich said the results highlighted the exceptional opportunity at the A4 Project to make significant new high-grade discoveries across the Kalahari Copper Belt.
"With construction of the Motheo Copper Mine now well underway, our exploration effort is beginning to accelerate – and it has received an immediate and significant boost with this remarkable new intercept just 1.2 kilometres southwest of the A4 Deposit.
"This was the first hole drilled to test one of the many anticline or dome structures interpreted from airborne EM data across our land-holding, and it has delivered very encouraging results that would not look out of place at our high-grade DeGrussa mine in Western Australia."
Third drill rig by mid-September
More importantly, he said it was in a completely undrilled area that remained wide open for follow-up drilling to further evaluate its size and orientation, and potentially define additional resources.
"It also confirms the potential to discover high-grade vein-hosted mineralisation in other domes within the Motheo Hub, notably the A1 Dome, 25 kilometres to the northeast.

"We now have two diamond rigs operating to further evaluate this area with a third rig expected by mid-September.

"In the meantime, our regional exploration effort is also gathering momentum with three rigs targeting extensions to known mineralisation in the T4-T23 area, approximately 80 kilometres west of the Motheo Hub, and systematically working through other targets such as T5, T14 and T45."
Exploration ramp-up in parallel with construction
"This is an exciting time for our team in Botswana as we ramp up exploration in parallel with mine construction activities at Motheo."
Sandfire has a clear pathway through the A4 satellite deposits and is beginning to demonstrate the huge potential for further step-changes in its growth trajectory of this largely untapped region. A pre-feasibility study to support a maiden ore reserve for A4 is on track to be completed during the quarter, as the foundation for a final feasibility study is targeted for the March 2022 quarter.
This will provide a development pathway for the integration of A4 into the proposed 5.2 million tonnes per annum Motheo production hub.
Source: https://www.proactiveinvestors.com.au/companies/news/959531/sandfire-resources-hits–stand-out–intersection-of-45-metres-at-22-copper-and-426-gt-silver-from-439-metres-in-botswana-959531.html