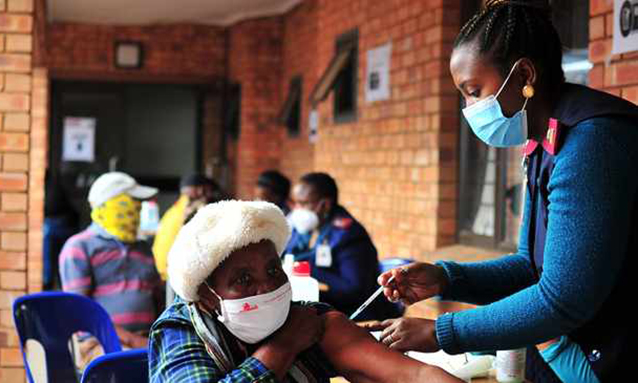 More and more Batswana are travelling to South Africa for COVID-19 vaccinations amid a slow roll-out and vaccine shortages in the country.
However, the Botswana Government denies many citizens are opting to get their jabs in South Africa due to vaccination roll-out challenges in Botswana. Scores more are travelling to Zimbabwe to access the potentially life-saving injection. A handful of Batswana has been spotted in South African towns, including, Mahikeng and Zeerust in the North West, especially over weekends. Their only reason for travelling is to get the vaccination.
Sethomo Lelatisitswe, Botswana's Assistant Minister of Health, told the country's Parliament last week that South Africa – like several other countries – was vaccinating everyone, including foreign nationals (whether or not they had official documents) as well as refugees.
Lelatisitswe said that was why citizens were travelling across the border to get their shots.
"Some of those who were vaccinated in South Africa or Zimbabwe [happened to find themselves there] and because people were getting vaccinated, they joined the queue, just like foreigners in our own country.

"Vaccination is a public health issue – you can do it anywhere. If Namibia, South Africa or Zimbabwe leave out Botswana citizens in their vaccination roll-out, with their hospitals getting full, it's going to be that country's responsibility to hospitalise them if they contract the virus – but where will they [put] them?"
However, Lelatisitswe would not be drawn into addressing the suggestion that Botswana citizens were crossing the border for jabs due to shortages and the lethargic roll-out programme at home. By August 27, Botswana – with a population of about 2.3 million – had fully vaccinated 215 502 people while only 337 989 had received their first jab. Against the figure of 128 738 fully vaccinated people released by the Government on August 2, the latest figures mean that only 86 764 people were fully vaccinated in almost a month. Data also show that by August 27, Botswana had a total of 159 317 confirmed COVID-19 cases, 2 276 COVID-related deaths and 5 146 active cases. According to an article published on August 19 on the World Health Organisation's website, a survey conducted in Botswana found that most of the citizens had no objection to being vaccinated.
Botswana Director for Health Services Malebogo Kebabonye was quoted as saying:

The survey showed 76% acceptance of the vaccination among the public. Through the 'ArmReady for Lemao [vaccine]' campaign, we also sought to pre-empt small pockets of resistance.
Botswana had aimed to record a higher number of vaccinated people in the first phase of its roll-out programme, which targeted those aged 55 and older, as well as public servants such as healthcare workers and teachers. The country's second phase, targeting those aged 45 to 55, kicked off about a week ago.
"Our first phase, aiming to reach 264 000, is about protecting the health system. The second phase is to ensure continued economic activity [and] the final phase will target 18- to 29-year-olds," Kebabonye was quoted as saying.
A 38-year-old diabetic Motswana said he had jumped at the opportunity to be vaccinated in South Africa.
"I simply called someone I know in South Africa, gave them my details and was registered for a vaccination in just a few minutes. A few days later, I drove to Mahikeng and got my Johnson & Johnson jab, which made me the happiest man on Earth, as I was in the high-risk bracket because of my comorbidity," he said.

"Since then, I've been encouraging many others like me not to wait for the jab here where they're unsure when or whether they'll ever get it. It's a really good thing that people can be vaccinated anywhere. Things are very slow here in Botswana, and it might be too late for many citizens when their turn finally arrives."
Many of those who were vaccinated in Mahikeng during the past week were youngsters who said they had no choice but to travel to South Africa because they were losing hope of receiving their jabs anytime soon in their own country.
"They just recently kicked off phase two of the vaccination roll-out programme, which covers people aged 45 to 55, but there was a government announcement last week stating they'd run out of vaccines in the greater Gaborone area, which is where I'm from," said a Botswana citizen who had her jab at the North-West University Mahikeng campus at the weekend.

"I'm only 24 and, with vaccines constantly running out and the roll-out itself going at a snail's pace, I wasn't expecting to be vaccinated anytime this year.

"I'm glad all foreign nationals are covered in vaccination roll-out plans in almost all countries. Our government must just acknowledge that it's encountering challenges with its vaccine stock levels.
In his question-and-answer session with the Botswana Government last week, Lelatisitswe – while not directly admitting that there were serious challenges – conceded that there had been some supply problems.
"[Citizens] haven't been receiving many vaccine doses, but I can promise you that the expected doses will come in higher and satisfying numbers," Lelatisitswe said. He also conceded that "no one's satisfied with the number of doses distributed in greater Gaborone and the whole country".
For the complete articles: https://www.news24.com/citypress/news/botswana-citizens-flock-to-sa-to-get-the-jab-20210905