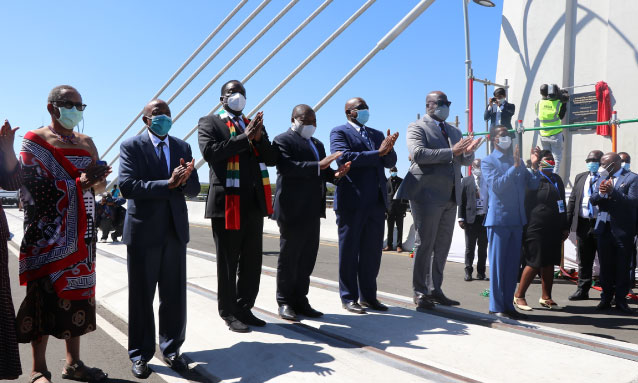 Botswana and Zambia have opened the $260m Kazungula Bridge, which is set to help alleviate congestion at one of Africa's busiest border crossings in neighbouring Zimbabwe. The 923m road and rail bridge offers a faster and cheaper alternative to a route via Beitbridge on Zimbabwe's border with South Africa. Kazungula has a one-stop border facility located near the quadripoint that links Botswana, Namibia, Zambia and Zimbabwe.
Botswana President Mokgweetsi Masisi and Zambian President Edgar Lungu presided over the ceremony on Monday to mark the opening of Kazungula. Democratic Republic of the Congo (DRC) President Felix Tshisekedi, Mozambican President Filipe Nyusi and Zimbabwean President Emmerson Mnangagwa also attended the ceremony.

Bottlenecks at the Beitbridge crossing often result in a snarl-up of commercial traffic and cargo on the route, which is also an important access point for the DRC. On average, about 25,000 people pass through Beitbridge daily, according to Zimbabwean officials.
Beitbridge – between South Africa and Zimbabwe – has for years been the busiest border post in the region. Zimbabwe's international trade ministry says about 600 trucks pass through that border each day. That is in addition to about 60 buses and 2,000 light vehicles. The commercial traffic alone accounts for monthly revenue of $45m. Botswana and Zambia have agreed in principle to incorporate Zimbabwe into the Kazungula Bridge spanning the Zambezi River, and the one-stop border post linking the two countries.
Initially, the late former Zimbabwe president Robert Mugabe was against the bridge construction because Botswana and Zambia do not share a land border. The sentiment was the same during the colonial era when Rhodesia and SA, which administered South-West Africa (Namibia), declared the route illegal. During construction, the bridge was reportedly designed to curve away from Zimbabwe, to avoid encroaching on its territory. It creates an alternative "north-south corridor" ultimately connecting Cape Town in the south and Cairo in the north, bypassing Zimbabwe.
Speaking at the ceremony, Masisi said;
"I am happy to note that the Republic of Zimbabwe and ourselves [Botswana] and Zambia have agreed in principle to be a partner in this project. Our officials are working, and they will work increasingly faster and harder, to complete the remaining works with Zimbabwe."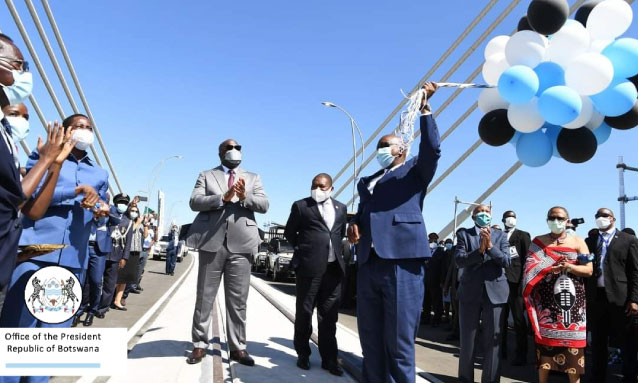 In his address at the ceremony, Mnangagwa said;
"In the fullness of time, Zimbabwe will be part of this hallmark project, which accelerates our regional integration efforts."
Zimbabwe intends to join in the bridge's last phase and has offered to pay a third of the $259.3m project.
"We have agreed with our counterparts, the Government of Botswana, the Government of Zambia, we are now part of the Kazungula bridge and subsequently, we are going to be paying our portion of the development of that bridge," Zimbabwe foreign affairs minister, Frederick Shava told journalists.
Source: https://www.businesslive.co.za/bd/world/africa/2021-05-10-botswana-and-zambia-open-260m-kazungula-bridge/