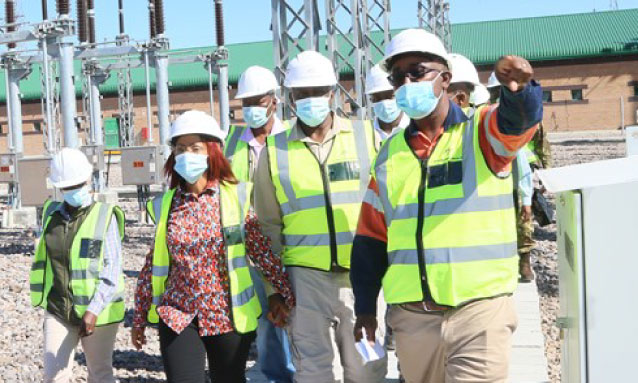 President Mokgweetsi Masisi says energy security remains one of the Government's top priorities, as it would accelerate the implementation of the national transformational agenda. The president said this when officially opening phase one of the North West transmission grid connection project in Mawana, some 20 km from Maun this week.
The over P2.3 billion project will add value to Botswana's development path and most importantly, reduce the power import bill, says President Masisi. The project, expected to connect the North West, Chobe and Ghanzi districts, would fast track implementation of the Economic Recovery and Transformation Plan approved by Parliament last year, he said. Dr Masisi said it would provide reliable power to mining operations in the three districts.
"I am happy to note that significant benefits of the infrastructure were already being felt in the North West region. For instance, Khoemacau Copper Mine located in the heart of Ngamiland, which I officially opened in 2019, is now connected to the transmission grid," he said.
As a result, the mine is no longer dependent on diesel-powered generators as was previously the case, he added. Through the project, the Government has also electrified the newly constructed Shakawe hospital, a facility that is set to improve access to health services in the Okavango Sub-district, the president said. President Masisi said the project was also expected to boost the tourism sector and thus contribute to employment creation. He said the Government was determined to develop the necessary infrastructure to fulfil its promise to provide villages, towns and cities with reliable electricity. He described the project as a demonstration of the Government's commitment towards ensuring energy security across Botswana, saying it was one of the country's major power infrastructure projects. He noted that it was completed on time and within budget despite interruptions and economic hardships the country continued to experience due to the COVID-19 pandemic.
President Masisi said he was confident that with the commissioning of the first phase, stage two construction would soon commence. The grid will connect Kasane to the Phokoje substation in Selebi-Phikwe through Dukwi and is expected to accelerate socio-economic development in the mentioned areas. The president explained that the second phase would further advance the development of Agricultural Special Economic Zones in the Pandamatenga area and support government efforts to pump water from the Zambezi River to other parts of the country for agricultural and potable purposes. He assured the gathering that despite the hardships and challenges, the Government would keep its promises and implement priorities set to transform Botswana into a digital economy.
"That is why were are vigorously pursuing the electrification of our villages through the Rural Village Electrification Programme. This will drive our National Vision 2036 aspirations which seek among others, to develop appropriate infrastructure for economic diversification," he said.
Source: BOPA / Daily News