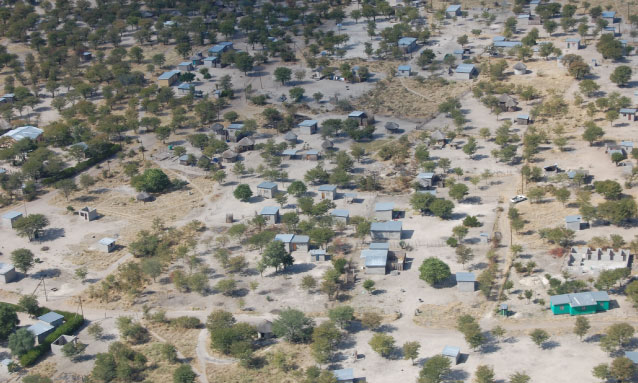 With a projected population of at least 3.2 billion people to live in rural areas by 2050, developing countries need better strategies to deal with large and growing populations. To effectively address rural development challenges, Cahl Dalhman in 2015 released a research study titled "A New Rural Development Paradigm For Developing Countries in the 21st Century" in which was devised a rural development tool kit.
The tool kit calls for the creation of a set of policies that can help achieve rural development objectives; assessment of country specifics to develop a strategy; considerations for developing strategies; and best classification matrix. In devising appropriate strategies, it is imperative to address the need for the provision of massive productive employment; improvement of governance and government capability; improvement of donor coordination; and the development of greater resilience and developing countries. These will require new innovative approaches, including new technologies; organisation and ways of implementing strategies; more effort to build capability in government at all levels, but also in the private and non-governmental sectors; greater international coordination and more effective ways of engagement.
In 2013 at a Rural Development Council Pitso, Dr Pelotshweu Moepeng presented a paper titled; "Rural Development in Botswana: Experiences from Elsewhere and Emerging Issues" in which the standard description of a rural village in contemporary Botswana was stated as "a place that has access to a road network, a minimum of a primary school, a health facility, a Kgotla, mobile phone network access, and most likely, a connection to the national electricity grid". Statistics Botswana in turn defines a rural area as an area where less than 75% of the population depend on non-formal employment outside agriculture. According to Moepeng, while it was previously clear that rural development meant the development of infrastructure and agriculture, today's rural development approach needs to identify the different potentials of the area, livelihood patterns, opportunities arising from international relations and globalisation. It also has to highlight how existing human capital and technology adoption could be harnessed to achieve optimal benefits to increase the standard of living in rural areas, he asserts.
In the author's view, rural development should mean "a transition from rural to urban, and must be an empowerment programme and an incentive to promote productivity even in less productive areas".

According to the Moepeng paper, "despite rural development being a very important part of the Botswana Government policies and poverty eradication being one of the flagship programmes, something could be wrong in the way we identify our problems, or we might not be targeting our efforts appropriately to address our problems".
Moepeng advises that the government needs to review the problem identification process that is being used, and whether known problems are addressed and relevant to help achieve the intended objectives or not. He further says;
"… given the political will and resources allocated to address rural poverty, appropriate programmes and efficient targeting is expected to result in faster eradication of poverty."
The paper also observes that Botswana has in recent years, witnessed a spike in the number of unemployed people, retirees and pensioners living in rural areas. These people are not necessarily working on farms or any other sector. Changes in infrastructure provision and access to improved social amenities led to the urbanisation of rural areas in Botswana, and the different demographic structures require rural development policymakers to adjust accordingly. It is reckoned that public services required in rural areas need to provide for the needs of the youth, including recreational facilities, the promotion of skills in non-agricultural activities that enable people in rural Botswana to participate in globalisation and produce services necessary to compete in global markets.
"An important dimension of emerging rural development is the need for relevant skills and qualifications to take advantage of emerging opportunities and address dynamic issues arising from new developments locally and abroad." 

"The product markets in rural Botswana are not as fully developed as in urban areas. Many rural areas are not attractive to entrepreneurs who are keen to make a profit because of distances from the main centres; in some instances, poor road networks, low population density and a market that is characterised by a majority of customers who have no regular income and highly dependent on transfers."
Moepeng also calls for the making of a development policy that embraces globalisation and acknowledges that as a country, Botswana is part of the global village, whether it's a village, town or city in Botswana. For instance, most of the goods in many rural shops are imported not just from South Africa, but as far afield as China, India and elsewhere. Botswana is, therefore, already competing with the global world even in the rural markets. The paper laments the fact most of Botswana's economic empowerment policies are "inward looking" and the same applies to key trade and industrial policies. Botswana's market is just too small to provide the basis for the kind of vibrant companies that drive rapid employment growth in the rest of the world.
"Although it could be easier for local entrepreneurs to understand the domestic market than international ones, almost every developing country that has experienced rapid growth has done so by aggressively inserting itself into the global markets. 

For example, Botswana's one great success, diamonds, depends largely on global markets," states the paper.
It warns; "If Foreign Direct Investment is to be a key input into Botswana's globalisation, then focusing on the South African market may not work. Botswana should instead aim for global markets".
Moepeng advises further that Botswana will have to adopt a somewhat proactive and active industrial policy that invests significantly in the emerging middle-class and some of the
able-bodied civil servants who could be retired to join the international business world. He also observed that Botswana has a large stock of educated young population and recently heavily invested in internet services. It would be of great relief for the new rural development policy to consider internet-based services as an integral part of the industry for support under its economic diversification policy. Even though internet-based services do not follow the traditional pattern of industrial change from agriculture to manufacturing and then to services, other developing countries, most notably India, have shown that a leap to service industries is possible.
In conclusion, Moepeng reckons rural development should be about transforming rural areas into urban areas, and the most basic requirement of rural development is for Botswana to review a definition of a rural area and use that as a basis for adopting a new definition of rural development. According to Moepeng, urbanisation is currently putting pressure on rural lands adjacent to and near cities and towns. And as a result, there are speculative tendencies that promote informal land markets. The outcome of this could be substantial land grabbing from the poor by the rich, especially foreigners.
"If the issue of secure land rights and markets is not attended to as a matter of urgency, conflicts arising from unfair land deals are likely to arise, particularly in the areas nearer to urban areas and cities. 

Although the Government has made changes to land access by introducing quota systems to land applications in rural areas nearer to cities and towns, the introduction of a more formal land market would facilitate transparency in the exchange of land ownership. This will also help participants in land markets to be protected by law", advises the paper.
Dr Radhika Kapur acknowledges in his research study titled: "Rural Development Approaches and Strategies" that to promote development of rural areas, it is necessary to represent an intersection between agricultural, social, managerial, behavioural and engineering sciences. During the implementation of policies, practices, strategies and approaches aiming at rural development, then the individuals need to generate awareness in terms of deficient areas and challenges, which the rural individuals are experiencing. The organisations and agencies are required to work in collaboration and integration with each other to achieve the desired goals and objectives. Many developing countries have been working effectively towards the development of rural communities and have received significant outcomes.
Dr Kapur argues that when acquiring an understanding of rural development approaches and strategies, it is essential to acquire an efficient understanding of areas in rural communities, which are in a backward and underdeveloped state and need to be improved. When individuals are involved in the implementation of strategies and approaches, then they need to be aware of the major objectives of rural individuals.
"In order to bring about improvements in the living conditions and overall quality of lives, it is necessary to generate a source of income. In rural areas, agriculture and farming practices are stated as the major occupations of individuals. 

Apart from these, they are engaged in the production and manufacturing of handicrafts, silk weaving, pottery making, and so forth. Therefore, it can be stated that involvement in employment opportunities and occupations are the major objectives of not only individuals residing in rural communities, but also rural individuals", posits Dr Kapur.
For rural areas to be considered developed, emphasis should also be directed on one's health and educational levels, according to Dr Kapur, who observes further that in rural areas, health conditions are regarded to be "in a deprived state". When people are experiencing health problems or illnesses, then they would certainly experience problems in getting involved in any tasks or activities. In rural communities, healthcare and medical facilities are regarded to be of major significance. In rural communities, health care and medical centres are not fit for purpose. Therefore, "augmentation of medical health centres is crucial for rural development."
According to Dr Kapur, the approaches for rural development need to focus upon making provision for remedies to the problems, experienced by rural people. These problems may include poverty, illiteracy, unemployment and homelessness. When improvements need to be made in rural communities, then it is vital to pay adequate attention to urban communities, as they are regarded as the main consumers of agricultural produce.
"To bring about effective solutions to these problems, it is vital to formulate measures, programmes and schemes, which are dedicated to alleviating these problems and bringing about improvements in the overall living conditions of the individuals. 

Therefore, it is clear that improvements need to be brought about in the traditional rural development approaches."
The research study acknowledges that in rural communities, people have recognised the significance of education. They have also generated information that making use of modern and scientific methods and technology in the production processes will lead to increase productivity and profitability. But conditions of poverty, malnutrition and scarcity of resources are proving to be the major impediments to the achievement of the desired objectives. Hence, the main purpose of other strategies is to form the overall environmental conditions in such a manner that would lead to effective growth and the development of individuals and communities.
Yet another research study titled "Theory in Rural Development: An introduction and Overview" states; "Rural development – like development, in general – moves forward, employs thousands of professionals around the world and influences billions of dollars of public expenditures – all while operating without a generally accepted and fully codified body of formal theory."
Source: https://www.sundaystandard.info/unleashing-the-potential-of-rural-economies-as-part-of-the-development-agenda/