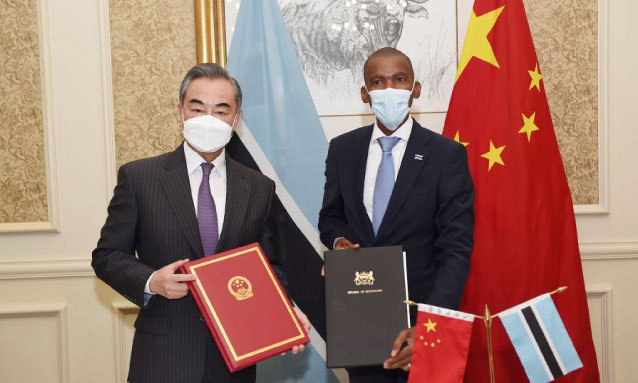 China and Botswana on Thursday signed a Memorandum of Understanding (MoU) that will facilitate their cooperation on the Belt and Road Initiative (BRI).
Visiting Chinese State Councillor and Foreign Minister Wang Yi and his Botswana counterpart, Dr Lemogang Kwape signed the MoU between the two governments after their talks in Gaborone. Wang said the BRI is an important international cooperation initiative and a public product provided by China to the international community. He said the focus is to help developing countries strengthen infrastructure construction, better realise connectivity and enhance their independent development capabilities. The two countries signed an agreement on jointly building the BRI, making Botswana the 46th partner country in Africa in BRI cooperation, Wang said. He noted this year coinciding with the 46th year since China and Botswana established diplomatic relations is symbolic.
Wang further highlighted the joint construction of BRI will provide new opportunities for the two countries to deepen their mutually beneficial cooperation, expand new fields, open up new prospects, help Botswana's infrastructure construction and national modernisation process to better benefit their peoples. Botswana President, Dr Mokgweetsi Masisi and the Minister of International Affairs and Cooperation, Dr Lemogang Kwape stressed the new development in the China-Botswana relations would provide further impetus for the two countries' cooperation.
The Botswana-China diplomatic relations date back to January 6, 1975. Wang's official visits came about at the invitation of five African nations and will take him to Nigeria, the Democratic Republic of Congo, Botswana, Tanzania and Seychelles. They will run from January 4 to January 9, 2021.
Source: http://www.xinhuanet.com/english/2021-01/08/c_139650064.htm