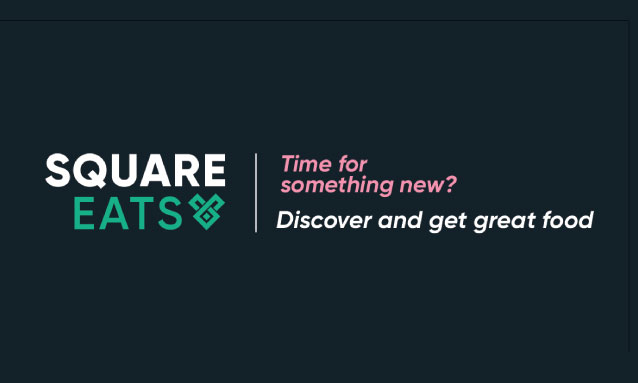 Most people will remember 2020 as the year of the COVID-19 pandemic, the year that decimated global economies. The year that demanded that we all adjust to a whole "new normal" we never thought we would see on these shores for many years to come. Among the flurry of changes COVID-19 has brought with it to Botswana is the online shopping experience and the emerging of technological advancements such as apps.
As COVID-19 continues to rage the world over, the mantra we all have to adopt is the culture of socially distancing from large crowds and where possible, simply staying cooped up indoors if we have no pressing matters to attend to away from home. That being the case, we still have to eat and shop for groceries every so often. Elsewhere around the world, more and more people are resorting to shopping online and having their groceries delivered to their doorsteps.
Online shopping platforms are cashing in, laughing all the way to the bank. American multinational technology company, Amazon has seen its profits skyrocket as online shopping continue to explode. According to the Financial Times, locked-down shoppers drove sales 40% higher, year-on-year, to $88.9bn, helping Amazon record $5.2bn in net income for the three months to the end of June, double what it earned in the same period last year.
Back on home turf, young techies have seen the opportunity to exploit the situation, to drag Botswana screaming and kicking into the 21st Century and the world of online shopping and home deliveries. We have seen the emergence of a catalogue of trends, including a slew of apps and innovative online shopping platforms such as Maun-based YM Online. In July, twin brothers, Randall and Henry Newman founded Square Eats, an online food delivery platform through which customers can order food from local restaurants, grocery stores and liquor stores and have their orders delivered to their doorstep or for collection.
CEO and co-founder, Randall Newman explains how Square Eats can make your life easier for Botswana residents during COVID-19 times – and beyond.
---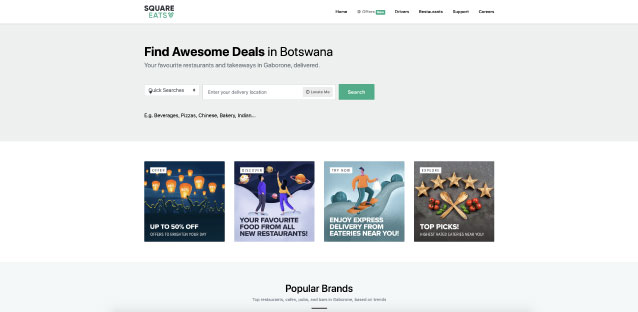 YB: Hello Square Eats Team. Congratulations on the launch of your amazing business. Please take us to the beginning – how did Square Eats come about?
SE: The idea of launching our own delivery company came to us in January 2020. We researched it for a while, looking into the current players that are doing it in Botswana and neighbouring countries.
Towards the end of March 2020, the World Health Organisation declared Coronavirus a pandemic, and the Botswana Government declared a lockdown in April, fuelling our ambition to launch the venture.
When the lockdown was introduced, we spotted a huge gap in the market. People were not able to easily buy food and other necessities because of government-imposed restrictions. We immediately started building the Square Eats platform. For three months, we built six mobile apps that our operators use to manage orders, customers use to order from, drivers use to get order details to deliver their orders etc.
YB: Wow, that must have taken a lot of backbreaking work and sleepless nights! Who is behind the brand?
SE: My twin brother, Henry and I own the company outright. We each own 50% shares.
YB: Fantastic! We can take a wild guess, but how did the name come about?

SE: The name was influenced by LocalSquare, Square Messages, Square Maps and Square Music, which are other brands that we own.

The first name we came up with was Square Dash, but then we started reading more about Just Eat (a UK company), Eat Out (a South African company) and Uber Eats. Those companies influenced our choice. Off the back of that, we changed the "Dash" to "Eats" and finally named our brand Square Eats.
YB: You've been very busy and clearly manage other brands we may have to look into in the future! When did Square Eats start operating?
SE: We started with the mobile alpha release on the 26th March 2020 to a limited number of people, followed by the beta release on the 7th June 2020.
We have set the official launch to the beginning of next year. Running the whole Square Eats platform in beta mode has allowed us to improve, learn more about what the customers want, to integrate customer recommendations and suggestions and identify loopholes.
YB: Very thorough – we like that! Quite often, local brands launch and collapse in very quick succession and we feel it's often due to lack of proper planning. So, way to go! How long after 'dreaming up' the idea did Square Eats become a reality?
SE: Square Eats became a reality on the 7th of June 2020 because it became a fully-fledged product, as it was helping bring people convenience when they needed it the most. It also allowed restaurants to continue operating during the lockdown.
YB: Henry and Randall, what professional backgrounds do you have and how do they lend themselves to Square Eats?
SE: From a young age, we have always been passionate about innovation and technology. During our school years, we participated in a lot of technology competitions, which we always won. We then decided that it was time to gain work experience and were hired by the popular restaurant, The No. 1 Ladies Coffee House. While there, we learnt a lot about how restaurants work, how to manage stock, customer service and just running a business in general.
As eager as we were to start our own business, we knew that we had to craft ourselves. So, we decided to go back to school. Henry enrolled for Computer Systems Engineering at Botswana Accountancy College (in partnership with the University of Sunderland) and I enrolled for a BA (Hons) in Entrepreneurship in Business Leadership (in partnership with Sheffield Hallam University) at the same school. Then I was hired by a technology company called InfinyTECH as an Account Executive.

Our passion encouraged us to start our own company. So, we started a software development company in 2018 and launched it in 2019. The company has assisted and implemented solutions for companies such as AfriSales, ABI Films, AO Clinic, Debswana, Botswana Centre for Public Integrity, Meizu, Storkfort Health, Van De Carter and Zain's Gadgets, among others.
So, our professional backgrounds have contributed to Square Eats as we have a mixture of programming and driving business to probability. Our understanding of the technology and the hospitality industries will help us make Square Eats highly competitive.
YB: What is Square Eats and exactly what does it do? Please explain how your delivery service works.
SE: Square Eats is a technology company that owns and operates an online ordering platform that enables people to order food, drinks and groceries for delivery or collection.
Customers place orders via our mobile app or website and we deliver their orders to their doorstep using a car, motorcycle or drone.
YB: Batswana are creatures of habit, and while online shopping has been a thing around the world for years now, it is only just catching on now. How has the response been?
SE: That is true, Batswana are indeed people of habit. However, the response has been good. There is a demand for what we are offering. We realised that Batswana just need to be educated on how to operate these technology platforms. A good adaptation of technology is how Batswana are now using online banking. At first, they did not trust managing their money online, but after seeing the convenience that comes with online banking, they love it and use it regularly.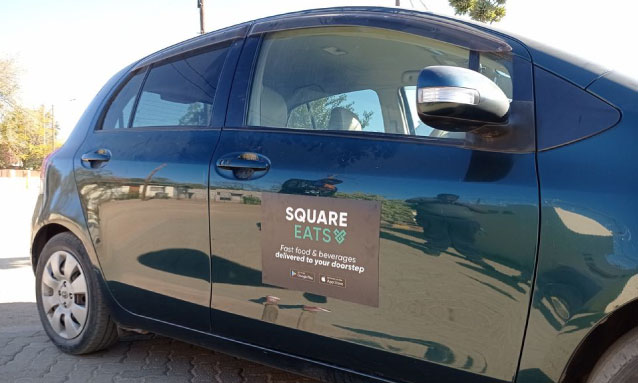 YB: Do you worry that when things return to normal, the novelty will wear off and the appeal of your service may decline?
SE: No, we are not worried. We are even prepared for when things return to normal. As much as Coronavirus has shown that countries need to improve and introduce new technological offerings to their citizens, it has opened doors for companies such as ours. We are teaching customers to use our service during these hard times so that when it is over, they will continue to rely on it.
YB: We do need to continue along that trajectory to escape the dark ages. Square Eats is doing well and appears to be gaining traction. Have you encountered any hurdles along the way?
SE: In business, there are always ups and downs. We encountered our first hurdle when we attempted to partner with Botswana Innovation Hub, but they rejected us. They judged us based on the success of our competitors and the fact that some businesses are opting to do their own delivery.
Square Eats is an innovative company, that is why we are introducing drone deliveries to make our partners more competitive, we are doing things differently and perfectly.

Another hurdle that we are facing is that some businesses are reluctant to work with us because they have had a bad experience working with one of our competitors. That is delaying our growth. However, we will get there eventually, where every business in Botswana sells their food and drinks through us.

YB: That's the spirit – you always have to take the rough with the smooth and also persevere in the face of knock-backs. We understand you now operate nationwide. Congratulations on that! How does that work in parts of the country you cannot physically be to ensure everything goes exactly as it should and in keeping with your standards?
SE: The technology we have built allows us to grow without being physically present in other regions. That is why we are planning on enhancing that by introducing drones. We uphold our standards by collecting feedback from our customers, drivers and merchants. We engage with them regularly to make sure that everyone is on track.
YB: A little birdie tells us you are expanding across the border to South Africa next year, barely a year since you started operating. That is quite a feat! How did that come about?
SE: Yes, we are launching in South Africa next year. We managed to do that through the help of a few partners, one of those partners being the Botswana Investment and Trade Centre (BITC).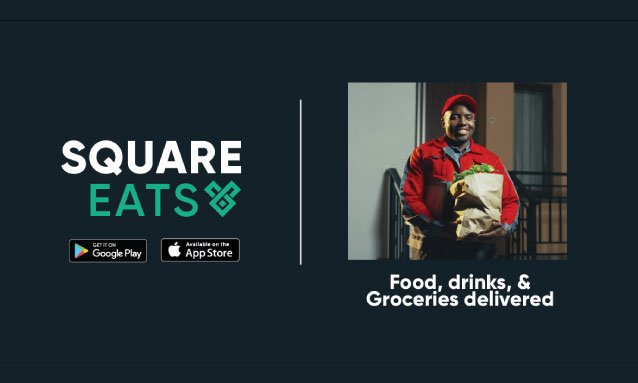 YB: There is the idea that BITC is a hard nut to crack. How were you able to gain its support?
SE: That is not true. BITC is a wonderful organisation. BITC looks at your idea and if that idea is marketable. So, we shared with them our ambitions and how we want to be a big contributor to Botswana's technological space. They embraced the idea and pledged their support to us, just like they have done with other companies before us.
YB: Hahaha we stand corrected! We are ecstatic for you, but will cross-border trading when you take Square Eats to South Africa not pose a logistical nightmare?
SE: No, not at all. We are going to launch it in phases to allow us to learn the South African market and identify loopholes. We are also going to deploy a dedicated team that will represent the business there and report to HQ (Gaborone, Botswana) regularly. On top of that, we have hired advisors and consultants who are helping us launch our presence successfully in South Africa.
YB: You sound like you've got it all sorted. Since the COVID-19 pandemic hit, we have seen a host of delivery services mushrooming everywhere. How is Square Eats different and why should people choose you over all the rest?
SE: Square Eats is innovative, customer-centric and patient. Our fees are highly competitive compared to what our competitors are charging. In addition to that, we are continuously exploring partnerships with companies that will bring great value to our customers.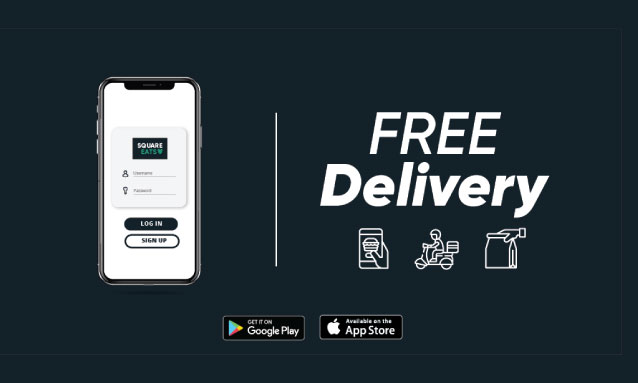 YB: What establishments have you partnered with that you deliver for?
SE: So far, we have partnered with establishments including, Culture Art Café, Dros Molapo Crossing, Food Degree, Noxies Grill, Linga Longa, Pure Drop and The No. 1 Ladies Coffee House.

We have an upcoming partnership with Liquorama – to deliver alcohol for them throughout Botswana . We are also engaging with two big franchises (that we are unable to disclose for now). All we can say is, stay tuned.
YB: Way to go! We'll definitely be watching this space. In the age of COVID-19 and the need to socially distance, how do you guys get around this when you are making your deliveries?
SE: We have provided our team with sanitizers, thermometers and masks to keep themselves and our customers safe.
YB: In terms of delivering alcohol, do you get underage kids trying to pull a fast one? How do you get around this?
SE: Before we can hand over the alcohol, we request an ID to verify the customer's age. Our team is working on a feature that we will introduce on the Square Eats platform to verify every user's age.
YB: Brilliant! Looking to the future – what is on the horizon for Square Eats?
SE: Square Eats is a born-global company; our goal is to ensure that every African country uses the Square Eats platform.
---
YB: Lofty ambitions indeed but equally, we can see Randall and Henry making this happen. Guys, thanks for your time, it's been worth it. We hope Square Eats all the success in the world and goes on to expand across Africa as per your aspirations.
Article by YourBotswana writer