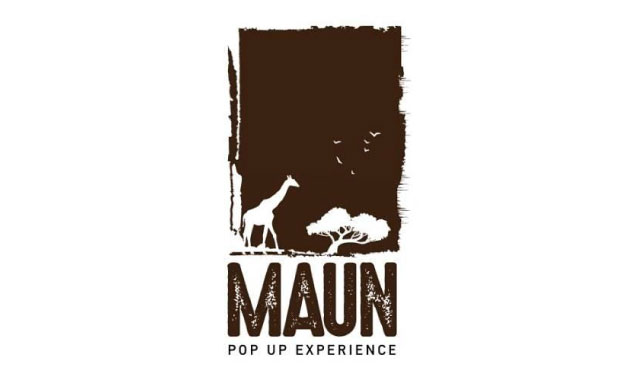 A great many of us can agree that 2020 has been a year of trials and tribulations the likes of which we've never experienced before in our lives. But Tebatso Kgakge has well and truly been through the wringer and would be forgiven for arguing 2019 was the year from hell that would serve as her prelude to 2020. Life threw the bubbly Molepolole native a curve she never saw coming when she lost her dear grandmother and daughter last year. But being a glass half full person, Tebatso didn't curl up and have a pity party – when life threw her lemons, she chose to make lemonade.
Tebatso brushed herself off, packed her bag and headed north to the tourist town of Maun where she decided she'd take the time out to heal. Long story short, it was while she was in Maun that she hit upon the idea to revolutionise Botswana's dining experience by setting up Maun Pop-up Experiences, a mobile restaurant that serves traditional dishes and doubles as a concept store that sells local brands.
When we discovered Maun Pop-up Experiences (MPuEs), we were taken with the concept and reached out to Tebatso, who kindly agreed to a virtual interview, as you now do in these dire times, with YourBotswana.
---
YB: Hi, Tebatso. Thanks so much for your time. Where are you from originally, and how did you find yourself in Maun?
MPuEs: I am originally from Gaborone. That's where I grew up to be honest, but I like to call myself "the girl from Molepolole" – I love villages, and that's where my family is from. So, I grew up shuttling between Molepolole and Gabs before settling in the latter.
I moved to Maun to recover from the loss of my daughter and grandmother last year. I was devastated and needed a change of scenery. So I came here to visit, scout for business opportunities with my team, and I never went back. I set up camp in the house that my aunt was leaving and I took it from there.
YB: We're really sorry to hear about the loss of your grandma and daughter. How long has MPuEs been in operation?
MPuEs: Technically, for a little over three months going into our 4th month in November. The company was registered last December, but I have been exploring what to do here for a year Since Feb/ March 2019.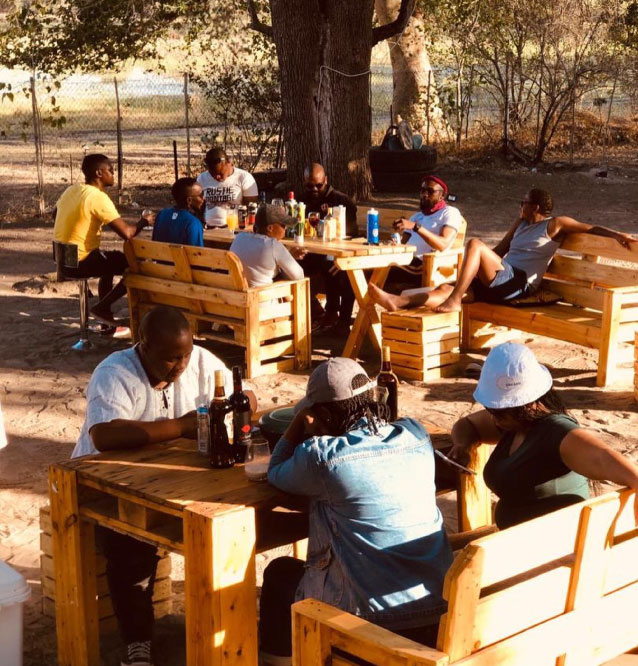 YB: MPuEs is very new yet it's achieved so much already! Kudos. Please share with us what MPuEs entails.
MPuEs: The Maun Pop–up Experiences is a modern yet cultural expedition that showcases who we are as Batswana. We are an experiential food and events solutions agency that focuses on creating local experiences with an international appeal.
Our overall mission is to create memories in a respectful and enjoyable, healthy environment by providing quality experiences to both our local and international customers.
We strive to share Botswana's story by teaching our guests about our culture through our traditional and gourmet food, art, music and fashion.
"I was inspired by the kind of places I love to go to – serene and not too crowded," she explained in a recent interview with The Gazette.

"While running my Airbnb after moving from Gaborone following my grandmother's passing, I wanted to offer something more."

"It began with cooking fat cakes and tripe to add to what the Airbnb was doing. I realised that people love the cultural exchange that was taking place, and so I widened the menu options. I basically wanted to share elements of my culture through food, and that best describes what we do."
YB: Where in Maun is MPuEs if it's not on the move?
MPuEs: Maun pop-up Experiences is based in my backyard and overlooks the Thamalakane River and the Maun Educational Park. So we have a view of nature and wildlife as it comes to drink water daily, and we have a mobile kitchen trailer where the food is made.
We are based at home with plans to expand to a more public place so we can reach more people. The idea was to be able to move around as much as the government allows, but as we all know, COVID had its own plans.
*This week, MPuE moved to the NKK Express office along Tsheko Tsheko Road to get closer to the people. Tebatso announced via Facebook;
"We're all about the people.The riverside view is nice, we all love it but it's great for a quiet, relaxed weekend. So we have opened @maunpopupcafe to serve you during the week with traditional breakfast and lunch options as you have often asked us to.

We also have an in-house store where we allow local brands far and beyond to sell their products here.

We hope you will be able to keep supporting us the way you have been because we are absolutely nothing without you."
YB: Sounds like a good move! Why Maun?
MPuEs: LOL! Why NOT Maun? People are often shocked that I moved here; they find it so drastic, a huge change from the city to a village. But I digress – Maun was the only place offered to me, and my heart settled here as a good place to heal and start a new life.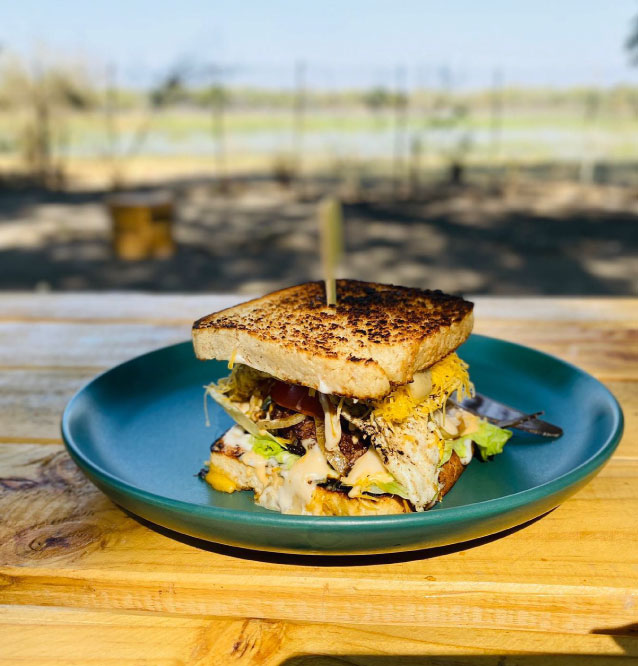 YB: MPuEs is a never-tried before concept in Botswana. How did the idea come about – what inspired you to go down this route?
MPuEs: Haha – I don't know about a never been tried before concept. I have seen a few mobile trailers around town, both in Gaborone and Maun. But perhaps not many have cooked from and served from home.
A few years ago, I remember seeing a sausage truck by UB/Nanogang. The mobile aspect of it inspired me. I am not the kind of girl who ever wants to be confined to one place or feel stuck. So, a mobile trailer appealed to me and allowed me the freedom of movement. If things don't work out in Maun, I can up and leave again and go to the next place to try my luck.
YB: Any challenges you've come up against so far?
MPuEs: Besides COVID-19, the change in weather affecting our view because the river water levels have gone down and the fact that its soooo hot, which affects the experience of sitting outside for a meal, none so far.
YB: That's good to hear because those are easy to overcome! Before MPuEs, what did you do for a job and how does that tie in with MPuEs?
MPuEs: I was an event producer and manager and before that, I was an entertainment PR and Media Manager. Naturally, from my years in the events and hospitality space, I guess it was a natural progression, a culmination of everything/project I have ever worked on.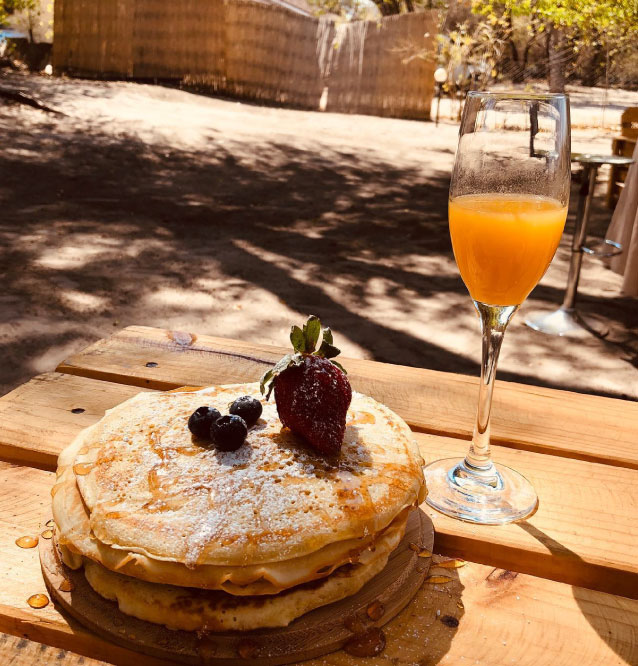 YB: It does make sense. We've seen pictures of your food, which looks absolutely divine! Where did you acquire your culinary skills?
MPuEs: LOL, absolutely NO skills over here besides what my mum taught us growing up and the food my siblings like to make. I come from a family of cooks; be it with the three-legged pots outdoors at our traditional ceremonies or small gourmet meals. I just happened to love simple, easy to make food. So I kept it simple.
YB: That's impressive! What can we expect to eat at MPuEs?
Download the menu here – Maun Pop-up Experiences Menu
YB: What signature traditional dish has proven to be the most popular with the tourists?
MPuEs: It varies – ironically, some enjoy mogodu (tripe), some seswaa (pounded meat similar to pulled pork), while others love bogobe le madila ( porridge with traditionally made natural yoghurt). It really depends on how adventurous they are LOL.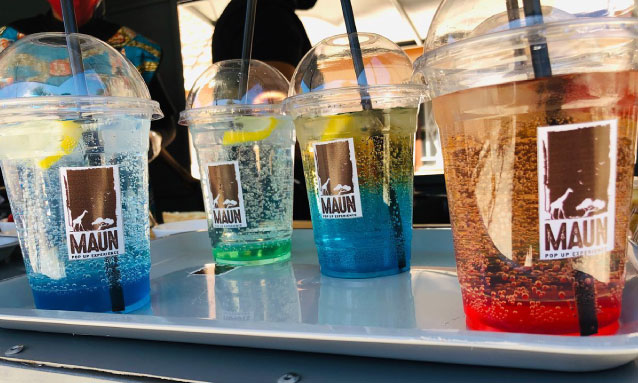 YB: Wow, your clients must really not mind walking on the wild side! Some Botswana dishes are an acquired taste – any that our visitors haven't taken to?
MPuEs: Mogodu (tripe) for obvious reasons!
YB: That's understandable. Cow intestines and tripe are a Tswana delicacy but they do stink hahaha! Not everyone will have the stomach to eat those, for sure.
We understand you've had some success as far as tapping into the tourist market and offering them the cultural experience. How big of a hit have you taken with the pandemic? How have you tried to diversify to cushion the loss brought about by travel restrictions?
MPuEs: A very big hit! Without the tourists, we can't do the experiences – I cant teach a Motswana (who may come from a different tribe or region who may know or do things differently to me. Batswana and local expats won't pay for the service because they already live here, they get invited to weddings and get to live the experience.
To get around this, I just brushed myself off, moved on to the mobile kitchen and focused on that.
YB: You've previously taught tourists how to make some of our local dishes – how did that go?
MPuEs: It went really well. Most of them were my Airbnb guests, so it was easy-going and something interesting for them to do, and we grew from there.
"We have taught quite a number of international tourists how to cook dishes like motogo (soft porridge)," she notes.

"The storyteller in me views food and culture as inter-connected. The journey has been interesting, and I am learning every day. I have never owned a restaurant before, and this is a new space for me. But meeting new people and experiencing an assortment of cultures is great." – The Gazette (September 2020)
YB: We've noticed that you've already collaborated with yet another up and coming local brand, The Black Prince – how did that come about?
MPuEs: Haha, we haven't exactly collaborated, but I guess by default, we offer what we both need – he's a travel agent, I do food. It works for us both but he's now a good friend and a client of ours.
YB: Speaking of collaborations, MPuEs also doubles as a concept store that hosts local brands – a brilliant idea! What items do you have in stock?
MPuEs: Thanks LOL! We have jewellery by Charactorize Botswana, traditional/leteisi (German print) – inspired baby clothes by nieces and nephews, casual wear that includes T-shirts and sweats by On a Mission Botswana.
We have spoken to more brands who were really interested but were affected by COVID and the lockdowns. So we trust soon we will all be back up on our feet to pick up where we left off before the pandemic hit.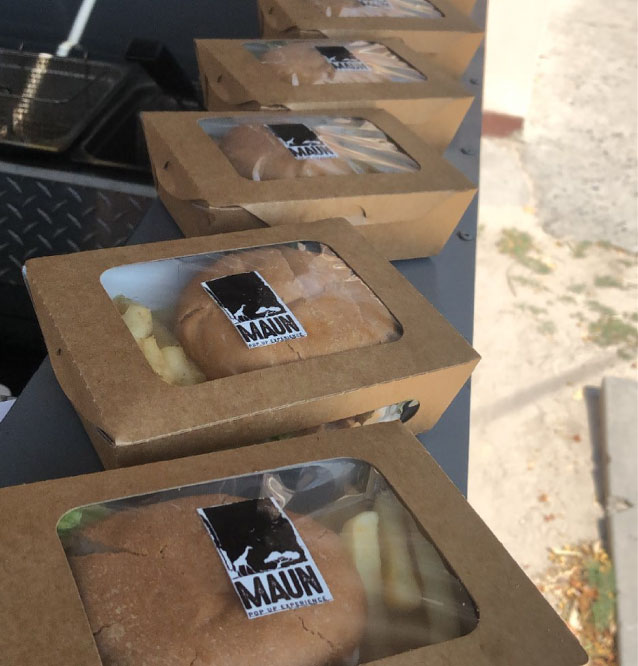 YB: So, what's next for MPuEs when COVID-19 eases off and business fully resumes?
MPuEs: We are moving and expanding to a place much closer to the people. Being a hidden gem is nice but doesn't exactly the pay bills, so we are re-strategising.
I would really like to work with more corporates, travel agencies, safari tour operators as well as regular Batswana to offer them our pre-packed food and local brand-inspired gifts (another one of our upcoming projects ).
I would be ecstatic to see more local brands in the hands of Batswana and tourists. It's always so heartwarming. I would definitely love to host more family-oriented, traditional and intimate events and see Batswana coming together.
"The response and feedback have been fantastic, and we are already finding ourselves in talks about collaborations with other local brands and businesses," Tebatso told The Gazette recently.

"I hope it will be fruitful for everyone as we help each other through these challenging times."

I would like to see Maun Pop-Up Experiences at a bigger space with a similar river view. At its core, I would love to maintain the safe space that we have curated with this concept and establish ambiences that have people learning something new while enjoying great food."
And we truly believe if there's anyone who can give COVID the two-finger salute and realise her aspirations, it's Tebatso, with her grit, positive outlook on life and fun personality. We can't wait to visit Maun to taste some of the treats Maun Pop-up Experience offers! There's no doubt in our minds that Tebatso will take Maun Pop-up Experiences to any level she so desires and wish her well in doing so.
This week, MPuE moved to the NKK Express office along Tsheko Tsheko Road to "get closer to the people," Tebatso announced via Facebook;
"We're all about the people. The riverside view is nice, we all love it, but it's great for a quiet, relaxed weekend. So, we have opened @maunpopupcafe to serve you during the week with traditional breakfast and lunch options as you have often asked us to.

We also have an in-house store where we allow local brands far and beyond to sell their products here.

We hope you will be able to keep supporting us the way you have because we are absolutely nothing without you."