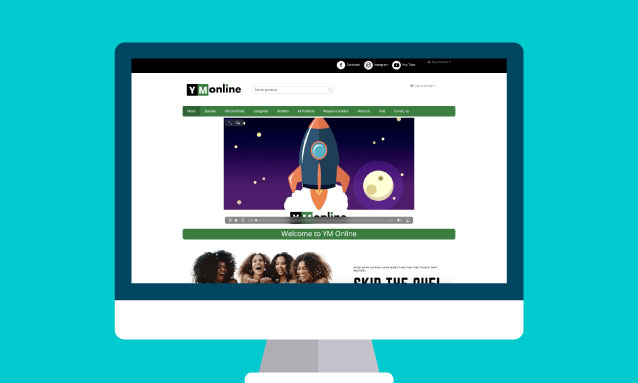 Ever since the COVID pandemic hit, President Mokgweetsi Masisi's 4th Industrial Revolution aspirations for Botswana appear to have accelerated. As people up and down the country scramble to diversify their product offers to emerge out of the pandemic unscathed, among the trends that we have observed are efforts to redefine Botswana's shopping experience from the traditional to the digital.
Batswana are creatures of habit and by extension, abhor and fear change, perhaps explaining the absence of online shopping up to this point. With the arrival of the pandemic, however, as a nation, we are having to adapt to a new normal, a new normal that includes shopping online. A brand that has emerged off the back of COVID-19, is YM Online. We've seen several attempts to make a go of the online shopping space in Botswana but this is the first time we've well and truly felt excited about one.
The minute we came across YM Online, we thought it was something special. Then we Googled it and knew we were onto something truly special! We quickly established it was emerging out of Maun. Long story short, we asked some of our friends in Maun if they'd heard of it and it wasn't long before a close friend told us she'd already had the pleasure of shopping with the site. What's more, when we asked her to rate her shopping experience with YM Online, and she gave it a 5* rating.

YM Online in its own words says it "aims to be the pioneering online sales platform making consumers' dreams come true across Botswana. We are a startup that believes in innovation, the power of community and the freedom of going digital. So we hope to harness all three to provide a world-class shopping experience for you. As we grow, we hope that your consumer dreams grow with us as we move into the world of modern business."
Once we established YM Online was a solid brand with great potential, we reached out to them. Thankfully, they graciously put some time aside to tell us more about YM Online and where they see the online shopping platform going.

---
YB: First off, congratulations on your fantastic initiative. We are excited over where this could go! Why YM Online – how did the name come about?
The idea started during lockdown as a means of selling Your Mix (YM) products online and not long after the idea took root, the concept of providing an online outlet for all products sold in Botswana was something not yet available in Botswana.
YB: Who is YM Online?
YM Online: YM online is a Maun-based online store that brings together a group of people from various walks of life, who no doubt have pooled together a wealth of knowledge and experience to come up with such a brilliant platform.
The YM Online team comprises Gakenosi Mpho, Brigitte Hedges, Silvia Hill, Thero Sekeseke, Thabiso Lebese, Thato Phefo, Mark Van Syl, Shane Hedges, Katlego Morule and Pako Gaofise all make up the YM Online team.
Once we established YM Online was a solid brand with great potential and who was behind it, we reached out to them. Thankfully, they graciously agreed to an interview.
YB: Who's behind YM Online?
Gakenosi Mpho, Brigitte Hedges, Silvia Hill, Thero Sekeseke, Thabiso Lebese, Thato Phefo, Mark Van Syl, Shane Hedges, Katlego Morule and Pako Gaofise.
YB: Tell us about the eCommerce store – what motivated you to go down this route?
YM Online: COVID was a huge motivator to get YM Online going, the idea had been brewing for a while, but it definitely sped things up. During lockdown, there were two main issues:
Consumers did not have convenient access to local products in town and local businesses had lost a lot of foot traffic through their stores and engagement with customers. Coupled with the pre-existing issue of having limited consistent access to retail products from around the world, we decided that the time had come to connect consumers and businesses (both local and international ) in one convenient, online platform.
YB: We can't help but be excited about this platform. Have we told you how excited we are about YM Online – eh, yup LOL! When exactly did you go live with YM Online?
YM Online: YM Online was first launched in August.
YB: We know it's early days but so far, how is it going for you- what have been the highlights?
YM Online: Other than the first sale going through and the first delivery successfully making it to its destination on time, highlights have most definitely included giving local businesses another platform to expand their reach, building a new channel for customer engagement and giving our local consumer community access to convenient online shopping, something most of the rest of the world considers an everyday thing.
Another highlight has been seeing people engage with the platform and getting excited about this new way of shopping.
YB: What 'hurdles' have you come against?
YM Online: COVID-19 has been a notable hurdle, as this has limited our delivery operations quite a bit, regional lockdowns have limited our regional growth and the capability to serve areas outside of Maun.
We had to think outside the box when it came to setting up our delivery system too, as Google Maps etc isn't as detailed in Botswana as it is say, in New York. Not all of our streets and roads are named.
We think this was a great starting challenge for the team, as how we overcame that set the bar for how we moved forward: changing the story and seeing setbacks as challenges that are actually investments.
YB: Being from Maun ourselves, we're excited to see the explosion of 'tasty' trends emerging out of Maun. YM Online is currently geared towards the Maun audience, why?
YM Online: With regional COVID-19 lockdowns, that has also meant that we have had to focus solely on the Maun headquarters, as opposed to getting the Gabs depot and Maun HQ going at the same time.
However, the upside of this is that we have been able to streamline our operations further and iron out any wrinkles we have come across. So when we open our depots in other regional areas, the team will have a much smoother transition and operational plan.
YB: What are the indications in terms of the people's reception, are the people biting?
YM Online:There has been a very positive response to YM Online, from both consumers and business owners alike, but it is gradual as this is unfamiliar territory for a lot of people, and we are still working on getting everyone comfortable with it. This will take some time. We are really excited that local businesses have seen YM Online as a platform that can work for them in gaining extra awareness and that it works as another sales tool to build their customer engagement and sales, as opposed to YM Online being a competitor.
Even businesses which aren't able to sell all of their products via this platform can list some, which could translate to YM Online customers then reaching out directly to those businesses or visiting their shops to access the other products.
YB: The first person to order from YM Online is actually a close friend of ours. She had rave reviews about your service delivery. We've caught wind of a couple of eCommerce stores but yours is the one that truly caught our eye. What would you say sets YM Online apart?
YM Online: That's great to hear, glad your friend had a top-notch experience! There are a few things that set YM Online apart; it's the first multi-vendor online sales platform in Botswana that offers depot to front door deliveries (even though we are limited to Maun for now). In terms of what sets us apart from international online platforms, we are really proud that one of the main differentiating factors is that we are inclusive of local business no matter how big or small.
We are hoping that this will provide an extra support system for local businesses during this challenging time. We are hoping that in the long run, it will foster economic growth and diversification.
YB: As soon as we discovered YM Online, we were ecstatic to have something as progressive as the platform emerging out of Botswana, especially with it being Maun-based. However, our bubble was well and truly burst when we discovered it was aimed at Maun residents ONLY. Do you see YM Online rolling out nationwide?
YM Online: Yes, that is definitely part of the plan, and as mentioned above, once COVID-19 restrictions ease up, we will be able to hit the ground running in other regions.
YB: Sorry, no pressure – besides the easing of lockdown, what else needs to align for you for YM Online to go national?
YM Online: Once COVID-19 restrictions and regulations allow for it, the operation will scale up to offer deliveries outside of Maun. We currently have a team active in Gaborone, setting up a warehouse, training staff and finalising vehicles, logistics and systems. We are really looking forward to being able to start full – fledged operations from Gabs.
YB: Fantastic! All things being equal, say you expand nationwide, how far in terms of the range of products do you see YM Online carrying?
YM Online: We are loving having a diverse range of both local and international products on the platform, so we will continue to build up that product range. We are passionate about promoting a 'buy Botswana' and have several local vendors contacting us to list on the site. As for what's next, you'll have to wait and see 😉 We have a few exciting things up our sleeve and wouldn't want to ruin the surprise.
YB: Wow, that's awesome – we can't wait to hear more as the platform grows! We like the "request a product'" feature on YM Online. Please tell us how that works.
YM Online believes in fantastic customer service, convenience, choice and access to what the customer values along with easy delivery options – all those are stones in the YM Online foundation. We want to know what our customers want and value so we can make our best effort in getting those products to the customer.
The "request a product" form is really simple, we want to know what you want, what it is and then who you are and how we can contact you so when we get it, we can let you know and you can get priority delivery.
YB: That's a great feature, for sure. We've seen that there's the provision to become a vendor – is this something that you'd be looking to take forward as you grow?
YM Online: Most definitely! We are here to facilitate modern business and business growth and economic diversity as well as great customer service and satisfaction. We love being able to offer local businesses the option to join the YM Online community as a vendor as we believe the future of digital business is bright.
---
Other YM Online key features we love
Easy to navigate, user-friendly
Clutter-free, engaging platform
Gift certificates
Don't see what you want? Request the product!
Compile a wishlist
Become a vendor
---
YB: It truly is. And how would that work – would it be open to individuals?
YM Online: As you know, we have a variety of vendors on board already; some are micro-businesses and some are big businesses. We would like to offer this opportunity to as many operators as possible and that includes individuals. Applications for a vendor account can be made directly on the website, under the vendor tab.
YB: What else is in the pipeline for YM Online that you don't mind sharing at this point?
YM Online: Other than growing YM Online to serve a wider range of customers and vendors, we are always on the lookout to see which other market gaps we can serve customers in. We see our activities as an opportunity to assist Botswana with further modernisation across the country- whether it's through business activities, access to products and services or adapting to the 'new norm' as we go further.
We believe that digital platforms are a huge part of the future and would like to see our country comfortable and fluent, taking full advantage of what the digital world has to offer it.
We totally agree, YM Online Team! And being such huge fans of yourselves and digital platforms in general, we genuinely can't wait to see the direction in which you take YM Online and watch it explode. These are indeed very exciting times for Botswana. Thank you very much for your time. All the very best and keep us posted so we can help spread the word.
UPDATE: Good news – since we ran this story, YM Online has started delivering to Gaborone customers!! Please check out YM Online's Facebook page or the website for more.
---
Have you shopped with YM Online? How was the experience? Please share your views with us.
YB Writer
Tags: Botswana, Botswana shopping experience, Maun, YM Online