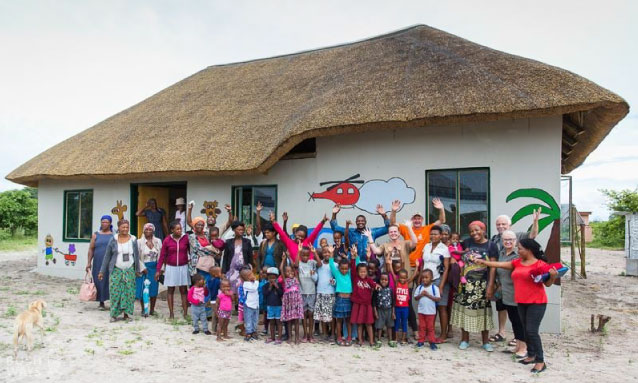 There's no doubt that 2020 is the year that people the world over will forever remember for the dark time it has so far been. Ten months into the year, the world is still reeling from the ravages of the COVID-19 global pandemic. The pandemic continues to bring global economies to their knees and on a personal level, a sense of hopelessness as many the world over battle depression, the loss of loved ones, jobs, businesses and livelihoods. Surely, life couldn't get any worse?
It just did for Maria Naledi Ramsden. You will almost certainly never have heard the name before and probably don't care. But you should. As if grappling with the impact of COVID-19 wasn't enough, Co-founder of Maun-based Non-Governmental Organisation, Naletsana Charity Organization, Maria recently woke up to the bitter reality of a devastating diagnosis. After all, the mother of two is fairly young and outwardly, the picture of good health.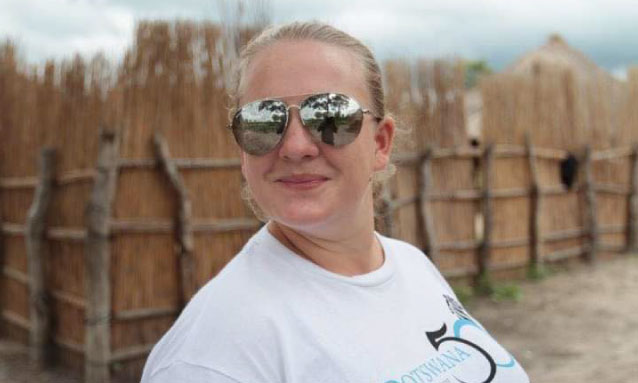 Maria's nightmare started this time last year with a breakout of small sores on her finger which simply wouldn't go away. This led to surgery but no answers, leaving her doctors stumped. They then observed that the nerves on her finger were 'dying'. The situation only got worse as she developed more sores in her throat all the way into her stomach.

Biopsies conducted didn't reveal anything. By this point, she started developing issues around her chest, prompting her doctors to refer her to a Rheumatoid specialist at Princess Marina Hospital.
Her doctors initially suspected it was likely cancer because she had large nodules on her lungs, which the doctors said often point to cancer. However, all cancer screenings have come back negative, with early signs pointing to a rare, life-long Auto-Immune Disease, according to her doctors. Maria is currently undergoing Chemotherapy for the nodules in her lungs and liver. The chemo has shrunk some of the nodules. Based on this, her doctors plan to conduct another biopsy on the nodules that have proven resistant to chemo. That will cost over P60,000 (just over $5,000). Maria will also be on a 6-month chemo programme while the doctors monitor her progress.
Auto-immune conditions are more prevalent in the elderly. While not necessarily fatal, they are chronic and can make life very miserable for the patient. Typically, auto-immune diseases are conditions in which your immune system mistakenly attacks your body. Her medical aid cover has been exhausted. The soaring bill now stands at P300 000 ( just over $20,000)
Who is Maria and why should you care?
Maria was born in Kanye but now resides in Maun, where she lives with her Maun native husband, Jack and their two adorable children. Like many Maunites, Maria's passion for the wilderness and Botswana's safari space know no bounds. She has worked extensively in Botswana's safari industry and started the Bushways Foundation while with safari tour operator, Bushways. Her community work at Bushways provoked within her a keen desire to continue expanding the scope of her charity work with local communities. She went on to work for Safari Destinations, where she became the community liaison manager, a role she diligently performed alongside her reservations work. After Safari Destinations, Maria joined Khwai Private Reserve, where she continues her love of community work – she is the liaison between the company and the Khwai community.
But that's not where it ends – Maria is the well-known face of community work around Maun! She's involved with various local organisations including Maun Waste Warriors, an NGO that seeks to keep Maun tidy and raise awareness about the importance of environmental issues; and Bana ba Letsatsi, a centre that supports over 250 vulnerable, at-risk and orphaned children.
A naturally caring person in whose nature it is to nurture, it was when Maria was at Bushways Safaris that she struck up a solid friendship with her colleague and fellow Maun native, Sandra Rubins that led to the pair setting up their own charity. Driven by their desire to meaningfully contribute to community upliftment ventures, Maria and Sandra weathered many a storm and hurdles to make their charity, Naletsana Charity Organization a reality. Thanks to both ladies' prior and well-documented charity work, companies such as Bushways put in a solid word for them and the North West District Council lent much-needed support to finally launch Naletsana Charity Organization four years ago.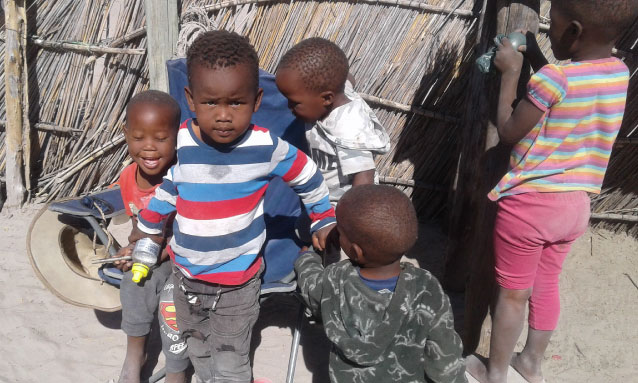 Maria and Sandra then reached out to Lamb International, a Canadian charity organisation they'd previously worked with. The case the duo put to Lamb International was that the children of Khwai could use some help, they have no school and no stimulation to help their healthy growth. Thankfully, Lamb International was instantly onboard with the initiative. With the help of Lamb International, Maria and Sandra realised their dream of getting Naletsana Charity Organization off the ground. Lamb International continues to support the ladies and pays the teacher's salary.
They started the Naletsana Pre-school three years ago and have found the North West District Council very supportive. The local Village Development Council also chipped in, giving the ladies indefinite use of the piece of land they operate on. The school currently has 41 pupils enrolled, a number that continues to grow.
Naletsana Pre-school has been a huge success story for the two ladies from humble backgrounds with big dreams. Khwai Private Reserve now has an active role in the charity as well – the company shoulders the responsibility of feeding the children through their Feed a Child Programme. Naletsana Charity Organization is considering expanding because, in the few years since its launch, they have seen the number of pupils soar from term to term. Beyond the school, the charity also finds the time to get involved in charity efforts around Maun to help where they can.
---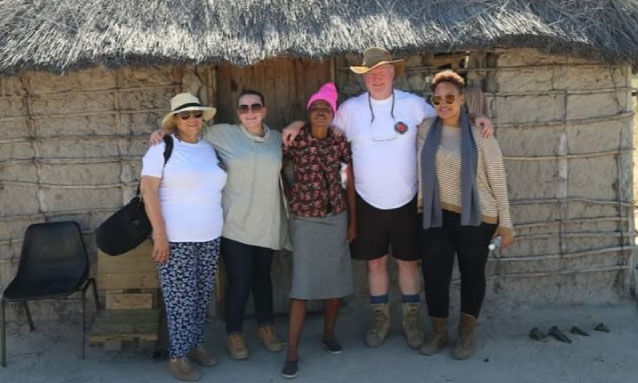 What's in a name – twinkle, twinkle little star!
The name Naletsana Charity Organization was coined from the Setswana word, Naledi (star), a popular Botswana name the duo share. Naledi is each of the lady's middle name.
Maria Naledi Ramsden
Sandra Naledi Rubins
The ladies toyed around with various names including Naledi and Dinaledi but Naletsana struck a chord and resonated with both of them because they saw in it the idea of a little star that twinkles for others. A symbol of truth, spirit, comfort and hope, which aligned perfectly with the work they planned to immerse themselves in to help Khwai children.
---
Why Khwai – the driving reasons behind helping the children of Khwai
Khwai is a village on the north bank of the Khwai River in the North-West District of Botswana. The river is the northern boundary of the Moremi Game Reserve, with the village just outside the north gate of the reserve, which is on the eastern side of the Okavango Delta. The village consists of approximately 90 households. It's a remote village with no school, clinic or electricity.
Maria and Sandra having previously worked with the community through work, they were awake to the needs of Khwai children. They felt compelled to do something to help. They were motivated to set up a pre-school because with nothing to do in the village, with animals such as elephants and lions roaming free around the area, the children's movement was restricted and the quality of their lives lacklustre. Witnessing their parents drinking all day, as is often the case where there's a distinct lack of entertainment, also compounded their situation.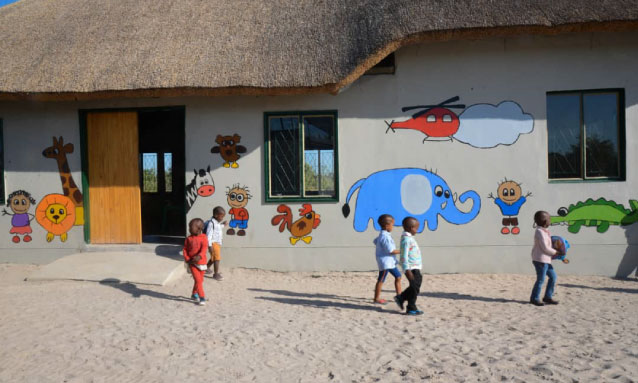 With no school in the area, the government transports the children of Khwai – some as young as 7 years old – 130 km or so to Kareng village to attend boarding school. This is done under the Remote Area Dwellers (RAD) government programme. RADS communities typically lead a nomadic lifestyle that falls outside the traditional village structure, are far removed from basic essential services, have low literacy levels and rely heavily on hunting and gathering.

Under the RAD programme, the children are sent to Kareng for primary school education, Sehithwa for junior secondary school and then they finish off at Maun, Gantsi or Shakawe Senior Secondary School, all of which are far from their homes but do have boarding facilities. Although Sandra wouldn't go to into the full extent of some of the horrors that these children sometimes face, she highlighted Naletsana Charity Organization would ideally like the children, especially the younger primary school age ones, to remain with their families and not have to go to boarding school as they feel it would be best for their mental state and protection.
Being wrenched away from the comfort of their homes and only seeing their families three times a year doesn't always work for some of the kids. While they are getting educated, conditions are not always favourable, dropout incidents and underage pregnancy cases are high. Pre-Naletsana, this vicious cycle became even bleaker when the children would return home on their school breaks to a life that revolved around drinking sprees. They would also paint a horrible picture of school life away from home to their younger siblings.
With these observations, Maria and Sandra decided to catch the kids early to cultivate in them an appreciation for education, to show them that education can be fun, interesting and special. On that basis, from October to December, Naletsana Charity Organization takes on pre-school kids, after which they go onto Standard one in January.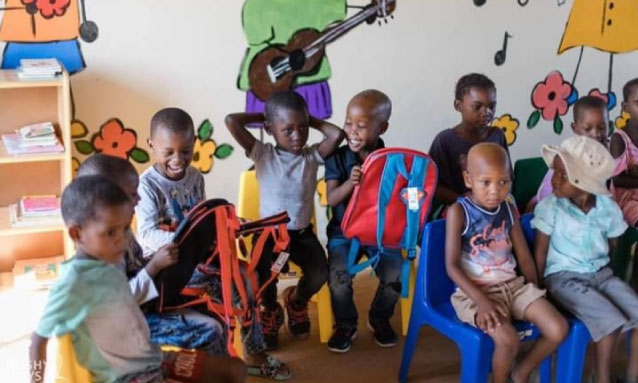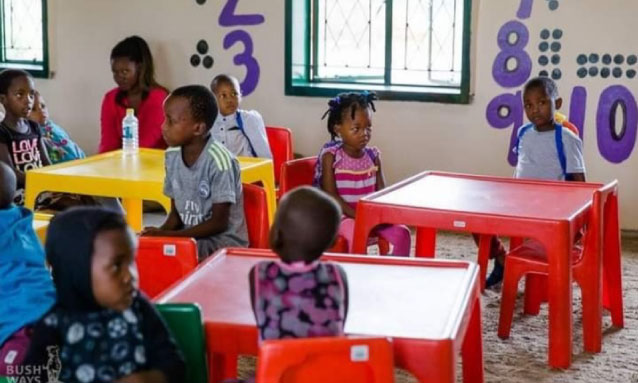 Naletsana Pre-school is a hit with Khwai children and parents alike!
In an interview with YourBotswana, Sandra said the children have taken to learning with Naletsana with gusto and really enjoy it because they are now looking at the bigger picture. She says their efforts are paying dividends because a lot of the children can now speak English and have the skills they need to go onto primary school. The cherry on top is that the parents have also come on board because they can see a positive change in their children.
When the school breaks for the holidays, the children often beg to have it reopened, forcing the teacher to cut her holiday short and go back because the children can't get enough of her lessons!

The parents absolutely love and support the school because they can see a change in their children. They are happy to see they are kept occupied, stimulated, eager to learn and are a lot happier.
Support for Maria from the local Maun community
Naletsana Charity Organization recently worked with another charity initiative local to Maun, Trans-Okavango Charity Cycle to raise COVID funds for local communities. When Maria fell ill, the two foundations saw it fitting to pool their resources to raise funds for her medical bills.
The team will drive from Maun to Kasane through the Mababe, Savute and Chobe, from where they'll cycle their way back via Khwai and Savute. With all of them being seasoned, nature-loving guides, they also plan to put together a virtual safari tour of the area as they go along. The virtual tour will be streamed via the Trans-Okavango Charity Cycle. They will set off tomorrow (October 20). The idea is to spend two nights at Jackal and Hide Lodge in Khwai (20 – 21 October). From there, they'll head for Savute, where they'll spend two nights at Belmond (22 – 23 October), arriving in Kasane on the 24th. The 600km (373 miles) cycle will start on the morning of October 25 and will take the team from Kasane via Nata back to Maun. 
The team comprises familiar faces to Maun; Lemme Dintwa, Thuto Moutloatse, Tebla Mokgosi, Paul Masoba, Seeletso Rakonche and Thuso Letlhare. They will be accompanied on the fund-raising journey by a back-up team of six. The cycling trip from Kasane to Maun will take seven days, concluding on October 31. To boost the kitty, the team will on the last leg – Phuduhudu/Maun – invite the Maun community to join in from Phuduhudu, Makalamabedi or Chanooga at a joining fee set at P300 per person.

Eager to help Maria, the Maun community has pulled together and shown the true spirit of botho. Mr Veg Maun has donated free vegetables, while Khwai Private Reserve has donated a car and guide, who'll accompany the team through the journey.
"In her previous and current role, she is all about community upliftment, hence we believe we should come together as a community to assist. Maria is very compassionate; she does a lot of charitable work and community engagement at Bush Ways Safaris, Safari Destinations – Botswana & Zimbabwe and @Khwai Private Reserve.

She has also founded Naletsana Charity Organisation that she heads with Sandra Naledi Rubins and helped set up a pre-school in Khwai Village." – Trans-Okavango Charity Cycle Team.
---
Would you like to help? Please remember, every little helps. Please share the article and pay monetary donations into the bank account below:
Name: Anita Lindstrom
Bank: First National Bank
Branch Code: 282367
Account Number: 6234 9989 048
Reference: 'Trans Okavango Cycle for Maria + Name of Donor'
Contact: Anita: +267 72948502

Please send your proof of payment to – transokavangocycle@gmail.com
---
YourBotswana writer