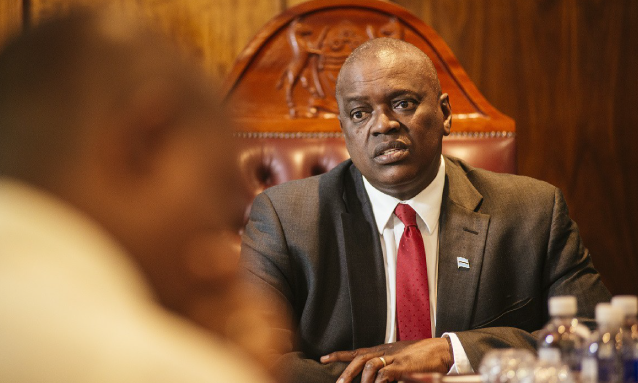 Cabinet ministers must stay away from awarding of COVID-19 tenders or risk being fired, President Mokgweetsi Masisi has reportedly warned. Two senior ministers have told The Botswana Gazette that the President wrote to members of his cabinet to that effect last week, warning them to "stay far away" from intermeddling in the awarding of COVID-19 tenders if they are to keep their jobs.
The Gazette's numerous attempts to reach Secretary of Cabinet, Permanent Secretary to the President, Elias Magosi, proved futile as his phone rang unanswered Tuesday afternoon. Nevertheless, The Gazette said it received information that President Masisi had even asked the Directorate on Corruption and Economic Crimes (DCEC) and the Directorate of Intelligence and Security Service (DISS) to keep a hawk's eye out for ministers and senior civil servants meddling in COVID-19 tenders.
DISS spokesman, Edward Robert says it is a routine for the secret agency to gather intelligence and investigate corruption.
"Like all law enforcement agencies, the police and the DCEC, we are mandated to look into all corruption matters," Robert said.
Director of DCEC, General Tymon Katlholo said he was unaware of such a directive from the President.
"It would be very unfortunate to comment because I was never even copied in the letter you are referring to," he said in an interview. 
Sources close to developments say this should be seen in the context of the recent relocation of all COVID-19 procurement to the Office of the President (OP).
COVID corruption reports
Meanwhile, Katlholo has confirmed that they continue to receive reports of suspected corruption relating to COVID-19 tenders.
"Yes, we continue to receive reports of corruption in COVID-19 tenders," he said. "But we must note that some of these reports are made by people who are aggrieved after losing tenders. Most never really provide the evidence."
Before his redeployment to the Botswana Defence Force (BDF) from the DCEC last August, Brigadier Joseph Mathambo had told The Botswana Gazette that he was investigating a Ministry of Health and Wellness report relating to the suspension of the misappropriation of COVID-19 funds and the unfair awarding of COVID-19 tenders. Sources said the report implicated undisclosed senior government officials.
Source: https://www.thegazette.news/news/masisi-tells-ministers-to-steer-clear-of-covid-19-tenders/34280/#.X37SvS8Rokg